2019 Magazine Archives
2018 Magazine Archives
2017 Magazine Archives
2016 Magazine Archives
2015 Magazine Archives
2014 Magazine Archives
2013 Magazine Archives
2012 Magazine Archives
2011 Magazine Archives
2010 Magazine Archives
2009 Magazine Archives
2019 Top 5 Trends of Enterprise Labeling
This year's sixth annual Top 5 Trends in Enterprise Labeling report outlines significant shifts in labeling that are impacting businesses and global supply chains at an unprecedented level.
Download Today!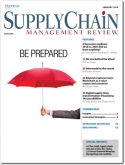 Truck Driver Shortage: No one behind the wheel
Intermodal to the rescue
View More From this Issue
Leveraging the Internet of Things (IoT) in Manufacturing
Is Digital Transformation a risk or an opportunity? This webinar will detail Manufacturing industry challenges and how using IoT can address these challenges through optimizing logistics, improving processes and gaining meaningful insights.
Register Today!