Filling the Supply Chain "Talent Gap"
The world needs procurement, manufacturing, logistics and distribution rock stars

By
Bob Trebilcock
·
May 18, 2014
Latest News
U.S. Port Update Part 1: Infrastructure Shortfalls Driving Innovation
Procurement is getting its digitized act together
BREXIT Finale Creates Another Challenge for Global Supply Chain Managers
Oregon Rep. Blumenauer makes move for permanent short-line railroad tax credit
UPS is in line to sue EU over failed attempt to acquire TNT Express following court ruling
More News
Latest Resource
2019 Top 5 Trends of Enterprise Labeling
This year's sixth annual Top 5 Trends in Enterprise Labeling report outlines significant shifts in labeling that are impacting businesses and global supply chains at an unprecedented level.
All Resources
By
Bob Trebilcock
·
May 18, 2014
Admit it. You go to a party and someone asks you what you do for a living. You want to say: Hey, I'm the bass player for Metallica or I'm a transplant surgeon or I'm a skydiving instructor. Something with a Wow factor. Instead, a little sheepishly, with averted eyes, you say: Oh, I work in the supply chain.
I remember several years ago taking my then 17-year-old daughter on a tour of colleges outside of Chicago. On the way to O'Hare, we visited the new tech lab of an automated materials handling supplier.
The executives who showed off the lab could not have been prouder. Back in the car, I was jazzed only to have my daughter snarl with the disdain that can only be conjured by teenagers: "If I had your job, I'd shoot myself." Not cool, right?
Still, the world needs procurement, manufacturing, logistics and distribution rock stars; in the future, as Baby Boomers like me hang it up, they're going to need even more of them. All of which explains why ThomasNet and Institute for Supply Management (ISM) announced a new 30 Under 30 Rising Supply Chain Stars recognition program last week in Las Vegas at ISM's annual conference. The program will honor thirty professionals who are 30 years of age or younger, and are already making their mark on the purchasing/supply chain management industry. You can read more about the program, and more importantly, how to nominate a Millennial rock star by clicking here.
At the Las Vegas event, ISM and ThomasNet said there were a couple of imperatives for the initiative. First, by 2025, today's Millennials, like my daughter, will comprise about 75 percent of the workforce. To be blunt, we have to convince them not to want to shoot themselves.
Second, as ISM CEO Tom Derry pointed out, supply chain professionals make decisions every day that affect their companies' brands, competitive positioning and performance. "We hope that by spotlighting the accomplishments of young supply chain 'rock stars,' we will encourage them to stay and build lifetime careers in this profession," he said, adding that they'll also serve as role models for other Millennials.
Last, they hope to inject the "cool factor" into supply chain management and procurement. After all, our industry brings together global business, new technologies and the opportunity to manage the complexities of different cultures. Millennials have the chance to get involved in areas that may dovetail with their personal values, such as sustainability and corporate social responsibility, Derry and Mark Knudsen, ThomasNet's president pointed out.
Maybe convincing Millennials of our coolness is a tall order. I will say this. Recently, I had the chance to sit in on a round table discussion on purchasing moderated by Kate L. Vitasek, the founder and managing partner of Vested and one of the industry's rock stars. While most people probably think of purchasing the way my daughter viewed a visit to a materials handling tech lab, the Millennials in the room were passionate, excited, full of questions and focused on their careers. Perhaps one of them will end up as a 30 Under 30 Rising Supply Chain Star.
May 18, 2014
About the Author
Bob Trebilcock Bob Trebilcock, editorial director, has covered materials handling, technology, logistics and supply chain topics for nearly 30 years. In addition to Supply Chain Management Review, he is also Executive Editor of Modern Materials Handling. A graduate of Bowling Green State University, Trebilcock lives in Keene, NH. He can be reached at 603-357-0484.
Subscribe to Supply Chain Management Review Magazine!
Subscribe today. Don't Miss Out!
Get in-depth coverage from industry experts with proven techniques for cutting supply chain costs and case studies in supply chain best practices.
Start Your Subscription Today!
Latest Whitepaper
2019 Top 5 Trends of Enterprise Labeling
This year's sixth annual Top 5 Trends in Enterprise Labeling report outlines significant shifts in labeling that are impacting businesses and global supply chains at an unprecedented level.
Download Today!
From the January-February 2019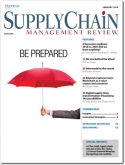 Truck Driver Shortage: No one behind the wheel
Intermodal to the rescue
View More From this Issue
Latest Webcast
Leveraging the Internet of Things (IoT) in Manufacturing
Is Digital Transformation a risk or an opportunity? This webinar will detail Manufacturing industry challenges and how using IoT can address these challenges through optimizing logistics, improving processes and gaining meaningful insights.
Register Today!