"Change the Incentives, Engage the Whole Organization"
In a fundamentally changed world, your approach to strategy, and your supply chain, must also change

By
Bob Trebilcock
·
September 19, 2014
{scmr_abstract}
Bob Trebilcock
·
September 19, 2014
" We live in an extreme world. Our natural resources are under extreme pressure as a billion more people enter the global middle class, demanding more of everything. Extreme transparency is opening up company operations and supply chains to public scrutiny. Extreme weather, driven by climate change, is shattering records all over the planet. We've passed an economic tipping point ….."
So writes Andrew Winston in the introduction to The Big Pivot: Radically Practical Strategies for a Hotter, Scarcer, and More Open World. If you're not familiar with Winston, he is the founder of Winston Eco-Strategies, where he advises some of the world's leading companies, and sits on sustainability advisory boards for Kimberly-Clark, Hewlett-Packard, and Unilever. He is also co-author with Daniel C. Esty of the bestselling book Green to Gold. I first interviewed Winston prior to his keynote address at NA2008 in Cleveland, soon after Green to Gold was published. His message then was that forward thinking companies could improve their supply chain performance, gain a competitive advantage, and increase profits by addressing critical environmental issues. In other words, going green didn't have to cost money; it could make money.
Back then, you could have argued that going green was a choice that a company could make – the smart choice, in Winston's way of thinking, but a choice all the same. In The Big Pivot, Winston argues we have passed an economic and environmental tipping point. A changing world is no longer a futuristic scenario or a model to debate, "but present-day reality." At the same time, he continues to see business opportunity to turn "green to gold" to companies who find new ways to operate.
Subscribers can read Change the Incentives, Engage the Whole Organization (http://www.scmr.com/article/change_the_incentives_engage_the_whole_organization), an excerpt from The Big Pivot, in the September issue of Supply Chain Management Review. Meanwhile, I recently had a chance to speak with Winston.
SCMR: Let's start with the simplest of questions. What prompted you to write this book?
Winston: There were a couple of things. There was a personal impetus, which is that I was living in an area where Hurricane Sandy hit. Even for someone who is aware of how mega-trends are impacting business, seeing the devastation of that storm made me realize that climate change is not a model we're debating any more. It is happening now. Since then, there have been a number of reports that say: Climate change is already costing local economies billions. As a result, I felt this impetus to push the discussion of what people call sustainability further and faster.
SCMR: You and I first spoke after Green To Gold was published. What's different about The Big Pivot?
Winston: Up until now, my work has been around the business case for sustainability, which is a term I really don't like. The business case tells you the direction to go. But it doesn't tell you how fast. The Big Pivot says that we have to start now. We need a more dramatic change to handle the scale of our challenges, and I believe business needs to take the lead. Government doesn't have its act together globally or nationally to take the lead. That's not a judgment on whether government is too big or too small. Rather, it's whether given the current structure, can government get anything done and the answer is probably no. We need business to lead, and business has the tools.
SCMR: So, speaking of business, what is the state of sustainability post 2008? There seemed to be this big push towards sustainability from business prior to the recession and then it appeared to get put on the back burner.
Winston: My answer to that question depends on the day. Part of the problem is: what do we call sustainability today? I use that term very little. You're right that in some sense, there's less attention paid to some issues. However, I believe that, in part, is because some of what we used to think of as sustainability has moved into the normal course of business. The vast majority of companies don't debate that eco-efficiency makes sense or that doing more with less is good business. That wasn't true until recently and that's a victory for sustainability. The things that are good for business and that drive innovation have been moved into the category of things we just do. So, what's called sustainability today consists of those things that we're not sure will pay off. But, that's partly because we're winning some of these debates.
SCMR: But, in The Big Pivot, you argue more or less that there is another shoe to drop, correct?
Winston: So yes. Some of this, as I say, has become the norm. Many companies are getting their energy from sustainable sources, for instance. The concern is that even though we are winning some of these debates, the physics show that these problems are moving faster than we are moving. We're winning, but we're still losing because we are past this economic tipping point.
SCMR: What would be an example of winning but losing?
Winston: On some level, the debate on climate change in business is over. Now, I'm not saying that every executive buys it. I do meet skeptical executives. But, it's like gay marriage: Government may argue about it, but business has given up on the argument and offers benefits to gay partners and spouses. Go to the websites of oil and gas companies, and they say climate change is real. We are winning the argument on the clean energy: As fast as natural gas is growing, more renewable energy is being put on the grid. Still, climate change is worsening. So, we're winning the argument, but we're losing. Here's an example. Scientists tell us that we need to decarbonize the planet, or get cleaner, by 6.2% a year. In reality, we're decarbonizing at a rate of a little over 1% a year and that's been steady for decades. The clean economy is winning – the 1% is a good thing – but we're losing. That's what I mean by tipping points.
SCMR: Within business, this is a supply chain issue, isn't it?
Winston: Absolutely. Transparency and the technological ability to know everything about a product is rising. If you say to a millennial that you don't know your carbon footprint, for instance, they just won't buy that answer. It will become harder for businesses to hide things. Transparency will win.
SCMR: In the article you wrote for Supply Chain Management Review, you argue that business has to change the incentives to change to a more sustainable culture within a business. Tell us what you mean by that.
Winston: It's pretty simple: We get what we pay for. Some of my business friends and colleagues have argued with me that there is a culture in every company. You can talk about sustainability, but people will ask: But what are we paid to do? One to instill a sustainable way of thinking is to stop paying for short-term gains, or for quarterly results, an make options and share grants over longer periods of time. We can incentivize people to create value that is broader than just some revenue goal. We can promote people not just for sourcing the lowest cost widget, but for sourcing the lowest cost widget tied to some other criteria. Walmart, for instance, began incentivizing buyers on energy saving and one of its buyers told laptop makers to reset the energy level.
SCMR: What role, then, can business play in The Big Pivot?
Winston: Business is in the middle of our mega-challenges. Done well, being a responsible and sustainable business is profitable. That's been my message. What I've come to believe, but didn't hit head on in the book, is that business can't thrive unless the planet and economies are thriving as well. Unilever, for instance, has a program to encourage hand washing to eliminate diarrhea. Sure, it has a philanthropic element. But, if you step back, there's a logic to it: If kids die from preventable diseases, they don't grow into adults and start families. There's no business without society. Or, as we saw after Hurricane Sandy, there's no business to be done in a city that's underwater. If you think about it, business has traditionally asked how it can get an ROI on an investment in two years? That's no longer works.
September 19, 2014
About the Author
Bob Trebilcock Bob Trebilcock, editorial director, has covered materials handling, technology, logistics and supply chain topics for nearly 30 years. In addition to Supply Chain Management Review, he is also Executive Editor of Modern Materials Handling. A graduate of Bowling Green State University, Trebilcock lives in Keene, NH. He can be reached at 603-357-0484.
Subscribe to Supply Chain Management Review Magazine!
Subscribe today. Don't Miss Out!
Get in-depth coverage from industry experts with proven techniques for cutting supply chain costs and case studies in supply chain best practices.
Start Your Subscription Today!
Latest Whitepaper
How to Minimize Costs with Enterprise Labeling
The right labeling solution will allow companies to stand up to their everyday challenges and add value.
Download Today!
From the January-February 2019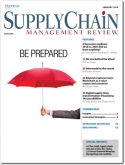 Truck Driver Shortage: No one behind the wheel
Intermodal to the rescue
View More From this Issue
Latest Webcast
Integrating Planning and Execution with Optimization
Hear how leading organizations are using the Big Data collected from the Internet of Things, machine learning, business intelligence, cognitive analytics and massive computing power to re-plan and optimize their supply chains in near real time.
Register Today!