The Real Value of Supply Chain Certification
Curious about what a supply chain certification really means for your career? Here's your answer.

By
Bridget McCrea, Editor
·
July 19, 2016
Latest News
U.S. Port Update Part 1: Infrastructure Shortfalls Driving Innovation
Procurement is getting its digitized act together
Strong December performance finishes a strong 2018 for shipments, says Panjiva
December U.S.-bound waterborne shipments finish a strong 2018, says Panjiva
New report from JLL explores concept of industrial 'Human Centric Design'
More News
Latest Resource
2019 Top 5 Trends of Enterprise Labeling
This year's sixth annual Top 5 Trends in Enterprise Labeling report outlines significant shifts in labeling that are impacting businesses and global supply chains at an unprecedented level.
All Resources
By
Bridget McCrea, Editor
·
July 19, 2016
As the executive director for the Center for Supply Chain Research at Penn State University's Smeal College of Business, Steve Tracey fields a lot of questions from students who want to know if supply chain certifications are really worth the time, trouble, cost and effort.
This line of questioning is so common that Tracey has developed a series of Powerpoint slides highlighting certifications offered by APICS, ISM and CSCMP, and providing insights into which pupils would be best suited for each of those offerings. And, for this issue of Supply Chain Management Review, we are publishing a comprehensive listing of supply chain certification offerings on scmr.com compiled by Malini Natarajarathinam and Praharsha Sunkara of Texas A&M University.
But even with that information consolidated into a svelte, five slide presentation, Tracey says whether students actually derive value from the certification experience comes down to the individual person and his or her employer (or prospective employer). "It really depends on who you work for because some companies value certification more than others," says Tracey. In some cases, for example, a designation may be a differentiator on your resume. In others, your company will reimburse you for the money spent taking the certification sources. And if the stars align in your favor, Tracey says, upon completion you may even get a promotion or a raise out of the deal.
"Before you sign up, figure out if it's going to benefit you and or your firm, and whether your employer is going to put a value on the fact that you've completed this type of coursework," says Tracey. "And while no education is 'bad,' in a sense that we should always be learning, in some cases you may just be getting a certification for your own personal benefit."
The evolution of supply chain certification
What started out years ago as a way to enhance the supply chain professional's career beyond traditional college degrees and hands-on job experience has become a way for individuals to achieve new levels of specialization and expertise. Currently, the three major players in the supply chain certification space are APICS ("CPIM"), CSCMP ("SCPro") and ISM ("CPSM"). Using instructor-delivered self-study, study guides, content manuals and anywhere from three to five exams, these organizations provide coursework in areas like internal manufacturing operations, end-to-end supply chains, logistics, transportation and distribution.
Natarajarathinam, an associate professor in Texas A&M's department of engineering technology and industrial distribution, believes that certification programs add value by helping professionals "differentiate and establish themselves as experts in focused areas." Because they can pick topics or subject areas to focus on, students in these programs can gain experience and get accredited "fairly quickly" using a certification program versus a full-blown college degree offering. "Certificates are focused and fast," says Natarajarathinam. "When someone wants to improve in all facets of his or her job, then a master's in supply chain management or industrial distribution is probably more applicable. But when that person wants a quick and focused learning experience, then certification is a good option."
As Tracey points out, supply chain certifications can also translate into high¬er salaries—depending on the employer. "Gut-feel tells me that if you do have a certification, it should put you in a better [position] for promotion," adds Nicholas Little, assistant director of executive development programs of Michigan State University's Eli Broad College of business, "and with that promotion would come increased salary, hopefully. It should also make you more employable, if for any reason you need to change your job, so there's an insurance policy aspect to this as well."
Filling a gap
Initially developed as a corollary for the supply chain baccalaureate and advanced management degrees that didn't exist at the time, supply chain certification started out as a way for professionals to beef up their technical knowledge on related topics. With the proliferation of college supply chain programs over the last decade, certifications now provide value by enhancing students' existing academic educations. "The expectation is that students already have a core foundation in supply chain," says Abe Eshkenazi, CEO at APICS, "and that they now want to separate themselves from the supply chain talent pool by enhancing their professional skills and reputations with one or more certifications."
As individuals get these certifications, Eshkenazi says they are recognized in their profession for having achieved a higher level of learning for that specific field. And while at least some of the value comes in the form of personal satisfaction and achievement, he says the portability of a certification (i.e., you can take it with you from one employer to the next) gives it more meaning. And, perhaps more importantly, it demonstrates your commitment to a field of practice.
For example, APICS has conducted its own research and found that individuals with CPIM designations have received an average of 14% higher compensation, as compared to those without the designation. Eshkenazi says the designations also have an 83% favorable impact on hiring decisions when compared to those without certification.
"Similarly, those with the CSCP designation have also received approximately 12% more in compensation over those without the certification, along with an 81% favorable impact on hiring decisions compared to job candidates without this credential," Eshkenazi adds. "Certification holders for both programs have a proven understanding of key organizational skills needed for developing more streamlined operations for their employer."
New opportunities ahead
Along with the professional organizations that offer certification programs, numerous institutions of higher education have developed their own versions of the supply chain certificate or designation. "Those certifications rely on the brand name and familiarity that people have for the educational institutions themselves," Little points out. "For example, a number of universities offer a selection of 100% online courses available for people to mix-and-match when they want to fill in 'gaps' in their supply chain knowledge."
At Michigan State, those online courses fall under the institution's master's level program offerings. The student who has studied within a specific area of supply chain management, for example, can round out that education by taking courses that support his or her future career aspirations.
In the future, Little sees the potential for these college-based offerings to include a short exam that—once passed—would allow the student to transfer into a full credit program. This is already a common practice in Europe, he notes, but it has yet to take hold domestically. "I don't think many U.S. universities have gotten to that stage yet," he notes, "but there's definitely potential for that to happen in the future."
Eshkenazi, who notes that APICS will introduce a new logistics, transportation and distribution certification in mid-2016, sees this new entrant as yet another way for a broader base of supply chain professionals to gain knowledge and set themselves apart in the field. "There's been a significant gap in the marketplace for logistics, transportation, and distribution, and no designation [available] to these individuals," he explains. "Logistics is the fastest-growing supply chain field, and our new designation will fill a significant gap in the marketplace for that content area."
Supply Chain Management Certifications
Professional Organizations offered by & Universities
There are more offerings than ever for supply chain professionals looking to improve their skills and further their careers.
June 13, 2017
About the Author
Bridget McCrea, Editor Bridget McCrea is a Contributing Editor for Logistics Management based in Clearwater, Fla. She has covered the transportation and supply chain space since 1996 and has covered all aspects of the industry for Logistics Management and Supply Chain Management Review. She can be reached at
[email protected]
, or on Twitter
@BridgetMcCrea
Subscribe to Supply Chain Management Review Magazine!
Subscribe today. Don't Miss Out!
Get in-depth coverage from industry experts with proven techniques for cutting supply chain costs and case studies in supply chain best practices.
Start Your Subscription Today!
Latest Whitepaper
2019 Top 5 Trends of Enterprise Labeling
This year's sixth annual Top 5 Trends in Enterprise Labeling report outlines significant shifts in labeling that are impacting businesses and global supply chains at an unprecedented level.
Download Today!
From the January-February 2019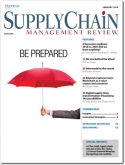 Truck Driver Shortage: No one behind the wheel
Intermodal to the rescue
View More From this Issue
Latest Webcast
Leveraging the Internet of Things (IoT) in Manufacturing
Is Digital Transformation a risk or an opportunity? This webinar will detail Manufacturing industry challenges and how using IoT can address these challenges through optimizing logistics, improving processes and gaining meaningful insights.
Register Today!