Next Gen Supply Chain: Blockchain and Supply Chain Innovation
Blockchain's potential is great, but most organizations have not yet made the investment.

By
Becky Partida
·
December 14, 2017
Latest News
U.S. Port Update Part 1: Infrastructure Shortfalls Driving Innovation
Procurement is getting its digitized act together
BREXIT Finale Creates Another Challenge for Global Supply Chain Managers
Oregon Rep. Blumenauer makes move for permanent short-line railroad tax credit
UPS is in line to sue EU over failed attempt to acquire TNT Express following court ruling
More News
Latest Resource
2019 Top 5 Trends of Enterprise Labeling
This year's sixth annual Top 5 Trends in Enterprise Labeling report outlines significant shifts in labeling that are impacting businesses and global supply chains at an unprecedented level.
All Resources
By
Becky Partida
·
December 14, 2017
Blockchain, or distributed ledger technology, has become well known among some circles because of its relationship to bitcoin. Conceived as a way to record transactions among those involved in a transaction without the use of financial institutions, blockchain's secure technology has additional applications in the business world. In a recent APQC survey of supply chain professionals, about one-third indicated that blockchain has the potential to create a competitive advantage for their organizations over the next 10 years. About 10% of respondents felt that blockchain would be a potential disruptor for their industry within the same time period.
However, there is a gap between the enthusiasm of organizations familiar with blockchain and its potential, and the opinions of organizations that have had little exposure to the concept of blockchain. A recent study conducted by the Digital Supply Chain Institute (DSCI) at the Center for Global Enterprise, in partnership with APQC, revealed that over one-third of supply chain professionals surveyed are either extremely or moderately unfamiliar with blockchain. Some organizations have begun investigating blockchain and considering its uses for their business, but they are still exercising caution as they weigh the potential benefits of this technology against the barriers to its implementation.
The Technology and It's Current Use
Blockchain technology enables each data element recorded in a ledger to be encrypted in a block. These blocks are chained together across a network accessible to the entities involved in the transactions (these could be suppliers, customers or any other key business partners). A collective agreement on the transactions that take place across the network is reached among the entities through a consensus algorithm. Once a consensus is reached, the data for the transactions cannot be changed and becomes the data of record. The storage of data across the network, rather than in one place, and the inability to change data make blockchain a secure way of recording transactions. For the supply chain, this means more consistent records rather than the disputes and corrections that occur for many organizations. This technology also has applications for any tracking that occurs in the supply chain because it enables organizations to maintain accurate and secure data among partners.
Blockchain clearly has the potential to improve the way organizations conduct transactions and track items within the supply chain. Yet the research conducted by DSCI and APQC indicates that only 1% of the responding organizations are currently using blockchain in their supply chain operations, and only 35% are currently exploring the use of blockchain. Nearly 50% of organizations are neither using nor exploring the use of this technology.
When asked where in the supply chain they are using or considering the use of blockchain, logistics (26% of respondents) and procurement (20% of respondents) are the key areas of focus. Fifteen percent are using or exploring blockchain for manufacturing, and 13% are considering it for finance. These results indicate that some organizations are considering both established and new ways to apply the security and structure of the technology within the supply chain.
As illustrated by these tepid responses, there is still a good deal of uncertainty as to whether organizations' interest in blockchain will translate into investment in the technology. When asked how likely their organization is to invest in blockchain technology for its supply chain in the next one to two years, just under 50% of respondents indicated that they are unsure, whereas only 7% said their organization will definitely invest in blockchain. As shown in Figure 1, respondents who are unsure make up the largest group.
Organizations keeping up with technology trends seem to have high hopes for blockchain and recognize that they could directly benefit from the technology, but they hesitate to commit to making an investment in the near future. Because there is not yet wide use of blockchain technology, these organizations are waiting to see how others apply it before deciding to invest in it themselves.
Future Use
Despite the uncertainty around adopting blockchain in the immediate future, participants in the research recognize a variety of potential applications for blockchain technology. When asked to indicate the most compelling hypotheses about the benefits of blockchain, 34% of respondents selected the potential for cost reduction and the improvement of fragmented supply chains through real-time tracking of end-to-end product movement to better match demand. Close behind was the potential for visibility into multi-tier supply chains and distribution channels to reduce counterfeit goods and improve product integrity, which was selected by 29% of respondents. Improving data and process integrity, trust and control of confidential information was selected by 21% of respondents.
When asked to consider the biggest opportunities for blockchain by the year 2020, respondents rated billing and payment processing highest, indicating that many organizations recognize blockchain's strength at facilitating billing and payment processing. Beyond that, respondents see potential opportunities specifically within supply chain. They indicated that the second biggest opportunity is visibility into product tracking and integrity, followed by logistics, visibility into supplier compliance and self-executing (or smart) contracts.
Organizations also recognize that adopting blockchain has its barriers. As shown in Exhibit 2, the most widely held concern among organizations is finding people with the necessary skills to use blockchain technology. The adoption of blockchain presents a shift away from how organizations have stored and shared data. Because it has yet to be widely adopted, organizations may struggle to find qualified staff who can help them initiate and sustain its use.
The barrier rated a close second is the adoption of the technology by other companies, which is a great concern given that the use of blockchain by business partners is essential. This can be concerning because if many organizations are cautiously waiting to see how the use of blockchain technology plays out within supply chain, the number of partners willing to adopt the technology is limited. As is the case with other new technologies, few organizations want to be the first to jump into the pool.
Other potential barriers indicated by organizations are standard fare for implementing new technology: the lack of a compelling business case for adopting something new and the technical requirements for adopting blockchain. There are also financial resources to consider. Organizations can only adopt a new technology if they can make the investment. Despite concerns about finances, less than one-quarter of respondents consider insufficient return on investment to be a barrier. This indicates that organizations view blockchain as a worthwhile investment, but that financial constraints may make the investment in any new technology difficult.
Balance Caution with Innovation
Blockchain technology presents an opportunity for organizations to create a shared network that builds on supply chain systems and processes already in place. In fact, several large organizations are already using blockchain technology for their supply chains. They have applied the technology to tasks such as tracking shipping containers and food products, as well as for more traditional uses such as facilitating financial transactions.
As shown in the research conducted by DSCI and APQC, some organizations have started considering how blockchain can help their operations and which areas of the supply chain would benefit most. As one of its initial steps, an organization considering blockchain should evaluate the types of relationships it has with its business partners and whether both they and those partners have the technological capability to adopt blockchain. If the partners are indeed able and willing to participate, it can be a way to strengthen those relationships while improving efficiency, security and performance.
There is uncertainty among organizations as to whether they will be willing to dedicate the staffing and technology resources to adopt the technology. Some of this hesitation is related to the largely uncharted waters of applying blockchain to supply chain processes. Although several leading organizations are well into the adoption of blockchain within their supply chains, those organizations not in a position to be on the leading edge of this trend must balance their need for caution with the potential benefits they could reap from blockchain's application. Organizations would do well to make sure they understand the investment required as well as the full scope of what they will need to do to establish a blockchain network with their business partners.
---
About APQC
APQC helps organizations work smarter, faster, and with greater confidence. It is the world's foremost authority in benchmarking, best practices, process and performance improvement, and knowledge management. APQC's unique structure as a member-based nonprofit makes it a differentiator in the marketplace. APQC partners with more than 500 member organizations worldwide in all industries. With more than 40 years of experience, APQC remains the world's leader in transforming organizations. Visit us at apqc.org, and learn how you can make best practices your practices.
December 29, 2017
Subscribe to Supply Chain Management Review Magazine!
Subscribe today. Don't Miss Out!
Get in-depth coverage from industry experts with proven techniques for cutting supply chain costs and case studies in supply chain best practices.
Start Your Subscription Today!
Latest Whitepaper
2019 Top 5 Trends of Enterprise Labeling
This year's sixth annual Top 5 Trends in Enterprise Labeling report outlines significant shifts in labeling that are impacting businesses and global supply chains at an unprecedented level.
Download Today!
From the January-February 2019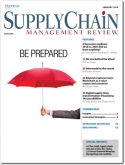 Truck Driver Shortage: No one behind the wheel
Intermodal to the rescue
View More From this Issue
Latest Webcast
Leveraging the Internet of Things (IoT) in Manufacturing
Is Digital Transformation a risk or an opportunity? This webinar will detail Manufacturing industry challenges and how using IoT can address these challenges through optimizing logistics, improving processes and gaining meaningful insights.
Register Today!