Subscribe to Magazine and eNewsletters
Begin or renew your subscriptions to the market-leading magazine and eNewsletters from Supply Chain Management Review.

Supply Chain Management Review brings you what no other source can deliver—the most comprehensive supply chain information from the world's foremost authorities in our field on the subjects that matter most to supply chain professionals.
Begin or Renew Your Subscriptions
Start a magazine subscription
Renew a magazine subscription
Start an email newsletter subscription
Customer Service
Email: .(JavaScript must be enabled to view this email address)
Phone: 1-847-559-7581
Fax: 1-847-564-9453
Mail: Peerless Media, PO Box 677, Northbrook, IL 60065-0677 USA
Latest Whitepaper
2019 Top 5 Trends of Enterprise Labeling
This year's sixth annual Top 5 Trends in Enterprise Labeling report outlines significant shifts in labeling that are impacting businesses and global supply chains at an unprecedented level.
Download Today!
From the January-February 2019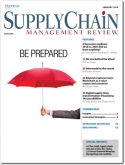 Truck Driver Shortage: No one behind the wheel
Intermodal to the rescue
View More From this Issue
Latest Webcast
Leveraging the Internet of Things (IoT) in Manufacturing
Is Digital Transformation a risk or an opportunity? This webinar will detail Manufacturing industry challenges and how using IoT can address these challenges through optimizing logistics, improving processes and gaining meaningful insights.
Register Today!