Procurement: Leading organizations are delivering superior business performance; others are lagging
A.T. Kearney's 2014 AEP Study finds that the best procurement organizations are at the top of their game. Meanwhile, the rest of the pack is treading water and wondering what's next for procurement.

By
Bob Trebilcock
·
November 30, 2014
Latest News
U.S. Port Update Part 1: Infrastructure Shortfalls Driving Innovation
Procurement is getting its digitized act together
What Are You Doing About the CRaP Products in Your Business?
2019: The Year of Supply Chains Living Dangerously
Industrial outlook cloudy but solid overall economic fundamentals rosy for trucking industry
More News
Latest Resource
2019 Top 5 Trends of Enterprise Labeling
This year's sixth annual Top 5 Trends in Enterprise Labeling report outlines significant shifts in labeling that are impacting businesses and global supply chains at an unprecedented level.
All Resources
By
Bob Trebilcock
·
November 30, 2014
Several years ago, John Blascovich participated in a round table on procurement in Brazil. Blascovich knows a thing or two about procurement excellence. He is an A.T. Kearney partner, president of A.T. Kearney Procurement & Analytic Solutions and co-author of the Assessment of Excellence in Procurement Study. Kearney has been producing the series with input from supply chain executives every three years since 1992.
During the round table, someone proposed that procurement needed to be more strategic within large organizations, including a report to the C-Suite. "There were chuckles and some skepticism at the time," Blascovich recalls. "But in 2014, the concept of strategic procurement has come to fruition at the best organizations."
In fact, says Blascovich, two themes emerged from the 2014 AEP Study, Procurement-Powered Business Performance, that in some ways seem contradictory.
On the one hand, the study found that the best large companies, defined as organizations with more than $15 billion in revenue, "have achieved breakthrough financial results from procurement." That is consistent across industry verticals. In fact, leading organizations are generating double the Return on Supply Management Assets performance levels compared to the typical company and are delivering benefits at a rate ten times greater than the cost of their people, technology, and external support.
At the same time, the rest of the pack has been treading water since 2011. Following the Great Recession in 2008-09, procurement departments helped many companies shed costs and deliver some of the best benefits recorded in the two decades that Kearney had been producing the study. In the 2011 study, Kearney predicted the "upward trajectory" would continue, in part as a result of strategic procurement. Instead, says Blascovich, the 2014 study found that the typical company had leveled off and reverted to its norm following the 2011 gains. "That was the biggest surprise in this year's study," Blascovich says. "It appears as if many companies went through a flurry of cost-cutting activity, showed real results, and then everything went back to the way it was."
There are several possible explanations for the leveling off: For instance, once the urgency of the recession passed, companies may have taken their feet of the pedals and allowed suppliers to lap them. Or they simply have hit a wall and have yet to figure out how to generate the next round of performance improvements. "The very best companies get this and keep their feet on the gas," Blascovich says. "They're getting these strategic relationships off the ground and are realizing real value in being a leader."
Blascovich adds that CPG companies in particular have worked hard on procurement initiatives such as supplier relationship management that drive innovation in their products. "There's been a lot of progress over the past 15 years that I've been involved in the study," Blascovich says. "We really believe that the future can be interesting for those companies that have their house in order, focus on procurement, and understand how to chart a course forward."
The complete 2014 AEP Study is available at http://www.atkearney.com/procurement/assessment-of-excellence-in-procurement-study.
June 9, 2017
About the Author
Bob Trebilcock Bob Trebilcock, editorial director, has covered materials handling, technology, logistics and supply chain topics for nearly 30 years. In addition to Supply Chain Management Review, he is also Executive Editor of Modern Materials Handling. A graduate of Bowling Green State University, Trebilcock lives in Keene, NH. He can be reached at 603-357-0484.
Subscribe to Supply Chain Management Review Magazine!
Subscribe today. Don't Miss Out!
Get in-depth coverage from industry experts with proven techniques for cutting supply chain costs and case studies in supply chain best practices.
Start Your Subscription Today!
Latest Whitepaper
2019 Top 5 Trends of Enterprise Labeling
This year's sixth annual Top 5 Trends in Enterprise Labeling report outlines significant shifts in labeling that are impacting businesses and global supply chains at an unprecedented level.
Download Today!
From the January-February 2019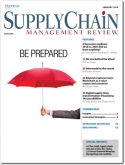 Truck Driver Shortage: No one behind the wheel
Intermodal to the rescue
View More From this Issue
Latest Webcast
Leveraging the Internet of Things (IoT) in Manufacturing
Is Digital Transformation a risk or an opportunity? This webinar will detail Manufacturing industry challenges and how using IoT can address these challenges through optimizing logistics, improving processes and gaining meaningful insights.
Register Today!