Parcel Shippers and the Art of the Deal
In most cases even if you signed a carrier agreement a month ago you are free to negotiate a new deal, says a prominent industry analyst.

By
Patrick Burnson, Executive Editor
·
December 12, 2018
Latest News
U.S. Port Update Part 1: Infrastructure Shortfalls Driving Innovation
Procurement is getting its digitized act together
BREXIT Finale Creates Another Challenge for Global Supply Chain Managers
Oregon Rep. Blumenauer makes move for permanent short-line railroad tax credit
UPS is in line to sue EU over failed attempt to acquire TNT Express following court ruling
More News
Latest Resource
2019 Top 5 Trends of Enterprise Labeling
This year's sixth annual Top 5 Trends in Enterprise Labeling report outlines significant shifts in labeling that are impacting businesses and global supply chains at an unprecedented level.
All Resources
By
Patrick Burnson, Executive Editor
·
December 12, 2018
Last year at this time Jerry Hempstead, president of parcel express analyst firm Hempstead Consulting, told supply chain managers to expect carriers to impose more than one rate increase in 2018. That prophecy held true, he reminds us, but it does not shed much light on what to expect in 2019.
"It's going to be a challenge for managers plan a budget this year," he says. "But we can look at the recent carrier announcements of their 2019 General Rate Increases (GRIs) to see how much pain your P&L might experience."
According to Hempstead, carriers "speak in smoke signals" and use "averages" which comprise the published rate cells divided by the number of those cells.
"Their averages are not a reflection of their actual experience because shippers don't tender an equal number of shipments for each service type, each weight and each zone," he says. "And no two players are alike."
Hempstead observes that in early October the USPS announced their plans to raise parcel rates, but did disclose the amount.
They are required, however, to file publicly with the Postal Regulatory Commision (PRC) and share that proposal.
Parcels fall into the area defined as "competitive products," so the USPS is free to propose and charge whatever their board of directors deems appropriate. The rates will be effective January 27 with some and going up as much as 40%.
Meanwhile, FedEx announced in November that effective January 7, Express, Ground and Home Delivery rates will rise by an average of 4.9%. Also that month, DHL-USA announced a 5.4% rate increase effective January 1, 2019.
UPS waited until December to notify shippers of its rate increase of 4.9% which will be effective December 26. Hempstead adds that there's a "caveat." Effective December 31, 2018, the Domestic Air Fuel Surcharge will increase by 0.25% for all thresholds.
"Note that FedEx Express and FedEx Ground fuel surcharge tables were updated in September, with a substantial increase bringing their fuel surcharge close to but not greater than that published by UPS," says Hempstead. "For whatever reason UPS wants to be all the more expensive than FedEx when it comes to fuel.
DHL-USA announced a substantial increase in its fuel surcharge table on September 14. They had been significantly below that charged by UPS for imports and exports.
"Did someone mention to me that fuel prices have been going down? Why are surcharges for fuel going up so significantly?" Hempstead asked rhetorically.
He observes that the carriers are also adding to the menu of items that carry the fuel surcharge. For example, Fuel surcharges will now apply to UPS shipments that have Additional Handling, Over Maximum Limits, Signature Required and Adult Signature Required accessorials.
Other surprises are that UPS will have a processing fee of $2.00 per package will be charged when Package Level Detail (PLD) is not provided to UPS prior to delivery. And the UPS fee applied to shipments billed to a Third Party will increase to 4.5% of total charges.
"Last June UPS introduced an Audit Fee that is assessed if the average shipping charge correction in an invoice week is more than $5.00," recalls Hempstead. "This new fee will be the greater of $1.00 per package subject to a shipping charge correction or 6% of the total amount of shipping charge corrections during the applicable invoicing period."
At issue with this fee is still a practice by some shippers who use incorrect or no dimensions at all when creating labels and transmitting data to UPS. This dovetails with the new $2 fee for non-timely transmission of the data.
Here is the "more" that was promised on the USPS.
The fastest growing product(s) in the parcel industry for the last 20 years have been hybrid postal products. DHL ecommerce, FedEx Smartpost, UPS Surepost, Pitney Bowes Newgistics, and of course, Amazon.
"All these players use the USPS for some form of 'zone skipping, workshare' discounts with the USPS," says Hempstead. "Granted all have Negotiated Service Agreements (NSAs) with the USPS but those are usually an arithmetic function off the published rate predicated on volume. The most effective product is Parcel Select Delivery Destination Unit (DDU) entry."
Those prices/costs are going up 10% or more in most cases, he adds. A 21 pound piece is going up 40%. Most lightweight parcels (Under 1 pound where the USPS has no real competition) is going up about 20% in every case.
"Think of the packages of prescriptions that come from your mail order pharmacy," says Hempstead. "There are hundreds of thousands of them a day and all of these are going to be hit with large increases regardless of the entry point into the USPS."
From Hempstead's perspective, the most pricing pressure for the carriers is on the bulky, oversized, pieces some which require additional handling. The two big integrators are in "a race to see who can be the most expensive," he adds.
All the usual fees are going up. Address Correction, Delivery area and extended delivery area surcharges, and residential area surcharges.
"A word of caution to the reader," he says. "Don't assume that base rates for Fedex and UPS are the same and therefore you only need to compare discounts."
Take for example Priority Overnight vs UPS Next Day Air (Red). UPS is about 1% higher than FedEx but its fuel surcharge will now be substantially higher (Unless FedEx decides to match UPS and there is no reason to believe they will not). UPS address corrections are going to be $16.40 vs $16 for Fedex.
The residential surcharge will be $4.55 vs $4.40 for FedEx. The residential DAS for UPS will be $4.35 vs $4.20 for FedEx. Keep in mind that the fuel surcharges will be layered upon the Delivery Area Surcharge (DAS) and the Residential Fee.
"As you know all of this is negotiable," says Hempstead, who reminds readers that the magnitude of the GRI is negotiable each year.
The minimum charges are negotiable, the accessorial charges including fuel are negotiable and when shippers decide to negotiate is normally up to them.
"In most cases even if you signed a carrier agreement a month ago you are free to negotiate a new deal," he concludes.
December 12, 2018
About the Author
Patrick Burnson, Executive Editor Patrick Burnson is executive editor for
Logistics Management
and
Supply Chain Management Review
magazines and web sites. Patrick is a widely-published writer and editor who has spent most of his career covering international trade, global logistics, and supply chain management. He lives and works in San Francisco, providing readers with a Pacific Rim perspective on industry trends and forecasts. You can reach him directly at
[email protected]
Subscribe to Supply Chain Management Review Magazine!
Subscribe today. Don't Miss Out!
Get in-depth coverage from industry experts with proven techniques for cutting supply chain costs and case studies in supply chain best practices.
Start Your Subscription Today!
Latest Whitepaper
2019 Top 5 Trends of Enterprise Labeling
This year's sixth annual Top 5 Trends in Enterprise Labeling report outlines significant shifts in labeling that are impacting businesses and global supply chains at an unprecedented level.
Download Today!
From the January-February 2019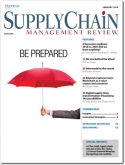 Truck Driver Shortage: No one behind the wheel
Intermodal to the rescue
View More From this Issue
Latest Webcast
Leveraging the Internet of Things (IoT) in Manufacturing
Is Digital Transformation a risk or an opportunity? This webinar will detail Manufacturing industry challenges and how using IoT can address these challenges through optimizing logistics, improving processes and gaining meaningful insights.
Register Today!