NextGen Supply Chain: Lights-Out Logistics in the Connected Warehouse
Bent on helping retailers and brands stay competitive in an Amazon world, the Emerging Technology Center (ETC) in Orlando is well on its way to creating a lights-out warehouse for the masses.

By
Bridget McCrea, Editor
·
February 25, 2018
Latest News
U.S. Port Update Part 1: Infrastructure Shortfalls Driving Innovation
Procurement is getting its digitized act together
DSV confirms its offer to acquire Panalpina for roughly $4 billion
CMA CGM heralds service additions to the Ocean Alliance
New JLL report explores concept of industrial 'Human Centric Design'
More News
Latest Resource
2019 Top 5 Trends of Enterprise Labeling
This year's sixth annual Top 5 Trends in Enterprise Labeling report outlines significant shifts in labeling that are impacting businesses and global supply chains at an unprecedented level.
All Resources
By
Bridget McCrea, Editor
·
February 25, 2018
Cross the threshold into Tompkins International's newly-reopened Emerging Technology Center (ETC) in Orlando, and you'll instantly find yourself immersed in a vision that the organization's founder and CEO, James Tompkins, first dreamed of back in 2012. At the time, most supply chain managers weren't thinking about putting robots in their warehouses or DCs; Amazon had yet to become the e-tailing force that it is now; and the most popular way to scale up a warehouse was to simply add more labor and/or real estate to the equation.
"What you see here is the culmination of that vision," says Tompkins, who led a media day tour of the new ETC last Tuesday. He was referring to an ETC setup that incorporates the MonarchFX robotics solution, a robotic picking arm enabled by RightHand Robotics, SensorThink's cloud-based machine learning platform, SI Systems' A-Frame dispensers, Softeon's distributed order management (DOM) solution, and an auto-bagging solution from Piedmont National. Using the t-Sort material handling sortation system, ETC's connected warehouse uses free-moving, independent robots to replace conveyors, sorters, and tilt trays.
Because the robots move along a direct path, warehouses and DCs get better space utilization and easy scale-ups by simply adding more robots to the lineup. RightPick's vision and machine-learning software—enabled by "smart grippers"—help the robots to handle thousands of items and to gather data from each pick. The end result is a robot that can perform induction onto a t-Sort. Add modular tables to the equation and the end result comes pretty close to being the "lights-out logistics" solution that many companies are striving for.
Bringing Connectivity into the Real World

Led by Jim Serstad of Tompkins, the tour started with a basic overview of the robots themselves, which are fairly simple in construction and weigh about 20 pounds each. The bots can handle an 11-pound payload. Using a 3D printer, the company can prototype the "trays" that sit atop the bots, gather the goods, and then utilize a tilting mechanism to drop them into the appropriate bins or totes.
The yellow-and-black bots navigate deftly around the test area and are controlled by Tompkins' warehouse execution systems (WES). Some muted hissing and popping sounds in the background lets us know that RightPick is doing its job by picking individual items off the bots and dropping those goods into bins.
And while Serstad doesn't like to talk much about the mechanics behind the bots for competitive reasons (hint: it involves RFID tags and magnets) or discuss which companies are piloting it, he will say that "several large retailers" are either already testing it out or in the middle of pilot programs. One in particular is working with Tompkins to manage over 2600 locations, with 12 lines (24 total) going in each direction. Another is using modular tables and bots to fulfill orders only during the overnight hours, and then "folds up the tables and sticks them in the corner during the day," according to Tompkins.
Ed Romaine of SI Solutions demonstrated how the induction process for the A-Frame worked from the top to bottom, noting that each "channel" holds one SKU and dispenses about five items per section. Each channel has sensors, and the A-Frame can handle 1,200-1,700 items per hour. And if you only need to pick-to-belt you're in luck; that number rises to 2,100 per hour.
"A-Frame-to-robot has never been done before at this speed," says Romaine, noting that there's no need for labor on the picking side with this particular solution. "The only manual aspect is for replenishment."
The Foundation for the NextGen Supply Chain

Joking that his company didn't have the "big pieces of equipment or fancy robots" to show off on the ETC floor, Eric Peters of SensorThink showed us how the Internet of Things (IoT), blockchain, and P2P payments are coming together to create a "digital platform for the industrial Internet" and working together to support the actual work output. IoT, for example, validates the fact that an event occurred and that subsequent events can now take place (i.e., payment via blockchain).
"Blockchain and IoT were built for the supply chain," says Peters, noting that warehousing technology as a whole hasn't changed much in the last 20 years, and that the basic functional tasks have all been addressed. "Looking to the future, digital tech like IoT and blockchain will provide the foundation for making 'next step' improvements in supply chain cost structures."
To be sure, there are still some gaps to fill and kinks to work out in the connected warehouse. Someone needs to load the A-Frame with product, for example, and a worker still has to physically move stuff from the picking-and-packing location(s) to the auto bagger. And according to Serstad, the consortium is now working on a scenario whereby robots don't have to physically stop for induction, and will simply "roll by" as they are being loaded.
In the end, Tompkins says the 7-phase initiative (of which three phases have been completed) will result in "zero labor" for warehouses and DCs. His face breaks into a broad smile as he talks about how well things are coming together and about the $500 million cash infusion his firm got last year to bring the vision—which will be tied together by a national, distributed logistics network—to fruition. "Our ultimate goal with all of this is to help retailers and brands stay profitable in an Amazon world," says Tompkins, "via an automated, offensive strategy."
---
Bridget McCrea is a contributing editor to Supply Chain Management Review. She can be reached at .(JavaScript must be enabled to view this email address)
February 26, 2018
About the Author
Bridget McCrea, Editor Bridget McCrea is a Contributing Editor for Logistics Management based in Clearwater, Fla. She has covered the transportation and supply chain space since 1996 and has covered all aspects of the industry for Logistics Management and Supply Chain Management Review. She can be reached at
[email protected]
, or on Twitter
@BridgetMcCrea
Subscribe to Supply Chain Management Review Magazine!
Subscribe today. Don't Miss Out!
Get in-depth coverage from industry experts with proven techniques for cutting supply chain costs and case studies in supply chain best practices.
Start Your Subscription Today!
Latest Whitepaper
2019 Top 5 Trends of Enterprise Labeling
This year's sixth annual Top 5 Trends in Enterprise Labeling report outlines significant shifts in labeling that are impacting businesses and global supply chains at an unprecedented level.
Download Today!
From the January-February 2019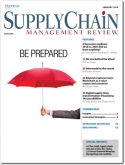 Truck Driver Shortage: No one behind the wheel
Intermodal to the rescue
View More From this Issue
Latest Webcast
Leveraging the Internet of Things (IoT) in Manufacturing
Is Digital Transformation a risk or an opportunity? This webinar will detail Manufacturing industry challenges and how using IoT can address these challenges through optimizing logistics, improving processes and gaining meaningful insights.
Register Today!