LogisticsExchange begins trading, bringing predictability to the transportation market
New digital platform secures capacity at fixed rates using binding contracts

By
LM Staff
·
January 25, 2018
{scmr_abstract}
LM Staff
·
January 25, 2018
After months of close collaboration with leading shippers, carriers and 3PLs, LogisticsExchange (LE) has begun buying, selling and trading LE Forwards contracts on its digital platform. With truckload rates rising to three-year highs entering 2018, LE is seeing a surge in demand for its binding, enforceable contracts that guarantee capacity to shippers and committed loads to carriers.
Using proprietary analytics, the LE Platform provides forward visibility and price discovery to help logistics industry practitioners improve service and price reliability. The company's digital platform connects carriers, shippers and Logistics Service Providers (LSPs) to intelligently match demand with capacity and to execute enforceable, binding contracts.
LogisticsExchange provides benefits to all participants in the transportation market:
Shippers: Buy insurance and protect budgets with guaranteed capacity, service and cost with enforceable, binding digital contracts
Carriers: Pre-book capacity through guaranteed commitments, improving network balance, and informing strategic pricing and asset allocation decisions
Brokers: Secure margins by covering customer commitments with guaranteed capacity and rates, managing risks and reducing operational workload
Over the past year, the LE team has analyzed extensive datasets from shippers and Logistics Service Providers to identify opportunities to secure capacity at fixed rates using LE Forwards, the first of several types of contracts to be released on their platform.
"Our close collaboration with industry leaders has been critical for developing analytical tools, standardized contracts, and transparent trading rules that solve persistent problems for shippers, carriers and 2PLs," said Anshu Prasad, co-founder and CEO of LogisticsExchange. "Delivering value for today's logistics market participants is critical for establishing the foundation of trust and transparency we will need as we expand buying, selling and trading activity to a broader set of industry participants.
Prasad said that initial results have been promising, securing future capacity for several thousand shipments and avoiding service disruptions and overexposure to the spot market at rates 10 - 25 percent lower than through alternate approaches. Both shippers and LSPs have shared in these benefits, allowing them to focus their stretched resources on other challenges in their supply chains.
Although these initial contracts represent a small portion of the nearly $400 billion spent in the U.S. annually on for-hire trucking services, these contracts suggest the enormous benefits available for shippers, carriers and 3PLs through a common platform, transparent trading rules, and advanced analytics.
Prasad commented, "While there is much more to do, we are excited by the results our early customers have achieved. Over the next few months, we will continue to focus on enhancing the value to our customers, while expanding the analytics, data insights and tools we provide them via the LE Platform."
For more information, visit http://www.logisticsexchange.com.
January 25, 2018
Subscribe to Supply Chain Management Review Magazine!
Subscribe today. Don't Miss Out!
Get in-depth coverage from industry experts with proven techniques for cutting supply chain costs and case studies in supply chain best practices.
Start Your Subscription Today!
Latest Whitepaper
2019 Top 5 Trends of Enterprise Labeling
This year's sixth annual Top 5 Trends in Enterprise Labeling report outlines significant shifts in labeling that are impacting businesses and global supply chains at an unprecedented level.
Download Today!
From the January-February 2019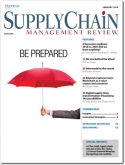 Truck Driver Shortage: No one behind the wheel
Intermodal to the rescue
View More From this Issue
Latest Webcast
Leveraging the Internet of Things (IoT) in Manufacturing
Is Digital Transformation a risk or an opportunity? This webinar will detail Manufacturing industry challenges and how using IoT can address these challenges through optimizing logistics, improving processes and gaining meaningful insights.
Register Today!