ISM Reports Another Month of Growth in Manufacturing Sector
New orders, which are often viewed as the engine driving manufacturing, had another strong month

By
Jeff Berman, Group News Editor
·
August 1, 2017
Latest News
Third Party Risk: Too Close for Comfort
The State of the DC Voice Market
ISM semiannual report presents a positive outlook for manufacturing and non-manufacturing in 2018
Rail labor agreements are reached, says National Railway Labor Conference
Positive outlook for 2018 is in the cards for manufacturing and non-manufacturing sectors, says ISM
More News
Latest Resource
Third Party Risk: Too Close for Comfort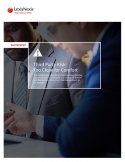 You've got a handle on many of the potential supply chain "disrupters" that can paralyze your business. But the real risk is embedded in areas you may have overlooked.
All Resources
By
Jeff Berman, Group News Editor
·
August 1, 2017
While falling short of June's pace, manufacturing output began the second half of 2017 in decent shape, according to data issued in the Institute for Supply Management's (ISM) monthly Manufacturing Report on Business, which was released earlier today.
The July PMI, the index used by the ISM to measure growth, was off 1.5% from June at 56.3 (a reading of 50 or higher indicates growth), with the PMI growing for the last 11 months and the over all economy up for the last 98 months. The July PMI is the fourth highest reading in the last 12 months and is 0.1% below the 12-month average of 56.3 and 1.4% above the 12-month average of 54.7.
ISM said that 15 of the 18 manufacturing sectors contributing to the report grew in May, including Plastics & Rubber Products; Electrical Equipment, Appliances & Components; Wood Products; Fabricated Metal Products; Machinery; Chemical Products; Paper Products; Food, Beverage & Tobacco Products; Printing & Related Support Activities; Computer & Electronic Products; Nonmetallic Mineral Products; Furniture & Related Products; Miscellaneous Manufacturing; Primary Metals; and Transportation Equipment. Three industries reported contraction in July compared to June: Apparel, Leather & Allied Products; Textile Mills; and Petroleum & Coal Product.
New orders, which are often viewed as the engine driving manufacturing, had another strong month, even though it was off 3.1% compared to June at 60.4 and remained in growth mode for the 11th month in a row and staying over 60 for the second straight month. ISM said that 14 of 18 manufacturing sectors saw growth in new orders for the month.
Production did not keep pace with June's 5.5% increase, falling 1.8% to 60.6 and still growing for the 11th month in a row, with 14 manufacturing sectors reporting growth. Employment was off 2% to 55.2 while growing for the tenth consecutive month. The report noted that there has been an increase in turnover, with employees leaving for other opportunities, coupled with labor-related issues becoming more prevalent, too. Inventories were up 1% to 50.0
Comments submitted to the report by ISM member respondents were largely positive with ISM Manufacturing Committee Chair Tim Fiore explaining in the report that the comments generally reflected expanding business conditions, with new orders, production, employment, backlog and exports all growing in July compared to June, as well as supplier deliveries slowing (improving) and inventories unchanged during the period.
In an interview, Fiore described July as a strong month, despite some mild declines in key metrics.
"Some of the drop-off in the PMI was driven by the decline in new orders, which makes sense," he said. "That was due to declines in the transportation and machinery sectors that were offset by chemical products and computers and electronic equipment, which gained in the index."
July prices saw a 7.0% gain to 62, while seeing gains for the 17th consecutive month.
"We measure prices month-to-month, and they tend to change quickly but don't get experienced quickly," Fiore said. "In other words, they don't flow through like how diesel tends to, as that is sort of like cash. There was a broad increase in prices across a number of different industries. That was the case for steel. Electronic products also saw prices short, which impacted production, and were also up in price."
Other notable metrics in the report included:
-supplier deliveries down 1.6% to 55.4 (above 50 indicates contraction for this metric);
-backlog of orders down 2% to 55, growing for the 6th straight month; and
-imports and exports down 2% and up 2%, respectively
Looking at the state of the manufacturing sector through July, Fiore said that the sector is in the 16th month of a 30-month expansion cycle.
"Going back to 2000, we have had three expansion cycles," he said. "One was very long from 2002-2008, which was partially supported by odd financial incentives. Another was from 2009-2012, and another from 2013-2015. These cycles are generally around 30 months, and for this cycle there was one month in August 2016 where the PMI was below 50. The start point for this cycle was March 2016. We are 16 months in, and I still think we have another 14 months to go. The PMI may be closer to the low 50s range, but I think we will stay above 50 for the next year."
August 2, 2017
About the Author
Jeff Berman, Group News Editor Jeff Berman is Group News Editor for
Logistics Management
,
Modern Materials Handling
, and
Supply Chain Management Review
. Jeff works and lives in Cape Elizabeth, Maine, where he covers all aspects of the supply chain, logistics, freight transportation, and materials handling sectors on a daily basis.
Contact Jeff Berman
Subscribe to Supply Chain Management Review Magazine!
Subscribe today. Don't Miss Out!
Get in-depth coverage from industry experts with proven techniques for cutting supply chain costs and case studies in supply chain best practices.
Start Your Subscription Today!
Latest Whitepaper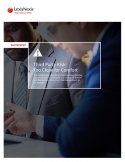 Third Party Risk: Too Close for Comfort
You've got a handle on many of the potential supply chain "disrupters" that can paralyze your business. But the real risk is embedded in areas you may have overlooked.
Download Today!
From the December 2017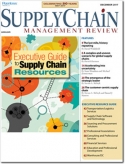 Transportation Trends: The last mile, history repeating
Economic Outlook: A Complex and Uneven Scenario for Global Supply Chains
View More From this Issue