Digital Trade Transformation: Ten Observations for 2018: Part III
Rise of Digital Matching

By
Michael Gravier
·
December 11, 2017
Michael Gravier
·
December 11, 2017
Editor's Note: This is the third and final installment of a three-part forecast.
Rise of Digital Matching
There's a big misconception about the future economy being based on "sharing" or "collaborating." Nothing could be further from the truth. Companies like Airbnb and Uber do not share their assets – they perform the powerful and profitable task of matching capabilities to needs. They do it more precisely at a finer and smaller scale than traditional companies and they exchange their service for payment. In a world awash with options, value has shifted from traditional department store "making options available" to "help the customer decide on the best option."
Observation 7: Shipping Paperwork Will Automate
Amazon continues its ambitious goal of becoming the king of deliveries. The company has quietly puts its expertise at matching supply with demand into ocean freight forwarding and trucking, where the company has created apps that are projected to create a new wave of efficiency gains. Currently, the trucking app, Relay, shows truckers where cargo is, it also shows the promise of automating shipping paperwork, which is highly reliant on phone and paper. Smart managers will watch for automation solutions, whether from Amazon or some other innovator.
Observation 8: Digital Requires Batteries
Ports and transport will receive new attention to their environmental impacts. In the U.S., transport recently overtook utilities for biggest polluter. A Pandora's box of cheaper, greener power sources has passed the tipping point where the technologies make more sense – and the result will be a revolution as everyone seeks to cash in on the new efficiencies. China launched a battery powered ship which is used to haul coal. Tesla is talking about battery powered trucks although other truck manufacturers may be better positioned. The point is that the established players have bought into cleaner energy. It makes sense to spend less money on inputs that turn into soot and carbon dioxide – products that have no value. Digital matching services will provide shippers with more options to choose "greener" transportation, even those that don't run on batteries. Smart managers will watch for greener options that make fiscal and operational sense over the medium term. Customers are less forgiving of short-term vision, yet surprisingly understanding of long-term risks.
Observation 9: You Are Always Observed
The trend toward total electronic integration will increase dramatically as there is simply too much benefit to society not to increase investments in the internet of things and the digital economy. It's the only way that developed economies can compete globally, and developing nations seek to accelerate their equalization. Some examples include ELD (electronic logging devices) for U.S. trucking and "smart ports." Companies may balk at the short-term costs, yet multiple benefits to security, environment and the bottom line argue that failing to act may be the greatest risk of all. It is also a powerful way for industry to integrate and coordinate with companies which make the most sense for them, instead of depending on volatile political processes to develop global trade treaties. Smart managers will actively engage with public-private initiatives as well as industry trade groups – successful companies will embrace the new world of openness. Those most open to transparency will likely attract the least attention.
Observation 10: Don't Delay
Global logistics and trade compliance have traditionally relied on intransigence to provide stability. A culture focused on tradition and rules has provided stability in the face of political, economic and social changes. Technology has changed the equation – industry leaders must actively engage to establish new rules and traditions for how companies interact with other companies, governments and inter-governmental organizations. Companies that delay modernizing will find themselves in danger of irrelevance.
The breadth and scope of changes in store will over-whelm many managers. Supply chain leaders will wholeheartedly – but intelligently – buy into technology-based solutions. Those too timid to take the risk of making a mistake and starting over will lose out because the new wave of technology requires learning and co-creating solutions. The time to transform to digital has arrived!
December 11, 2017
Latest Whitepaper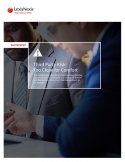 Third Party Risk: Too Close for Comfort
You've got a handle on many of the potential supply chain "disrupters" that can paralyze your business. But the real risk is embedded in areas you may have overlooked.
Download Today!
From the December 2017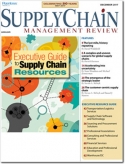 Transportation Trends: The last mile, history repeating
Economic Outlook: A Complex and Uneven Scenario for Global Supply Chains
View More From this Issue