How to Minimize Costs with Enterprise Labeling
The right labeling solution will allow companies to stand up to their everyday challenges and add value.
Download Today!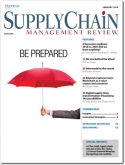 Truck Driver Shortage: No one behind the wheel
Intermodal to the rescue
View More From this Issue
Integrating Planning and Execution with Optimization
Hear how leading organizations are using the Big Data collected from the Internet of Things, machine learning, business intelligence, cognitive analytics and massive computing power to re-plan and optimize their supply chains in near real time.
Register Today!