RSS News Feeds
With RSS, you can get what you want when you wan

Instead of visiting scmr.com everyday and trying to find the new content, subscribing to the site's RSS feed allows the new content to be sent straight to you!
Finding an RSS Reader
There are plenty of options for RSS readers—some of the more popular ones are Google Reader, Bloglines and My Yahoo!.
Here's an extensive list of RSS readers, categorized by platform and accessibility.
Subscribing to a Supply Chain Management Review feed
To subscribe to a Supply Chain Management Review RSS feed, click on the orange RSS logo found on any article or index page and copy the URL into your RSS reader.
http://feeds.feedburner.com/scmr/rss/recentlyfiled
For a more detailed look at RSS, check out the Wikipedia entry.


Latest Whitepaper
2019 Top 5 Trends of Enterprise Labeling
This year's sixth annual Top 5 Trends in Enterprise Labeling report outlines significant shifts in labeling that are impacting businesses and global supply chains at an unprecedented level.
Download Today!
From the January-February 2019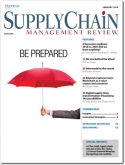 Truck Driver Shortage: No one behind the wheel
Intermodal to the rescue
View More From this Issue
Latest Webcast
Leveraging the Internet of Things (IoT) in Manufacturing
Is Digital Transformation a risk or an opportunity? This webinar will detail Manufacturing industry challenges and how using IoT can address these challenges through optimizing logistics, improving processes and gaining meaningful insights.
Register Today!