Contact Us


Peerless Media produces industry-leading brands in the supply chain, logistics, materials handling and design engineering markets. Each is the content leader in their respective field for news, analysis and resources. Peerless offers unparalleled marketing opportunities for branding, lead-generation, research, content creation and thought leadership.
For Information, please contact:
President and Group Publisher
Brian Ceraolo
.(JavaScript must be enabled to view this email address)
281 Route 79
Morganville, NJ 07751
Tel: 732-970-1070
Office Manager
Laurel Peddie
.(JavaScript must be enabled to view this email address)
111 Speen Street, Suite 200
Framingham, MA 01701
Tel: 508-663-1500 ex 234
Fax: 877-330-7427
Subscriptions/Circulation:
Michelle McKeon, Senior Audience Marketing Manager
.(JavaScript must be enabled to view this email address)
603-635-2031
Customer Service:
Peerless Media, PO Box 677,
Northbrook, IL 60065-0677
.(JavaScript must be enabled to view this email address)
Tel: 847-559-7581
Fax: 847-564-9453
SALES
East Coast Sales
Paul Kenny, Sales Manager
.(JavaScript must be enabled to view this email address)
308 Addison Place
West Chester, PA 19382
Tel: 508-808-8251
Fax: 877-330-6570
West Coast and Western Canada Sales
Brian McAvoy, Sales Manager
.(JavaScript must be enabled to view this email address)
111 Speen Street, Suite 200
Framingham, MA 01701
Tel: 508-808-9554
Midwest & Eastern Canada Sales
Jeff Giersch, Sales Manager
.(JavaScript must be enabled to view this email address)
W169 N10776 Redwood Lane
Germantown, WI 53022
Tel: 262-251-7395
Fax: 262-251-7398
Production:
Kelly Jones, Production Manager
.(JavaScript must be enabled to view this email address)
111 Speen Street, Suite 200
Framingham, MA 01701
Tel: 508-663-1500 ex 319
Fax: 877-330-7537
Editorial:
Bob Trebilcock, Editorial Director
.(JavaScript must be enabled to view this email address) / 603-357-0484
Patrick Burnson, Executive Editor
.(JavaScript must be enabled to view this email address) / 415-752-0213
Latest Whitepaper
2019 Top 5 Trends of Enterprise Labeling
This year's sixth annual Top 5 Trends in Enterprise Labeling report outlines significant shifts in labeling that are impacting businesses and global supply chains at an unprecedented level.
Download Today!
From the January-February 2019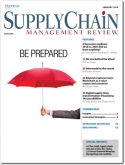 Truck Driver Shortage: No one behind the wheel
Intermodal to the rescue
View More From this Issue
Latest Webcast
Leveraging the Internet of Things (IoT) in Manufacturing
Is Digital Transformation a risk or an opportunity? This webinar will detail Manufacturing industry challenges and how using IoT can address these challenges through optimizing logistics, improving processes and gaining meaningful insights.
Register Today!