Advertising
Advertising Opportunities

The premier brand for senior-level supply chain executives.
Supply Chain Management Review will deliver your message to the most qualified and influential audience of C-level executives and top-level supply chain management, procurement and operations professionals available. 86% of our subscribers are VP, Director level and above.
Our total channel reach of professionals who read our magazine, receive our digital offerings, follow us on social media and visit our website now exceeds 165,000.
Supply Chain Management Review Online: SCMR's online subscribers now total more than 50,000. Between our print and online audiences, we reach a total unduplicated number of 59,000 supply chain professionals!
Other Opportunities:
Custom Content Creation: Peerless Media's in-house agency, Peerless Content Creation, can create white papers, thought-leadership pieces, infographics and more to support your marketing goals.
Lead-Generation Products: Supply Chain Management Review offers webcasts, white papers, research, video and more to generate highly-qualified leads.
E-Z Lead Generation: Supply Chain Management Review offers monthly opportunities to sponsor our content to generate qualified leads with minimal effort on your part.
Research Briefs: SCMR's Custom Market Research Briefs are a turn-key solution that offers a unique opportunity to provide market intelligence and qualified leads.
eNewsletters: This Week in Supply Chain (Weekly): 43,000.
---
Please direct all advertising inquiries to:
Laurel Peddie
508-663-1500 x234
.(JavaScript must be enabled to view this email address)
Click Here for the 2019 Editorial Calendar
Click Here for the 2019 Media Kit
Click Here for the BPA Statement
Click Here for Subscription Inquiries
For examples of all of our lead-gen, branding, research and custom media opportunities, please visit our company website, www.PeerlessMedia.com
* Source: Publisher's Own Data, September 2018 for combined magazine and newsletter audience.
Latest Whitepaper
How to Minimize Costs with Enterprise Labeling
The right labeling solution will allow companies to stand up to their everyday challenges and add value.
Download Today!
From the January-February 2019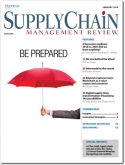 Truck Driver Shortage: No one behind the wheel
Intermodal to the rescue
View More From this Issue
Latest Webcast
Integrating Planning and Execution with Optimization
Hear how leading organizations are using the Big Data collected from the Internet of Things, machine learning, business intelligence, cognitive analytics and massive computing power to re-plan and optimize their supply chains in near real time.
Register Today!