WES Evolves to Meet E-commerce Demands
Material Handling Automation Driving Wider Adoption of WES

By
MMH Staff
·
November 27, 2018
{scmr_abstract}
MMH Staff
· November 27, 2018
To protect profit margins and succeed in this ultra-competitive environment, operators are introducing more automation into their DCs. This requires the integration of new material handling equipment, processes and distribution software — daunting prospects to many operators.
The increasing need for automation has helped to carve out WES' role among other legacy distribution software. While WCS and WMS still play necessary roles, only the WES enables visibility into disparate automation systems, allowing it to orchestrate the entire order fulfillment process within the four walls of a DC.
This whitepaper will explore the importance of the WES in the transition to greater automation and discuss its potential to continue assuming more critical warehouse functions within a single, unified system.
Download Now!
Subscribe to Supply Chain Management Review Magazine!
Subscribe today. Don't Miss Out!
Get in-depth coverage from industry experts with proven techniques for cutting supply chain costs and case studies in supply chain best practices.
Start Your Subscription Today!
Latest Whitepaper
2019 Top 5 Trends of Enterprise Labeling
This year's sixth annual Top 5 Trends in Enterprise Labeling report outlines significant shifts in labeling that are impacting businesses and global supply chains at an unprecedented level.
Download Today!
From the January-February 2019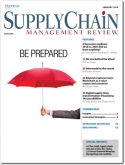 Truck Driver Shortage: No one behind the wheel
Intermodal to the rescue
View More From this Issue
Latest Webcast
Leveraging the Internet of Things (IoT) in Manufacturing
Is Digital Transformation a risk or an opportunity? This webinar will detail Manufacturing industry challenges and how using IoT can address these challenges through optimizing logistics, improving processes and gaining meaningful insights.
Register Today!