USPS rolls out proposed 2019 rate increases
If approved, these price increases would take effect in January 2019

By
Jeff Berman, Group News Editor
·
October 11, 2018
{scmr_abstract}
Jeff Berman, Group News Editor
·
October 11, 2018
Proposed 2019 price increases were submitted by the United States Postal Service (USPS) to the Postal Regulatory Commission (PRC), an independent Federal agency that provides transparency and accountability of the U. S. Postal Service's operations, yesterday.
Should the Governors of the Postal Service approve these proposed USPS rate increases, they would take effect on January 27, 2019.
USPS said that its Mailing Services product prices, which include Letters, Letters additional ounces, Outbound International Letters, and Domestic Postcards would see an increase of around 2.5%
Of significant relevance to shippers are the proposed rate increases for USPS's Shipping Services, with the USPS explaining that these price increases vary by product, with offerings like Priority Mail Express and Priority Mail pegged to increase by 3.9% and 5.9%, respectively. Unlike Mailing Services rate increase, which the USPS said are based on the Consumer Price Index, Shipping Services rates are primarily adjusted based on market conditions, it said, adding that the USPS Governors contend these proposed rate increases "will keep the Postal Service competitive while providing the agency with needed revenue."
Some of the proposed Shipping price increases include:
Small Flat Rate Box, from $7.20 to $7.90, an 8.9% increase;
Medium Flat Rate Box, from $13.65 to $14.35, a 4.9% increase;
Large Flat Rate Box, from $18.90 to $19.95, a 5.3% increase;
APO/FPO Large Flat Rate Box, from $17.40 to $18.45, a 5.7% increase;
Regular Flat Rate Envelope, from $6.70 to $7.35, an 8.9% increase;
Legal Flat Rate Envelope, from $7.00 to $7.65, an 8.5% increase;
Padded Flat Rate Envelope, from $7.25 to $8.00, a 9.4% increase
What's more, the USPS said that its First-Class Package Service, a lightweight expedited offering used mainly by businesses for fulfillment purposes, will shift to zone-based pricing in an effort to better align with the cost of service and improve value based on distance.
Jerry Hempstead, president of Hempstead Consulting, said that this rate increase is fairly significant, but it comes with a few caveats.
"The PRC has to approve this, and the USPS has, on paper, been losing billions per year for many years and the current balance sheet is unsustainable," he said. "The USPS does not lack volume. It lacks pricing that volume to cover the attributable costs for transporting and delivering those items (mail and parcel)."
In August, the USPS said fiscal third quarter earnings resulted in a net loss of $1.5 billion, which was roughly in line with the losses it has sustained on a quarterly basis over the last several years. USPS officials have cited a flawed business model imposed by law as the main reason for these ongoing losses. USPS Postmaster and CEO Megan Brennan said that the USPS supports support legislation under consideration in the current Congress which would provide immediate flexibility to the organization, allow the Postal Service to invest in its future and continue to provide the prompt, reliable, efficient and universal service the public expects.
Despite its financial travails, the USPS's Shipping Services Group continues to post impressive volume and revenue gains, due, in large part, to its Parcel Services and Package Services groups, with these gains paced largely by the continuing growth of e-commerce, with the caveat that this subcategory is mainly a "last-mile" service that "bypasses much of our infrastructure and therefore is one of our lowest-priced package services, and as a result, produces a lower yield per piece when compared to many of our other services," according to a Form 10-Q statement released earlier this year.
October 17, 2018
Latest Whitepaper
How to Minimize Costs with Enterprise Labeling
The right labeling solution will allow companies to stand up to their everyday challenges and add value.
Download Today!
From the January-February 2019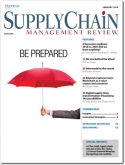 Truck Driver Shortage: No one behind the wheel
Intermodal to the rescue
View More From this Issue
Latest Webcast
Integrating Planning and Execution with Optimization
Hear how leading organizations are using the Big Data collected from the Internet of Things, machine learning, business intelligence, cognitive analytics and massive computing power to re-plan and optimize their supply chains in near real time.
Register Today!