The "Now Economy" and Your Supply Chain
A growing number of businesses are affected by the "Amazon Effect" – it's inescapable.

By
Ryder
·
October 26, 2018
Ryder
· October 26, 2018
In order to fulfill consumer demands and keep up with the e-commerce phenomenon known as the "Amazon Effect," supply chain managers are forced to adjust strategies so they won't lose loyal customers – or even worse, their business.
In this report, learn how the "Now Economy" is disrupting supply chains and how some companies are overcoming these challenges.
Download Now!
Subscribe to Supply Chain Management Review Magazine!
Subscribe today. Don't Miss Out!
Get in-depth coverage from industry experts with proven techniques for cutting supply chain costs and case studies in supply chain best practices.
Start Your Subscription Today!
Latest Whitepaper
2019 Top 5 Trends of Enterprise Labeling
This year's sixth annual Top 5 Trends in Enterprise Labeling report outlines significant shifts in labeling that are impacting businesses and global supply chains at an unprecedented level.
Download Today!
From the January-February 2019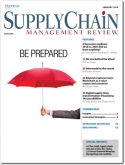 Truck Driver Shortage: No one behind the wheel
Intermodal to the rescue
View More From this Issue
Latest Webcast
Leveraging the Internet of Things (IoT) in Manufacturing
Is Digital Transformation a risk or an opportunity? This webinar will detail Manufacturing industry challenges and how using IoT can address these challenges through optimizing logistics, improving processes and gaining meaningful insights.
Register Today!