The Keys to Capturing and Leveraging Actionable Information
While companies still need transactional systems for supply chain execution, capabilities in areas such as supply chain analytics are drawing interest from enterprises.

By
LM Staff
·
August 1, 2018
LM Staff
· August 1, 2018
Supply chain capabilities in the digital age center on better information management and analytics. Use of transactional systems, disconnected planning tools, and reports summarizing historical trends may have been adequate for the supply chains of the past but are unlikely to meet the insights and optimized planning needed today.
Download this new research brief which summarizes the feedback from top supply chain executives on their analytics needs as well as the current state of their systems.
This study's intent is to quantify the information and analytics needs of supply chain professionals, as well as the current state of their systems. Sponsored by Logility, Inc., a leading provider of collaborative supply chain optimization and advanced retail planning solutions, and conducted by Peerless Research Group (PRG), the study is based on a survey of 95 top supply chain executives who are readers of Peerless Media's Supply Chain Management Review. Among the issues the survey provides details on:
the challenges executives face related to improving margins, raising customer service levels and leveraging information to make effective business decisions
strategies for improving the accuracy and access to business-critical data
the importance of business analytics to supply chain operations of today and beyond.
Download Now!
Subscribe to Supply Chain Management Review Magazine!
Subscribe today. Don't Miss Out!
Get in-depth coverage from industry experts with proven techniques for cutting supply chain costs and case studies in supply chain best practices.
Start Your Subscription Today!
Latest Whitepaper
2019 Top 5 Trends of Enterprise Labeling
This year's sixth annual Top 5 Trends in Enterprise Labeling report outlines significant shifts in labeling that are impacting businesses and global supply chains at an unprecedented level.
Download Today!
From the January-February 2019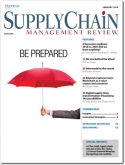 Truck Driver Shortage: No one behind the wheel
Intermodal to the rescue
View More From this Issue
Latest Webcast
Leveraging the Internet of Things (IoT) in Manufacturing
Is Digital Transformation a risk or an opportunity? This webinar will detail Manufacturing industry challenges and how using IoT can address these challenges through optimizing logistics, improving processes and gaining meaningful insights.
Register Today!