Supply Chain Visibility is Dead
With the advent of the internet of things (IoT), digital supply chain solutions are now providing real-time IoT-based vs. latent EDI-based visibility.o

By
SCMR Staff
·
November 7, 2017
SCMR Staff
· November 7, 2017
With the advent of the internet of things (IoT), digital supply chain solutions are now providing real-time IoT-based vs. latent EDI-based visibility. Despite these advances, however, few people realize that supply chain visibility has become the shadow of a much greater value driver.
While it's nice to know the real-time location of a shipment in-transit, it's far more valuable to accurately predict when it will reach its destination, or to understand current and predicted lead-time and throughput variability to effectively match dynamic supply to dynamic demand. These predictive and prescriptive capabilities are driving far more value than stand-alone supply chain visibility ever did.
Download Now!
Subscribe to Supply Chain Management Review Magazine!
Subscribe today. Don't Miss Out!
Get in-depth coverage from industry experts with proven techniques for cutting supply chain costs and case studies in supply chain best practices.
Start Your Subscription Today!
Latest Whitepaper
2019 Top 5 Trends of Enterprise Labeling
This year's sixth annual Top 5 Trends in Enterprise Labeling report outlines significant shifts in labeling that are impacting businesses and global supply chains at an unprecedented level.
Download Today!
From the January-February 2019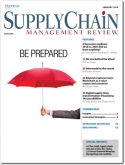 Truck Driver Shortage: No one behind the wheel
Intermodal to the rescue
View More From this Issue
Latest Webcast
Leveraging the Internet of Things (IoT) in Manufacturing
Is Digital Transformation a risk or an opportunity? This webinar will detail Manufacturing industry challenges and how using IoT can address these challenges through optimizing logistics, improving processes and gaining meaningful insights.
Register Today!