Supply Chain Visibility: From Passive to Active
Get this white paper from MP Objects and learn about the common obstacles facing supply chains in achieving true end-to-end visibility.

By
SCMR Staff
·
June 21, 2018
SCMR Staff
· June 21, 2018
Get this white paper from MP Objects and learn about the common obstacles facing supply chains in achieving true end-to-end visibility.
You'll also learn how some organizations are taking action on this visibility and orchestrating their operations to truly manage by exception, saving crucial time and resources in the process
Introduction
With the dawning of the Information Age, always-on connectivity, and IoT with a Gartnerprojected 20 billion "things" connected online by the year 2020, we have more data than we've ever had before and the speed of business is traveling faster than we can keep up.
IDC estimates that by 2020, business transactions on the internet, business-to-business and business-to-consumer, will reach 450 billion per day. It's also predicted that data production will be 44 times greater in 2020 than it was in 2009.
What this means for business is that collecting data in and of itself is not going to be a differentiator for them going forward; it's a necessity. However, the quality of the data and how we act upon it to improve and optimize our processes will be a defining factor in beating the competition. And in no discipline is data more important than supply chain.
For years, supply chain visibility has been a hot button issue for most B2B and B2C organizations. However, even with this focus, many still feel like their visibility is still lacking. According to the GEODIS 2017 Worldwide Supply Chain Survey, only 6% of companies stated that they had end-to-end supply chain visibility. Only 6%!
Download Now!
Subscribe to Supply Chain Management Review Magazine!
Subscribe today. Don't Miss Out!
Get in-depth coverage from industry experts with proven techniques for cutting supply chain costs and case studies in supply chain best practices.
Start Your Subscription Today!
Latest Whitepaper
2019 Top 5 Trends of Enterprise Labeling
This year's sixth annual Top 5 Trends in Enterprise Labeling report outlines significant shifts in labeling that are impacting businesses and global supply chains at an unprecedented level.
Download Today!
From the January-February 2019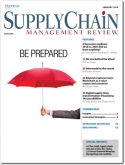 Truck Driver Shortage: No one behind the wheel
Intermodal to the rescue
View More From this Issue
Latest Webcast
Leveraging the Internet of Things (IoT) in Manufacturing
Is Digital Transformation a risk or an opportunity? This webinar will detail Manufacturing industry challenges and how using IoT can address these challenges through optimizing logistics, improving processes and gaining meaningful insights.
Register Today!