Supply Chain Managers Hoping to See Rebound in Global Ocean Cargo Container Sector
The continued rise in fuel prices and chartering rates had a negative impact on the earnings of the top tier carriers for most of 2018. But as new alliances mature, industry experts are forecasting a modest improvement by next year.

By
Patrick Burnson, Executive Editor
·
October 8, 2018
Latest News
Procurement is getting its digitized act together
NRF On The Current State of E-Commerce Supply Chains
ProMat 2019: Get the lay of the land with a show map
ProMat 2019: Four keynotes examine trends, share insights
Potential DSV acquisition of Panalpina takes a turn with Agility now in the mix
More News
Latest Resource
How to Minimize Costs with Enterprise Labeling
The right labeling solution will allow companies to stand up to their everyday challenges and add value.
All Resources
By
Patrick Burnson, Executive Editor
·
October 8, 2018
Signs of a turnaround in the prospects of global container shipping companies began surfacing last July when rates began creeping up through the Peak Season. Overcapacity, however, continues to haunt the industry and may keep it from a sustainable recovery.
Maritime analysts at Xeneta, a global benchmarking and market intelligence platform based in Oslo, Norway, note that carriers operating in the trans-Pacific have been able to make their general rate increases (GRIs) stick through early autumn. However, this word of caution comes from Xeneta CEO Patrik Berglund: "Although carriers managed to increase rates by around 7.7% last August, the method remains mostly inefficient. If the full increase were applied, rates would have jumped by more than 20%."
Shanghai Containerized Freight Index (SCFI),a weekly index based on estimated freight rates on 15 routes out of Shanghai to different parts of the world. SCFI analysts observe some carriers will manage to become profitable by keeping "spot freight rates" elevated by year's end.
They also note some evidence that carriers may reduce supply after the peak season by withdrawing capacity. This particular kind of discipline was not enforced in 2017, however. As a consequence, shippers witnessed a collapse in rates and a weak platform for carriers for the renegotiation of annual contracts.
Lars Jensen, CEO and partner at SeaIntel Maritime Analysis in Copenhagen, says that changes in the liner shipping sector do not take place overnight, and hence "disruption" would be the wrong term to associate with the industry.
"But make no mistake, the industry is in the midst of a fundamental transformation that will make an impact on all stakeholders markedly in the coming years, and one that could remove quite a number of players from the battle field," says Jensen. "This is why we are, right now, witnessing a reduction in weekly coverage on the main trades. And as we see scores of additional mega-vessels about to be delivered, we will continue to see a reduction in weekly service coverage."
Zvi Schreiber, CEO of Freightos, an online freight marketplace founded in Tel Aviv, says carriers may be hurting themselves by employing this strategy, especially if carriers try to "signal" rate information to keep them artificially high. "Global freight pricing has been historically opaque, creating an inefficient market that hinders decision-making and wastes money," he says.
While it appears that the market is supporting far more robust rates, Schreiber is circumspect when examining this trend. "Current rates reflect a combination of emergency bunker surcharges and shipment surges to beat new import regulations," he says. "But given ongoing overcapacity, we may see peak season prices reach their apex by this fall, much like 2017."
Datamyne Top 25 Carriers in Waterbourne Imports January - July 2018
| Rank | Carriers | TEUs | % of total | TEUs July 2018 | % of total | TEUs July 2017 | % change |
| --- | --- | --- | --- | --- | --- | --- | --- |
| 1 | MSC-MEDITERRANEAN SHIPPING COMPANY S A - MEDU (MSCU)1 | 259,896 | 12.31 | 237,684 | 12.05 | 22,212 | 9.35 |
| 2 | OCEAN NETWORK EXPRESS PTE LTD (ONEY) (MOLU) (NYKS) (KKLU)2 | 245,579 | 11.63 | 90,609 | 4.59 | 154,970 | |
| 3 | MAERSK LINE (MAEU) (SAFM)3 | 209,135 | 9.90 | 172,239 | 8.73 | 36,896 | 21.42 |
| 4 | EVERGREEN LINE (EGLV) | 175,765 | 8.32 | 159,300 | 8.07 | 16,465 | 10.34 |
| 5 | HAPAG LLOYD A G (HLCU) (HLUS)4 | 174,956 | 8.29 | 135,231 | 6.85 | 39,725 | 29.38 |
| 6 | CMA-CGM (CMDU) (ANLC)5 | 157,809 | 7.47 | 142,451 | 7.22 | 15,358 | 10.78 |
| 7 | CHINA OCEAN SHIPPING COMPANY (COSU) | 146,553 | 6.94 | 154,119 | 7.81 | -7,566 | -4.91 |
| 8 | ORIENT OVERSEAS CONTAINER LINE LTD (OOLU) | 114,573 | 5.43 | 108,477 | 5.50 | 6,096 | 5.62 |
| 9 | APL CO PTE LTD-NOL GROUP (APLU) | 114,097 | 5.40 | 108,907 | 5.52 | 5,190 | 4.77 |
| 10 | YANG MING MARINE TRANSPORT CORP (YMLU) | 91,770 | 4.35 | 79,684 | 4.04 | 12,086 | 15.17 |
| 11 | HYUNDAI MERCHANT MARINE (HDMU) | 83,062 | 3.93 | 80,433 | 4.08 | 2,629 | 3.27 |
| 12 | ZIM INTEGRATED SHIPPING SERVICES LTD (ZIMU) | 61,156 | 2.90 | 53,631 | 2.72 | 7,525 | |
| 13 | HAMBURG SUED (SUDU) (ANRM)6 | 53,634 | 2.54 | 43,727 | 2.22 | 9,907 | 22.66 |
| 14 | PACIFIC INTERNATIONAL LINES (PTE) LTD (PABV) | 28,845 | 1.37 | 22,946 | 1.16 | 5,899 | 25.71 |
| 15 | TRANSFRUT EXPRESS LIMITED (TFXL) | 22,092 | 1.05 | 20,660 | 1.05 | 1,432 | 6.93 |
| 16 | SM LINE CORPORATION (SMLM) | 21,734 | 1.03 | 27,601 | 1.40 | -5,867 | -21.26 |
| 17 | SEABOARD MARINE LTD (SMLU) | 21,287 | 1.01 | 19,060 | 0.97 | 2,227 | 11.68 |
| 18 | WAN HAI LINES LTD (WHLC) | 18,383 | 0.87 | 15,876 | 0.80 | 2,507 | 15.79 |
| 19 | SEALAND (SEAU) | 14,797 | 0.70 | 11,489 | 0.58 | 3,308 | 28.79 |
| 20 | GREAT WHITE FLEET LTD (GWFL) (GWFT)7 | 13,720 | 0.65 | 13,350 | 0.68 | 370 | 2.77 |
| 21 | CROWLEY LATIN AMERICA SERVICES LLC (CLAM) (CWLQ) (CAMN)8 | 12,477 | 0.59 | 12,237 | 0.62 | 240 | 1.96 |
| 22 | MATSON NAVIGATION CO (MATS)</td> | 11,103 | 0.53 | 11,429 | 0.58 | -326 | -2.85 |
| 23 | INDEPENDENT CONTAINER LINE LTD (IILU) | 8,924 | 0.42 | 7,480 | 0.38 | 1,444 | 19.30 |
| 24 | ATLANTIC CONTAINER LINE AB (ACLU) | 8,741 | 0.41 | 8,496 | 0.43 | 245 | 2.88 |
| 25 | NETWORK SHIPPING LTD (A LIBERIAN COMPANY) (NQSH) | 8,398 | 0.40 | 10,516 | 0.53 | -2,118 | -20.14 |
---
Staying on top
Alphaliner's Top 100 ocean carriers reflects the disruption caused by recent alliances, mergers and acquisitions over the past two years which has reduced the number of lines claiming global market share by half.
Analysts for the Paris-based consultancy have so far identified the top tier players as being fairly stable, but one need only consider the poor performance on 10th-ranked Zim this year to realize carriers continue to struggle.
"The second quarter of 2018 was characterized by the continued rise in fuel prices and chartering rates, as well as low freight rates, all with a negative impact on the results of carriers," says Eli Glickman, president and CEO of ZIM. In a letter to shareholders, he says ZIM's recent announcement of long-term strategic cooperation with the 2M Alliance in the Pacific-USEC trade is evidence of the company's strength, however.
"This agreement is expected to bring considerable efficiencies and savings, along with a far improved service portfolio, supporting ZIM's strategy going forward," says Glickman, adding that the agreement is expected to yield better operating efficiencies, reinforce pricing discipline, and keep shippers and cargo owners from engaging in such price-destructive behavior as double-booking their cargo on different sailings without any financial consequences.
Meanwhile, Zim is struggling to keep company with the leaders of the Alphaliner pack comprising Maersk; MSC; COSCO Group; CMA CGM; Hapag-Lloyd; ONE (Ocean Network Express); Evergreen Line; Yang Ming Marine Transport Corp.; and perennial long shot, PIL (Pacific Int. Line).
Analysts for Descartes Datamyne may be well ahead of the curve when it comes to assessing the strengths of carriers in their Darwinian battle for market share. By recognizing that the pace of consolidation has already altered the way brands are perceived, and twenty-foot equivalent units (TEUs) are counted. [see chart].
The one outstanding example of this trend is the ranking of ONE as a single entity rather than breaking out the former Japanese partners as independent carriers.
"The amalgamation of K Line, MOL, and NYK container divisions, now operating under a single banner was a game changer," says Brendan McCahill, senior vice president of Global Trade Data at Descartes Datamyne. "We also have to bear in mind that OOCL is now owned by COSCO, which also had an increase of ten percent in TEUs."
What next?
Given the challenges that all but the top five players have from a cost competitiveness perspective, analysts feel that it's reasonable to assume that there will be some further consolidation. This is in spite of how the sector has distilled into the relatively small number of significant independent carriers today.
"Certainly, it's not out of the question that the make-up of some of the alliances could see some changes over time," says Ron Widdows, the current chairman of the World Shipping Council. "But given what has taken place in the last couple years, perhaps things will settle a bit before any further changes take place."
Meanwhile, a handful of carrier executives are now taking "differentiation" seriously and are undertaking changes in their products and services to target that segment of the market that will value significantly better service that's reliably delivered.
The challenge here, says Widdows, is that Alliance structures make implementation more difficult, as they don't control terminal operations. "In my engagement with shippers over the last few years, I get a sense of a growing desire to seek out partners who can positively impact service and its effect on their supply chains," he says.
Widdows is also the executive chairman of American Intermodal Management, which provides shipping, logistics, terminals and intermodal transportation consultancy services globally. Something of a legend in the ocean carrier arena, he served as the CEO of Rickmers Holding, based in Hamburg, Germany from April 2012 to April 2014. Prior to joining Rickmers, Widdows was group president and CEO of Neptune Orient Lines, the parent company of APL. His career with NOL/APL spanned more than 30 years.
"So, over the years, I've been with companies that had built a 'service excellent' carrier model, and a shipper portfolio that was based on accessing a disproportionate participation with those who would pay more," says Widdows. The key objective, he adds, is for carriers to identify shippers who are less reliant on seasonal consumer demands and more willing to strike a profitable balance.
"This is especially true for shippers who need support for inland intermodal networks and equipment," adds Widdows. "That portfolio produces a better bottom line for the carriers while giving them wider access to shippers seeking more value."
Shippers do indeed recognize carriers who are willing to go that extra mile, says Peter Friedmann, executive director of the The Agriculture Transportation Coalition (AgTC). "With fewer top container lines vying for our business, it's especially critical for us to give credit to those that deliver on their promises," he says.
Each year, ocean carriers await the result of the AgTC's Annual Survey, which ranks the carriers from best to worst. It has served to motivate some carriers to work with agriculture shippers to improve documentation and booking service. Hamburg Süd, Hyundai Merchant Marine and OOCL were the three highest ranked carriers in 2018.
"The survey ranks the different ocean carriers on such criteria as availability of equipment, availability of space on vessels, document accuracy and efficiency," says Friedmann. "As shippers of time-critical commodities, we're especially sensitive to a carrier's willingness to accept export documentation as late as possible and adhere to advertised verses actual vessel schedule and transit time."
Furthermore, adds Friedmann, carriers who deliver on their promises will capture more volume from Ag shippers who are willing to pay a premium price. "It's a good situation for everyone," he concludes. "And it may be the only way to keep the top carriers in business."
October 9, 2018
About the Author
Patrick Burnson, Executive Editor Patrick Burnson is executive editor for
Logistics Management
and
Supply Chain Management Review
magazines and web sites. Patrick is a widely-published writer and editor who has spent most of his career covering international trade, global logistics, and supply chain management. He lives and works in San Francisco, providing readers with a Pacific Rim perspective on industry trends and forecasts. You can reach him directly at
[email protected]
Subscribe to Supply Chain Management Review Magazine!
Subscribe today. Don't Miss Out!
Get in-depth coverage from industry experts with proven techniques for cutting supply chain costs and case studies in supply chain best practices.
Start Your Subscription Today!
Latest Whitepaper
How to Minimize Costs with Enterprise Labeling
The right labeling solution will allow companies to stand up to their everyday challenges and add value.
Download Today!
From the January-February 2019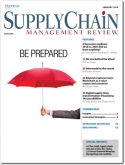 Truck Driver Shortage: No one behind the wheel
Intermodal to the rescue
View More From this Issue
Latest Webcast
Integrating Planning and Execution with Optimization
Hear how leading organizations are using the Big Data collected from the Internet of Things, machine learning, business intelligence, cognitive analytics and massive computing power to re-plan and optimize their supply chains in near real time.
Register Today!