Special Digital Issue: The Power of Supply Chain Certifications
Our Editor's help Make the Case for certification, as well as provide what we believe is the most comprehensive listing of recognized certification programs available.

By
SCMR Staff
·
January 26, 2018
SCMR Staff
· January 26, 2018
Inside this issue…
National Industry Certifications are Closing the Skills Gap
Supply Chain Certifications: Not a "One and Done" Exercise
Measuring the Value of Supply Chain Executive Education
Certification: The Career Enhancer
The Real Value of Supply Chain Certification
Download Now!
Subscribe to Supply Chain Management Review Magazine!
Subscribe today. Don't Miss Out!
Get in-depth coverage from industry experts with proven techniques for cutting supply chain costs and case studies in supply chain best practices.
Start Your Subscription Today!
Latest Whitepaper
2019 Top 5 Trends of Enterprise Labeling
This year's sixth annual Top 5 Trends in Enterprise Labeling report outlines significant shifts in labeling that are impacting businesses and global supply chains at an unprecedented level.
Download Today!
From the January-February 2019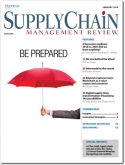 Truck Driver Shortage: No one behind the wheel
Intermodal to the rescue
View More From this Issue
Latest Webcast
Leveraging the Internet of Things (IoT) in Manufacturing
Is Digital Transformation a risk or an opportunity? This webinar will detail Manufacturing industry challenges and how using IoT can address these challenges through optimizing logistics, improving processes and gaining meaningful insights.
Register Today!