NextGen Supply Chain: On-demand warehousing ready to be a game changer
Flexibility is the name of the on-demand warehousing game. Sure, it's in early stages, but the potential is enormous.

By
Gary Forger, special projects editor
·
September 19, 2018
Latest News
U.S. Port Update Part 1: Infrastructure Shortfalls Driving Innovation
Procurement is getting its digitized act together
Strong December performance finishes a strong 2018 for shipments, says Panjiva
December U.S.-bound waterborne shipments finish a strong 2018, says Panjiva
New report from JLL explores concept of industrial 'Human Centric Design'
More News
Latest Resource
2019 Top 5 Trends of Enterprise Labeling
This year's sixth annual Top 5 Trends in Enterprise Labeling report outlines significant shifts in labeling that are impacting businesses and global supply chains at an unprecedented level.
All Resources
By
Gary Forger, special projects editor
·
September 19, 2018
From Melbourne to Mumbai to Manhattan, it seems the entire supply chain is taking a crack at something new – on-demand warehousing.
Actually, the concept is not as new as the name. After all, who doesn't know that fairly successful e-commerce company that has been practicing on-demand warehousing for some time. You know it as Fulfillment by Amazon (FBA).
Companies that sell products on Amazon can use FBA to fulfill those orders. Or as FBA says - "You send your products to Amazon fulfillment centers, and we pick, pack, and ship them and provide customer service."
Now that is not the only way on-demand warehousing works, but it is the nub of the idea. If you don't have enough warehouse capacity for your inventory, on-demand warehousing provides a flexible option to store inventory elsewhere for a period of time.
Or, as Nick Vyas of the University of Southern California puts it, "on-demand warehousing is a game changer for the supply chain. It makes better use of underutilized warehouse assets for companies that need a home for inventory on a flexible basis."
Vyas goes on to say, "it isn't a whole lot different than what Uber and Airbnb do in matching people to underutilized vehicles and lodging, respectively." For more on Vyas' take on on-demand warehousing, see the NextGen interview.
Just as interesting, companies as diverse as KFC and Exploding Kittens have used on-demand warehousing.
In the case of Exploding Kittens, it is the only way it was ever going to be distributed initially. The company thought it could assemble, pack and ship its first orders at a launch party. Except a million orders flooded in almost all at once. Forget the launch party, enter on-demand warehousing.
Already, there are different flavors.
In one, the company providing the warehouse space also fulfills orders just like FBA. Or, the owner of the inventory might prefer to have its own people on-site filling orders. A third variation is a consortium of companies that efficiently stage inventory and fulfill orders across their private network.
On the operations side, on-demand warehousing is not so tough. Slotting inventory into empty space in a warehouse is manageable. And it's not impossible to work out the details of who and how that inventory will be managed. The tough part is matching up warehouses with space and companies with inventory.
A tried and true approach here is third-party logistics. It's a big business. But 3PLs usually want multi-year deals and big space requirements. They typically have no intentions of letting anyone but their own people manage the inventory.
On-demand warehousing is not a new twist on 3PLs. Flexibility and short-term storage are the hallmarks of on-demand warehousing.
Clearly, 3PLs have quite a different business model. "There is a great void between the requirements of 3PLs and companies that might only need 300 pallet positions for three months," says Jonathan Rosenthal, CEO of Warehouse Exchange. "This notion of flexible space just doesn't exist," he adds.
But Rosenthal and others are trying to change that. He compares Warehouse Exchange, which is in beta, to WeWork for office space. Both offer space and some supplemental services including security. All of the matchmaking is done electronically.
The challenge, he says, is finding warehouses that want to lease space short term. "That's unfortunate since demand is off the charts," says Rosenthal.
The claim that demand is strong seems to be confirmed by UPS' jump into the fray last month. UPS' Ware2Go platform is targeted at small- and medium-size companies. UPS says its service can handle the entire transaction starting with finding space and ending with fulfilling orders with guaranteed two-day order-to-delivery. Almost sounds like FBA.
Still another approach is a new consortium called MonarchFX. Engineered by long-time supply chain consultant Jim Tompkins, MonrchFX is an alliance of companies that brings together their assets and services.
Beyond a base of Tompkins International consulting and hardware solutions, MonarchFX is a consortium of warehouse and logistics service providers.
Together, they provide services from design and implementation to operations plus technology and automation as well as delivery. Early members of the alliance include NFI, DHL, Kenco Logistics, Softeon, JDA and Piedmont National.
Clearly, there are several options already in on-demand warehousing. The challenge is to find the one best suited to your business. In any case, rest assured that the next time someone asks you what KFC and Exploding Kittens have in common, you know the answer—on-demand warehousing.
Gary Forger is the special projects editor for Supply Chain Management Review. He can be reached at .(JavaScript must be enabled to view this email address).
September 28, 2018
Subscribe to Supply Chain Management Review Magazine!
Subscribe today. Don't Miss Out!
Get in-depth coverage from industry experts with proven techniques for cutting supply chain costs and case studies in supply chain best practices.
Start Your Subscription Today!
Latest Whitepaper
2019 Top 5 Trends of Enterprise Labeling
This year's sixth annual Top 5 Trends in Enterprise Labeling report outlines significant shifts in labeling that are impacting businesses and global supply chains at an unprecedented level.
Download Today!
From the January-February 2019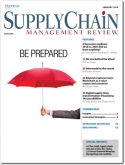 Truck Driver Shortage: No one behind the wheel
Intermodal to the rescue
View More From this Issue
Latest Webcast
Leveraging the Internet of Things (IoT) in Manufacturing
Is Digital Transformation a risk or an opportunity? This webinar will detail Manufacturing industry challenges and how using IoT can address these challenges through optimizing logistics, improving processes and gaining meaningful insights.
Register Today!