NextGen Supply Chain: We gonna rock down to Electric Avenue?
The transportation industry is focused on competition from the likes of Uber Eats, DoorDash, Roadie and Zifty, but we should be paying close attention to what's occurring in the electric vehicle sphere.

By
Kevin Zweier
·
January 18, 2018
Latest News
U.S. Port Update Part 1: Infrastructure Shortfalls Driving Innovation
Procurement is getting its digitized act together
What Are You Doing About the CRaP Products in Your Business?
2019: The Year of Supply Chains Living Dangerously
Industrial outlook cloudy but solid overall economic fundamentals rosy for trucking industry
More News
Latest Resource
2019 Top 5 Trends of Enterprise Labeling
This year's sixth annual Top 5 Trends in Enterprise Labeling report outlines significant shifts in labeling that are impacting businesses and global supply chains at an unprecedented level.
All Resources
By
Kevin Zweier
·
January 18, 2018
As vehicle manufacturers and investment firms continue to pour money into new vehicle technology that supports green initiatives, the transition to electric vehicles across all areas of transportation continues its rapid expansion. This push, combined with advancements in vehicle automation capabilities, proves once again that change is imminent and should no longer exist as an oversight. And while other transportation services such as parcel and food delivery are faced with innovative and industry changing competition from "sharing communities" like Uber Eats, DoorDash, Roadie, Zifty and others, the transportation industry should be paying very close attention to what's occurring in the electric vehicle sphere.
Electric vehicles sales continue to increase
As most have probably heard by now, Volvo announced earlier this summer that it is scrapping vehicles that rely solely on the internal combustion engine and producing five new models that will have an electric component, either hybrid engines or fully electric. As a result, Tesla gained some major competition in the electric vehicle market, and it's not just Volvo. Nissan and Chevy already offer affordable electric vehicles, BMW plans to unveil their all-electric 3-Series sedan later this fall, and Volkswagen has vowed to produce one million electric vehicles by 2020.
Furthermore, predictions suggest electric vehicle sales will increase from 700,000 (2016 record) to 3 million in 2021, 5% of European light-duty auto sales, and will eventually make up 54% of global new car sales by 2040. As of August 2017, US sales of fully electric vehicles are up 86% from 2016. Also by 2040, electric vehicles are supposed to make up 67% of the European market, 58% in the U.S., and 51% in China. Some analysts predict all new vehicle sales will be electric models by as early as 2025 as interest levels, access, and affordability continue to increase.
Even more interesting, most predictions do not include heavy duty vehicles sales such as buses and commercial trucks, nor lower-duty such as motorbikes and low-speed "micro-cars." Also, the technology continues to see a cost reduction with a simultaneous performance increase. For example, lithium-ion batteries have gone from $1000 per kWh (2010) to $273 per kWh (2017) and are expected to be $73 per kWH by 2030. Furthermore, Tesla's Gigafactory, the lithium-ion battery plant located in Nevada, is poised to double the world's battery production and reduce battery pack prices by an additional 30-50% in the coming years.
Contributing factors
These developments, along with several other factors occurring in transportation, are brewing a perfect storm for disruption. For example, France has announced plans to ban the sale of any car that uses petrol or diesel by 2040, other countries as early as 2025. The oil industry continues to watch prices drop as the oil supply surplus continues despite the mounting pressure for carbon reductions from city and national governments worldwide. Global corporations continue announcing methods to reduce carbon emissions as the push for sustainability and eco-friendly operations continues.
However, the factor most likely to sooner impact freight markets will be the revelation of Tesla's Class 8 electric freight truck this October. While the Tesla Semi won't be the first electric freight vehicle to be revealed, Elon Musk is generating significant buzz around their contribution to the industry. Elon Musk claims it has the power to haul freight as effectively if not more so than a traditional diesel truck. So as not to be left behind, Daimler Trucks and TransPower are also testing technology that will help them be both relevant and competitive in the electric freight market. People see the change coming, but no one has any idea on what the initial and long term impact will be on the Class 8 weight segment of the industry which generates $30B+ of revenue annually in North America alone.
Will electric semis become the standard?
To be clear, with little information known about range and charge time requirements of Tesla's new semi model, it's difficult to assume anything. Cummins Class 7 electric truck is limited to 100 miles and takes approximately an hour to charge, though the company hopes to drop that timeline to twenty minutes by 2020. Initial reports claim Tesla aims for a 300 mile range, but the company has declined to confirm that statistic. Also, with production likely still two or three years away, the full-scale immersion of electric semis will occur gradually.
While traditional trucks will still dominate the road for the time being, the potential benefits of an electric truck are eye opening and certainly warrant some discussion. For starters, the electric motor possesses 90-95% energy efficiency compared to 17-21% of the internal combustion engine and are 10x cheaper to charge/fuel than traditional engines. As far as maintenance is concerned, internal combustion engines contain 2,000+ moving parts to the electric vehicle's double digits (the Tesla Model S powertrain possesses only 18), creating a drastic reduction in maintenance and spawning long running warranty plans such as Tesla's "Infinite Mile Warranty."
Additionally, electric vehicles can possess a higher performance capability and more torque than their fuel operated counterparts. As one analyst puts it, with electric motors you receive "Porsche performance for Buick prices1." Morgan Stanley analysts Adam Jonas and Ravi Shankar estimate the Tesla semi truck to cost around $100,000 (if separately leasing batteries) and be up to 70% cheaper to operate than a traditional truck, which is traditionally priced around $150,000. Even if Tesla charges an additional $100K-125K than Jonas' estimate, if the 70% cost reduction proves true, Tesla's model will merit serious ROI consideration.
Embrace Innovation
Even though diesel prices are not as high as they were a few years go, carriers and shippers should start investigating strategies or scenarios that involves utilizing an electric fleet. Even initial releases with shorter ranges can prove beneficial in specific markets and can help implement cost reductions while improving sustainability efforts. Oftentimes when a new trend is labeled a disruption, it can be attributed to major players in an industry failing to go to market when the opportunity first presents itself, usually several years before the "disruptor" evolves into the norm or "industry standard."
The increased investment in the technology surrounding electric vehicles has exponentially increased capability while drastically driving down the price of batteries, manufacturing, etc. and will continue to do so as the demand increases over the next several decades. With demand levels expected to be high, moving forward without a plan could leave shippers empty handed when order placement begins.
The electric vehicle's progressive rate of advancements primes its disruption to occur on a scale previously unseen. Their development stretches across multiple areas of innovation including energy storage, artificial intelligence and computing power, autonomy, robotics, and more. Continued advancements in these areas will not only reduce costs of goods and services but produce huge benefits for both developed and undeveloped countries across the globe. With drone delivery service and driverless technology moving ever closer from theoretical to operational, shippers and carriers will have to brace themselves for sustained shockwaves of disruption just as the data from the initial shift starts to iron itself out.
---
1Tony Seba, Clean Disruption - Why Energy and Transportation Will Be Obsolete by 2030. Presentation at the Swedbank Nordic Energy Summit in Oslo, Norway, 53:53, 17 March 2016, .
Watch the full presentation here.
---
Kevin Zweier is the vice President of the transportation practice at Chainalytics. He can be reached at .(JavaScript must be enabled to view this email address).
January 18, 2018
Subscribe to Supply Chain Management Review Magazine!
Subscribe today. Don't Miss Out!
Get in-depth coverage from industry experts with proven techniques for cutting supply chain costs and case studies in supply chain best practices.
Start Your Subscription Today!
Latest Whitepaper
2019 Top 5 Trends of Enterprise Labeling
This year's sixth annual Top 5 Trends in Enterprise Labeling report outlines significant shifts in labeling that are impacting businesses and global supply chains at an unprecedented level.
Download Today!
From the January-February 2019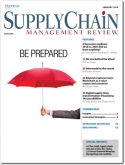 Truck Driver Shortage: No one behind the wheel
Intermodal to the rescue
View More From this Issue
Latest Webcast
Leveraging the Internet of Things (IoT) in Manufacturing
Is Digital Transformation a risk or an opportunity? This webinar will detail Manufacturing industry challenges and how using IoT can address these challenges through optimizing logistics, improving processes and gaining meaningful insights.
Register Today!