National diesel average heads up for eighth consecutive week, reports EIA
The current price marks the single highest weekly average going back to the week of December 15, 2014, when it was at $3.419 per gallon

By
LM Staff
·
October 16, 2018
{scmr_abstract}
LM Staff
·
October 16, 2018
The national average price per gallon for diesel gasoline headed up for the ninth consecutive week, according to data issued by the United States Department of Energy's Energy Information Administration (EIA).
With a 0.9-cent increase, the average price per gallon is $3.394, coming off of a 7.2-cent increase last week. It also marks the single highest weekly average going back to the week of December 15, 2014, when it was at $3.419 per gallon, according to EIA data.
This marks the eighth straight week the national diesel average has gone up, during which time it has risen a cumulative 18.7 cents (going back to the week of August 20).
On an annual basis, this week's average price per gallon is up 60.7 cents.
West Texas Intermediate Crude oil is currently trading at $71.78 on the New York Mercantile Exchange.
October 16, 2018
Subscribe to Supply Chain Management Review Magazine!
Subscribe today. Don't Miss Out!
Get in-depth coverage from industry experts with proven techniques for cutting supply chain costs and case studies in supply chain best practices.
Start Your Subscription Today!
Latest Whitepaper
2019 Top 5 Trends of Enterprise Labeling
This year's sixth annual Top 5 Trends in Enterprise Labeling report outlines significant shifts in labeling that are impacting businesses and global supply chains at an unprecedented level.
Download Today!
From the January-February 2019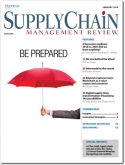 Truck Driver Shortage: No one behind the wheel
Intermodal to the rescue
View More From this Issue
Latest Webcast
Leveraging the Internet of Things (IoT) in Manufacturing
Is Digital Transformation a risk or an opportunity? This webinar will detail Manufacturing industry challenges and how using IoT can address these challenges through optimizing logistics, improving processes and gaining meaningful insights.
Register Today!