Is a Strategic Disconnect With the C-suite Keeping Your Supply Chain in Sleep Mode?
Most Chief Supply Chain Officers recognize the power of big data analytics, machine or deep learning, Blockchain, 3D printing and robotics.

By
Mo Hajibashi
·
July 23, 2018
Latest News
Procurement is getting its digitized act together
NRF On The Current State of E-Commerce Supply Chains
ProMat 2019: Get the lay of the land with a show map
ProMat 2019: Four keynotes examine trends, share insights
Potential DSV acquisition of Panalpina takes a turn with Agility now in the mix
More News
Latest Resource
How to Minimize Costs with Enterprise Labeling
The right labeling solution will allow companies to stand up to their everyday challenges and add value.
All Resources
By
Mo Hajibashi
·
July 23, 2018
Editor's Note: Mo Hajibashi is managing director at Accenture and global Supply Chain lead in its Products industry practice
---
It's time for supply chain leaders to step out of the shadows. New technology, especially artificial intelligence (AI) offers the potential to deliver hyper-relevant, hyper-personalized customer experiences at speed and scale. But new evidence suggests that few supply chain executives are leveraging AI to deliver such experiences and thus drive growth in today's disrupted markets.
A missed opportunity
Most Chief Supply Chain Officers (CSCOs) recognize the power of big data analytics, machine or deep learning, Blockchain, 3D printing and robotics. Many, moreover, are adopting and applying these technologies. Yet their supply chains are still largely support functions. Why? Because digitally reinventing the supply chain requires a cross-enterprise effort—and many CSCOs just aren't collaborating strategically with the right people in the C-suite.
Accenture research shows that for more than 80 percent of CSCOs, the Chief Information Officer (CIO) and Chief Technology Officer (CTO) remain the key players when it comes to investment in and implementation of new technologies. Only 34 percent recognize the Chief Operating Officer (COO) as a critical stakeholder, and just 20 percent name the Chief Financial Officer (CFO)—despite the decisive role of the CFO in all investment choices, and the rapidly burgeoning role of the COO as architect of a digitally reinvented operating model that embraces constant technology change, and profits from it.
For all their digital enthusiasm, many CSCOs still seem remarkably reticent about using new IT to transform the supply chain into a growth engine. Almost two-thirds (68 percent) continue to see themselves principally as a support function; 60 percent prioritize the pursuit of cost efficiencies over chasing growth opportunities (53%); and fewer than half (48 percent) believe that the supply chain will be a competitive differentiator by the end of 2020.
It's no wonder that in many enterprises, the business simply doesn't see the supply chain as a driver of differentiated value.
Three ways to wake up
CSCOs need to find solutions to the trio of challenges that they blame for their function's failure to drive value—the absence of a clear business strategy (cited by 43 percent), an inadequately skilled workforce (48 percent), and incompatible legacy systems (44 percent).
The key to success for the CSCO will be to engage with their fellow C-suite members across three areas: Leadership, Labor and Legacy Systems.
Leadership
To build a new and productive working relationship with the business and transform the supply chain into a growth engine, CSCOs need to build conviction in the C-suite, particularly with the CFO and COO. That starts by creating authentic and compelling value scenarios for new IT. Case in point: Schneider Electric, a leading global specialist in energy management and automation, which has created a dedicated Office of Supply Chain Innovation to accelerate rapid proof-of-concept development for new technologies .
Labor
CSCOs need to build a workforce that embraces core supply chain workers, "adaptive" (part-time and on-demand) workers, and AI/Robotics—all working together to drive productivity at speed. They can leverage their C-suite connections to secure support for a reskilling strategy founded on continuous learning. And when in-house skills and assets prove inadequate, their connections can also help them tap into wider ecosystems. Consider, for example, Rio Tinto, a leading global mining group, which has committed AUD$2 million to help its workforce gain the required skills and competencies for smart mining. Further, the company is working with the Western Australian Government and South Metropolitan TAFE to pioneer a new curriculum for future jobs in the mining industry .
Legacy
Decoupling legacy technology systems can be a lot less resource intensive and significantly more impactful than spending on new, more compatible systems. CSCOs should replicate the decoupled data and move it, in real time, to cloud-based data "lakes" that are accessible to customers. By decoupling applications from their legacy IT infrastructure as well, CSCOs can then create the flexibility to scale new product and service offerings exponentially, opening up new businesses and new markets, as well as accommodating diverse application workloads. Take, for example, the cloud-migration initiative undertaken by London-based insurance broker Towergate, which successfully connected 4,500 employees, united 300 businesses, and achieved 30 percent annual savings—all within 12 months .

Transformation of the supply chain function will depend on how disruptive CSCOs are prepared to be. They need to pick the new technology combinations with the highest value-driving potential for their organizations and work in close collaboration with C-suite leadership to target investments in those combinations. Only when this shift occurs can CSCOs own their role in establishing the supply chain as the engine rather than the support function of digitally reinvented enterprises.
July 23, 2018
Subscribe to Supply Chain Management Review Magazine!
Subscribe today. Don't Miss Out!
Get in-depth coverage from industry experts with proven techniques for cutting supply chain costs and case studies in supply chain best practices.
Start Your Subscription Today!
Latest Whitepaper
How to Minimize Costs with Enterprise Labeling
The right labeling solution will allow companies to stand up to their everyday challenges and add value.
Download Today!
From the January-February 2019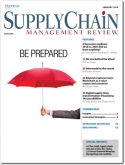 Truck Driver Shortage: No one behind the wheel
Intermodal to the rescue
View More From this Issue
Latest Webcast
Integrating Planning and Execution with Optimization
Hear how leading organizations are using the Big Data collected from the Internet of Things, machine learning, business intelligence, cognitive analytics and massive computing power to re-plan and optimize their supply chains in near real time.
Register Today!