IoT and supply chain visibility take on new scale
New data sources for the Internet of Things provides unprecedented supply chain visibility from the farm to your front porch this holiday season.

By
Gary Forger, special projects editor
·
December 19, 2018
Latest News
U.S. Port Update Part 1: Infrastructure Shortfalls Driving Innovation
Procurement is getting its digitized act together
Strong December performance finishes a strong 2018 for shipments, says Panjiva
December U.S.-bound waterborne shipments finish a strong 2018, says Panjiva
New report from JLL explores concept of industrial 'Human Centric Design'
More News
Latest Resource
2019 Top 5 Trends of Enterprise Labeling
This year's sixth annual Top 5 Trends in Enterprise Labeling report outlines significant shifts in labeling that are impacting businesses and global supply chains at an unprecedented level.
All Resources
By
Gary Forger, special projects editor
·
December 19, 2018
If you haven't been watching closely, the Internet of Things (IoT) just got much bigger and supply chain visibility is the beneficiary. Now, we aren't talking about the addition of another billion sensors in the past year. Instead, this is all about new data input devices building new IoTs that are truly on a very big stage.
Typically, when it comes to IoT in the supply chain we're talking about applications such as putting sensors on production machines and even lift trucks to monitor operating conditions. Upload that data to a network including the cloud and voila – mangers in the plant know what is really happening in real time. Data analytics and artificial intelligence add insight and even predictive capabilities. Suddenly, there is a major opportunity to manage the facility quite differently.
As important as IoT is at that level, it's nowhere near the same scale as some other supply chain visibility developments. Consider these three scenarios.
What if supply chain visibility started not just in manufacturing but at the farm?
What if there was a visibility network that could suggest alternative supply chains because of a disruptive weather event?
What if a parcel delivery company had visibility across its routing network and could manage extreme peak conditions as if they were non-peak periods?
All of those exist today. The IoT has moved far beyond sensors on machines (or in your refrigerator as the final stage of the supply chain) and taken on completely new forms and scale.
Now don't be misled by these developments. The basics of IoT and supply chain visibility have not changed.
"The concept behind supply chain visibility is very straightforward," says John A. White III, president and CEO of Fortna. "It's a matter of matching material flow with the flow of information about it. Because it gathers data at many, many nodes in the supply chain, IoT makes it possible to synch material and information flow…giving a real-time picture into supply chain processes too." To read more of White's insights, see this month's NextGen: The Interview.
Now, we have all heard the phrase "from farm to table." Most of us focus mostly on the table. But what if supply chain visibility literally started with the roots of the supply chain. That would be pretty cool.
Clarisse Magnin of McKinsey reports that "the startup CropX offers sensors to help farmers adjust irrigation to the needs of their soil." Another company, Blue River, assesses the needs of individual plants using computer vision and robotics. By the way, use of agricultural robotics is expected to increase 20-fold in the next two years. Yes, two years.
For roots in the ground, IBM has developed a precise weather forecast technology called Deep Thunder. It provides new weather guidance every three hours and to hyper-local geographic resolutions of 0.2 to 1.2 miles.
So now you've got IoT in the sky and in the soil with pretty impressive implications for visibility at the start of the supply chain. While sensors figure in here, the input devices for the food chain now include computer vision and robotics.
They join IoT collection of technology that already includes data analytics, cloud and AI. Clearly, IoT is taking on new dimensions.
By the way, this is not just nice to have. According to McKinsey, 32% of food loss in emerging economies occurs during production. Meanwhile, 38% of food loss in developed economies occurs during consumption. That's in a world where one-sixth of the population goes hungry. IoT and supply chain visibility could be a true game changer for the food chain.
Meanwhile, IBM's purchase of The Weather Company is also providing a backbone for its Risk Insights venture. The idea is to track weather and natural disasters and predict their impact on the supply chain, explains Tom Ward, cognitive project leader. He calls this "the coolest thing I've ever worked on" and he has been at IBM for 30 years.
The IoT here includes new data inputs beyond IBM's own weather forecasting capabilities. These include social media, the National Weather Service, Global Disaster Alert and Coordination Systems and other alert services.
By overlaying all that data and analyzing it with AI in the cloud, Ward says the system predicts weather events two weeks out. That information is available to IBM sites and its suppliers worldwide. "By tracking these events and anticipating their impact on supply chains, IBM can anticipate and mitigate their impact on the flow materials and goods," says Ward. To read more of his comments about Risk Insights, see NextGen: The Interview in August, 2018.
A third form of enhanced supply chain visibility is known as Network Planning Tools (NPT). It is a UPS platform that "combines advanced analytics, artificial intelligence and operations research to coordinate tractor-trailer movements between sortation hubs and avoid bottlenecks," says a UPS spokesperson.
When weather, volume or other issues impede the flow of parcels, NPT determines what re-routing is necessary. That means UPS uses many data inputs creating its own IoT for visibility into its supply chain. These range from weather forecasts to shipment volumes and availability of hub capacity to re-route shipments efficiently.
And it's already paying off. Just two weeks ago, UPS announced that the company is performing during the holiday season "at levels comparable to non-peak periods, while processing record volume."
Clearly, IoT now includes unexpected data input devices (social media, for instance). And with that, it's time for an expanded definition of IoT not to mention its potential for heightened supply chain visibility.
Gary Forger is the special projects editor for Supply Chain Management Review. He can be reached at .(JavaScript must be enabled to view this email address).
December 19, 2018
Subscribe to Supply Chain Management Review Magazine!
Subscribe today. Don't Miss Out!
Get in-depth coverage from industry experts with proven techniques for cutting supply chain costs and case studies in supply chain best practices.
Start Your Subscription Today!
Latest Whitepaper
2019 Top 5 Trends of Enterprise Labeling
This year's sixth annual Top 5 Trends in Enterprise Labeling report outlines significant shifts in labeling that are impacting businesses and global supply chains at an unprecedented level.
Download Today!
From the January-February 2019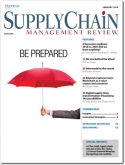 Truck Driver Shortage: No one behind the wheel
Intermodal to the rescue
View More From this Issue
Latest Webcast
Leveraging the Internet of Things (IoT) in Manufacturing
Is Digital Transformation a risk or an opportunity? This webinar will detail Manufacturing industry challenges and how using IoT can address these challenges through optimizing logistics, improving processes and gaining meaningful insights.
Register Today!