Driving Digital Transformation with a Smarter, Connected WMS
Why siloed logistics systems can't deliver in the digital age

By
LM Staff
·
October 11, 2018
{scmr_abstract}
Download Now!
Sponsored by:
Warehouse in the News
Ember: Finding the perfect temperature
CBRE report highlights emerging trend of retail to industrial/logistics space conversion
Making the Case for Comprehensive Aftermarket Lift Truck Services
New JLL report explores concept of industrial 'Human Centric Design'
2019 Top 5 Trends of Enterprise Labeling
More Warehouse News
By
LM Staff
· October 11, 2018
Supply chain operations have never been easy. Managers have always been under pressure to control costs and accurately fill orders.
But in recent years, rising customer expectations around accurate, rapid, e-commerce fulfillment have increased the speed and complexity of order fulfillment to a level that would have been unrecognizable a decade or two ago.
Download this new "Making the Case" guide to find out how to transform your operations with a smarter, connected WMS.
Download Now!
Subscribe to Supply Chain Management Review Magazine!
Subscribe today. Don't Miss Out!
Get in-depth coverage from industry experts with proven techniques for cutting supply chain costs and case studies in supply chain best practices.
Start Your Subscription Today!
Latest Whitepaper
How to Minimize Costs with Enterprise Labeling
The right labeling solution will allow companies to stand up to their everyday challenges and add value.
Download Today!
From the January-February 2019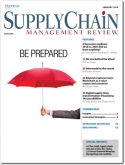 Truck Driver Shortage: No one behind the wheel
Intermodal to the rescue
View More From this Issue
Latest Webcast
Integrating Planning and Execution with Optimization
Hear how leading organizations are using the Big Data collected from the Internet of Things, machine learning, business intelligence, cognitive analytics and massive computing power to re-plan and optimize their supply chains in near real time.
Register Today!