Content from our sponsor
Survey Says Ground Transportation Will Put Business Growth Into High Gear
Now more than ever, ground transportation is a strategic component of business success as seen by respondents to a worldwide survey conducted by DHL Supply Chain. Three quarters of companies surveyed indicated that investing in improving ground transportation will positively impact their sales, and they are willing to pay for and partner with 3PLs for value-added services that can show a measurable ROI.

By
DHL Supply Chain
·
October 25, 2018
Latest News
U.S. Port Update Part 1: Infrastructure Shortfalls Driving Innovation
Procurement is getting its digitized act together
Strong December performance finishes a strong 2018 for shipments, says Panjiva
December U.S.-bound waterborne shipments finish a strong 2018, says Panjiva
New report from JLL explores concept of industrial 'Human Centric Design'
More News
Latest Resource
2019 Top 5 Trends of Enterprise Labeling
This year's sixth annual Top 5 Trends in Enterprise Labeling report outlines significant shifts in labeling that are impacting businesses and global supply chains at an unprecedented level.
All Resources
By
DHL Supply Chain
·
October 25, 2018
New research from DHL, the world's leading logistics company, indicates that three out of four businesses believe that spending time and resources to improve their ground transportation will directly aid sales – and 83 percent are willing to pay more for better service.
Today, ground transportation is seen as a business differentiator rather than as a commodity. That means the service options and advanced technologies offered by third party logistics firms (3PLs) are not only changing global transport but are truly being seen as value-added propositions.
"The strategic value of transport is being recognized as a game changer," said Jim Monkmeyer, President of Transportation, DHL Supply Chain. "It has evolved beyond the functional level and is now seen as a business differentiator, adding a strategic layer to an organization that cannot be discounted. Companies that recognize transportation trends and embrace them will be the real winners over the next several years."
The research – summarized in the report "The Logistics Transport Evolution: The Road Ahead" – was conducted by Lieberman Research Worldwide (LRW) and is based on information provided by more than 200 industry respondents – transport buyers and operations pros – based in Asia Pacific, Europe, Latin America and North America.
Trends such as the rapid growth of e-commerce, the continued urbanization of markets and technologies such as big data analytics and digitalization are the driving factors behind this revolution. These trends are driving new expectations among shippers that include greater visibility, streamlined reporting and real-time issue resolution, optimization and last-mile solutions.
The proliferation of e-commerce – which is expected to become mainstream/business-as-usual in the U.S. within five years – and the desire for customers to obtain their orders via same-day or next-day service are leading factors in the focus on transportation. These high service expectations affect both B2C and B2B businesses alike. Five years past, B2B service requirements weren't as stringent; that's no longer the case.
Service expectations beyond delivery times are also growing, resulting in last-mile delivery options that include crowd-sourced transportation. Customers expect items to always be in-stock and available. High-value service offerings such as installation, set-up and product configurations and flexible or free return policies plus rapid or immediate problem resolution are also key offerings.
Urbanization – the migration of populations to urban areas – is the biggest concern for transportation decision makers. They believe that issues inherent in urbanization such as congestion, tolls for entering urban areas during peak business times and environmental concerns regarding transportation's carbon footprint will be a significant impact upon their business. They also believe that technology is and will continue to be central to transportation success and that artificial intelligence and big data will help them enhance their business by optimizing their networks in real-time to address the urbanization factors. But at this point, only 23 percent have incorporated these technologies into their business.
Naturally, the transportation evolution and business expectations are largely dependent on the market. Mature markets, such as North America and Europe, might include network transport optimization. Emerging markets, conversely, could see reliable, on-time, perfect-condition delivery as a true value add.
Just over half (55 percent) of the shippers believe they currently have the software tools at hand to integrate ground transportation into their business. This varies by region as well – only 43 percent of North American respondents indicated that this is the case, while 76 percent of LATAM respondents were confident that they are equipped. But even that depends on the level of expectations. North American shippers seek to leverage and incorporate analytics and big data beyond managing transportation. Emerging markets such as LATAM may focus more on transactional data requirements. Regardless, as regions grow and mature, expectations are will only increase in every region.
The survey asked managers, directors and vice presidents to identify what value really means to them – in other words, what their primary reasons for choosing a 3PL. The top requirement: a 3PL's ability to manage multiple transportation solutions that solve all of a shipper's ground transportation needs as consumer expectations continue to grow.
It's clear that shippers understand the pressures such expectations mean to their success. It's also clear that many recognize that successful transportation solutions for today, and in the near future, are vital. In partnering with 3PLs, they seek to gain a competitive advantage with a smart, focused partner – rather than a commodity service provider—that can optimize cost and service through its experience and technological expertise.
Transportation as a differentiator for a company's success doesn't have to be difficult with the right partner.
To learn more about how you'll succeed, read the full report—available here.
October 25, 2018
Subscribe to Supply Chain Management Review Magazine!
Subscribe today. Don't Miss Out!
Get in-depth coverage from industry experts with proven techniques for cutting supply chain costs and case studies in supply chain best practices.
Start Your Subscription Today!
Latest Whitepaper
2019 Top 5 Trends of Enterprise Labeling
This year's sixth annual Top 5 Trends in Enterprise Labeling report outlines significant shifts in labeling that are impacting businesses and global supply chains at an unprecedented level.
Download Today!
From the January-February 2019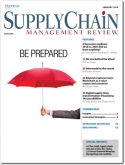 Truck Driver Shortage: No one behind the wheel
Intermodal to the rescue
View More From this Issue
Latest Webcast
Leveraging the Internet of Things (IoT) in Manufacturing
Is Digital Transformation a risk or an opportunity? This webinar will detail Manufacturing industry challenges and how using IoT can address these challenges through optimizing logistics, improving processes and gaining meaningful insights.
Register Today!