Cross-border E-commerce in China
E-commerce is expanding in China. The rest of us need to pay attention.

By
Yangyan Shi, Lincoln C. Woods, V.G. Venkatesh
·
July 5, 2018
Latest News
U.S. Port Update Part 1: Infrastructure Shortfalls Driving Innovation
Procurement is getting its digitized act together
DSV confirms its offer to acquire Panalpina for roughly $4 billion
CMA CGM heralds service additions to the Ocean Alliance
New JLL report explores concept of industrial 'Human Centric Design'
More News
Latest Resource
2019 Top 5 Trends of Enterprise Labeling
This year's sixth annual Top 5 Trends in Enterprise Labeling report outlines significant shifts in labeling that are impacting businesses and global supply chains at an unprecedented level.
All Resources
By
Yangyan Shi, Lincoln C. Woods, V.G. Venkatesh
·
July 5, 2018
In recent years, China's traditional foreign trade has slowed, yet at the same time cross-border e-commerce has continued to grow at a rapid rate, with the expansion of platforms such as Alibaba's Tmall, JD.com and Netease Koala's.
Just what is cross-border e-commerce and why should supply chain organizations from outside China pay attention? Think of it as is an advanced form of electronic commerce that supports a new category of electronic purchase, sale or transaction, where both sides of the trade are from different countries or regions. The traders negotiate the details of the transaction electronically and utilize e-mail or courier forms to enable customers clearance. Retailers, manufacturers and wholesalers from other geographies interested in the Chinese market should pay attention because it may represent the future of commerce in China – or a significant portion of it – as well as an enabler of China's One Belt and One Road (OBOR).

The cross-border e-commerce industry
There are three primary forms of cross-border e-commerce: B2B (Business-to-Business); B2C (Business-to-Customer); and C2C (Customer-to-Customer). Furthermore, cross-border e-commerce can be categorized as either an export or import activity. E-commerce services such as trading platform services, logistics distribution and electronic payment have been intensively developed to support and facilitate the development of cross-border e-commerce.

China's cross-border e-commerce industry currently has three key characteristics. First, the scale of cross-border e-commerce transactions continues to expand, accounting for an increasing proportion of China import and export trade. Second, the focus is mainly on exports, which is expected to continue the rapid development trend. Third, the trade is dominated by the B2B category, which enjoys rapid expansion. At the same time, the national policy support for cross-border e-commerce has continued to increase, embodying the important role of this form of trade as a development catalyst. The increasing national policy changes providing further support and rapid growth of the sector will continue to provide a powerful impetus for the increased development of cross-border e-commerce.
As the One Belt and One Road (OBOR) initiative continues, cross-border e-commerce is entering a new period of development. According to preliminary estimates, the total population of the 65 countries along the 'One Belt And One Road' is about 4.4 billion and the total economy is about $21 trillion, accounting for 63% and 29% of the world's population and economy respectively. China's total imports and exports are estimated by some analysts at $1 trillion with the countries along the OBOR; this accounts for 25.69% of the total Chinese imports and exports. Clearly, there is room for significantly more expansion with those countries involved with the OBOR initiative.
The current advantage of cross-border e-commerce in China
Since 2016, when the national strategy of OBOR and taking the "Silk Road" to the internet was clarified, the transaction volume of cross-border e-commerce was much higher than in previous years. A cross-border electronic dealer market has rapidly developed in China, and this further enhances production, circulation, services and other areas of trade links. The cross-border electronic business platform has become an economic booster helping small- and medium-sized enterprises (SMEs) to trade internationally. The strong promotion of Chinese brands overseas and the increasingly large digital trade with other countries along the OBOR has been an advantage to Chinese firms.
With the implementation of the OBOR national strategy, bilateral trade volumes between China and countries along the OBOR has increased synchronously. The development of industry and tourism has also been promoted. At the same time, air and sea channels are gradually opening up, which will bring broad development opportunities for the cross-border e-commerce industry and will also promote the development of domestic e-commerce.
Going forward, cross-border e-commerce will become an important growth point for foreign trade in China, which has a broad market, with competitive barriers being relaxed. Cross-border e-commerce lowers the threshold to enter global markets and raises brand awareness while enabling access to international consumers. As support for business, it enables lower operating costs and larger profit margins. Also, the Chinese government continues to issue supportive policies, and the domestic economic environment is in good shape.
A changing consumer
All of this is occurring at a time when the Chinese consumer is undergoing a rapid change. For instance, many consumers are over the age of 26 years and are married with families. As a result, the concept of family consumption, rather than purchases for personal consumption, is crucial to the success of traders.

What's more, Chinese consumers are buying more overseas goods through cross-border e-commerce platforms to gain access to a wider selection of products, including cosmetics, baby products, food and beverage, clothing and shoes. New emerging categories include red wine and fresh food. Netease Koala's sea goods category also has adjusted to cover beauty and cosmetics, women's and children's clothing, food and digital variety orders.
As the quality of life of Chinese consumers improves, shoppers are paying more attention to the quality of the imported goods they purchase and not just the price they pay. Price, however, still matters. The past two years has seen the emergence of shopping festivals or carnivals. These are promotion-driven events designed around important Chinese national holidays, much like Black Friday promotions in the U.S. The 'double eleven' has emerged as a national shopping carnival, and even Black Friday is gaining attention from the families of overseas online shoppers. On traditional Chinese national holidays, such as Chinese New Year and Children's Day, a range of promotions support e-commerce popularity . The sales volume of cross-border e-commerce platforms such as Alibaba's Tmall and other foreign terminals has grown rapidly on these days.

Foreign investment accelerates into the China market
It should come as no surprise that a bullish e-commerce market has attracted the attention of foreign investors. Not only have foreign e-commerce companies changed their business models in recognition of the rise of the market, but they have also expanded their operations to take advantage of these changes. Going forward, the reduction of restrictions on foreign access will attract more foreign investment, using joint venture cooperation or other partnerships. The involvement of foreign companies will bring domestic Chinese consumers greater choice in the goods they buy and stimulate the consumption of foreign goods. At the same time, the Chinese e-commerce market will face a new round of developments.
However, despite the agreement on the wealth of opportunities in the Chinese market and the strong Chinese demand, some foreign investors, especially European and American enterprises, have been reluctant to jump into the Chinese market. There are four leading causes for caution.
First, the firms are unfamiliar with the state of the Chinese market. Foreign cross-border merchants need to look for reliable partners in China to consider the full spread and distribution of their products in the Chinese market. Otherwise, their entry may result in limited market penetration and stunted growth.

Second, they should establish local logistics operations. To increase profits and facilitate more transactions, firms must establish Chinese-based management positions after the market has matured. In this way, it is advantageous to allow local consumers to experience shopping as the firm optimizes and promote the market.

Third, the establishment and promotion of an independent website are important; yet this remains a big concern for foreign e-commerce companies.

Fourth, cross-border payment is increasingly important. The security, localization, and speed of payment methods can stabilize the recognition of overseas e-commerce companies in China.
It's not just a one-sided equation. To promote a growing e-commerce industry, the Chinese government will also need to address challenges in this market. For instance, the customs clearance service urgently requires improvement; the system for market supervision needs to be improved; the exchange settlement method requires adjustment and optimization; and, domestic logistics delivery enterprises are weak and inefficient. To government also needs to improve the cross-border e-commerce market supervision system; strengthen international cooperation in cross-border e-commerce; and guide and support the development of cross-border e-commerce platforms.
The domestic Chinese market contains many opportunities if foreign cross-border e-commerce companies want to become internationalized. But they will only take place after optimizing the links such as logistics, products, and payments while participating focus on the integration of their resources to ensure a seamless and smooth customer experience.
Yangyan Shi, PhD, is an associate professor of supply chain management at the School of Economics and Management, Shanxi University, Taiyuan, Shanxi, China. He can be reached at .(JavaScript must be enabled to view this email address). V. G Venkatesh, CSCP, is an MBA lecturer at The University of Waikato, Hamilton, New Zealand. He can be reached at .(JavaScript must be enabled to view this email address). Lincoln Woods, PhD, is a senior lecturer in management at University of Otago, New Zealand. He can be reached at .(JavaScript must be enabled to view this email address).
July 5, 2018
Subscribe to Supply Chain Management Review Magazine!
Subscribe today. Don't Miss Out!
Get in-depth coverage from industry experts with proven techniques for cutting supply chain costs and case studies in supply chain best practices.
Start Your Subscription Today!
Latest Whitepaper
2019 Top 5 Trends of Enterprise Labeling
This year's sixth annual Top 5 Trends in Enterprise Labeling report outlines significant shifts in labeling that are impacting businesses and global supply chains at an unprecedented level.
Download Today!
From the January-February 2019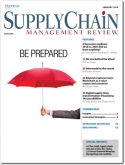 Truck Driver Shortage: No one behind the wheel
Intermodal to the rescue
View More From this Issue
Latest Webcast
Leveraging the Internet of Things (IoT) in Manufacturing
Is Digital Transformation a risk or an opportunity? This webinar will detail Manufacturing industry challenges and how using IoT can address these challenges through optimizing logistics, improving processes and gaining meaningful insights.
Register Today!