6 Best Practices in Packaging and Labeling to Optimize Traceability
New and emerging economies are creating opportunities for manufacturers across several key industries.

By
Loftware
·
September 24, 2018
Loftware
· September 24, 2018
As companies expand their supply chain to include new partners and regions, they need better visibility to ensure quality and react faster.
That's where enterprise labeling and traceability come into play.
Download the report to learn how to Enterprise Labeling can help improve visibility throughout the supply chain.
Download Now!
Subscribe to Supply Chain Management Review Magazine!
Subscribe today. Don't Miss Out!
Get in-depth coverage from industry experts with proven techniques for cutting supply chain costs and case studies in supply chain best practices.
Start Your Subscription Today!
Latest Whitepaper
How to Minimize Costs with Enterprise Labeling
The right labeling solution will allow companies to stand up to their everyday challenges and add value.
Download Today!
From the January-February 2019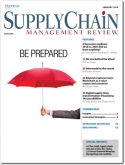 Truck Driver Shortage: No one behind the wheel
Intermodal to the rescue
View More From this Issue
Latest Webcast
Integrating Planning and Execution with Optimization
Hear how leading organizations are using the Big Data collected from the Internet of Things, machine learning, business intelligence, cognitive analytics and massive computing power to re-plan and optimize their supply chains in near real time.
Register Today!