TOP STORY
8 Fundamentals for Achieving AI Success in the Supply Chain
In the race to use AI, many companies have made attempts to implement it, but the results have been disappointing.
TOP RESOURCE
Making the Case For: An Automated Dimensioning Solution
Read our new Making the Case download to learn how a growing number of shippers are managing these...
All Software & Technology News
By Josh Bond · July 10, 2015
How a warehouse management system can help optimize operating costs, inventory visibility and customer satisfaction.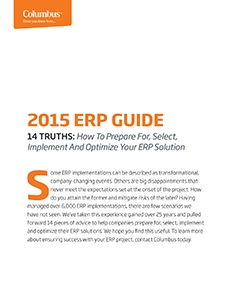 WHITE PAPER
By LM Staff · July 2, 2015
Too many companies invest in ERP systems but do not achieve the business benefits they anticipated. Sometimes, the ERP solution never fits the way your people and processes work.
By Michael Levans · May 5, 2015
Our panel of supply chain technology analysts dive into the trends they think are shaping the future of logistics management. The common thread remains the push toward hyper-interoperability—where technology, people, and process collaborate to create true visibility, accurate orders, and happy customers.
By Michael Levans · May 1, 2015
Every year at this time I ask a few of the market's most trusted supply chain technology analysts what trends they're following—and, more importantly, what should be top of mind for logistics professionals looking to put software and technology to work inside their operations.
By Josh Bond · March 1, 2015
Though subject to unique constraints, advances in the distribution of wine and spirits holds lessons for the wider industry.
By Bob Trebilcock · February 11, 2015
At the solution provider's annual logistics conference, SDI's CEO talked about e-commerce, new software offerings and an interest in new verticals.
By Bridget McCrea · March 1, 2014
A mature market by supply chain software standards, warehouse management systems continue to play a prominent role in the ever-changing shipping and distribution environment. Here are five market drivers that are sure to keep usage on the rise.
By Josh Bond · January 1, 2014
Built on a software foundation, the targeted use of automation is helping warehouses improve themselves, their supply chains and the customer experience.
By Josh Bond · May 1, 2013
Rooted in increasingly complex software, the concept of pick-to-light has moved well beyond the pick and is now capable of relaying an array of information to workers throughout the fulfillment process.
By Josh Bond · February 1, 2013
The success of a big project hinges on how well individual parts, and the people responsible for them, come together as a whole.
By Bob Trebilcock · November 1, 2011
Efficiency in the warehouse has traditionally driven the distribution process. Now, some leading retailers are looking at the DC to lower the cost of operating their stores.