Subscribe to Magazine and eNewsletters
Begin or renew your subscriptions to the market-leading magazine and eNewsletters from Supply Chain Management Review.

Supply Chain Management Review brings you what no other source can deliver—the most comprehensive supply chain information from the world's foremost authorities in our field on the subjects that matter most to supply chain professionals.
Begin or Renew Your Subscriptions
Start a magazine subscription
Renew a magazine subscription
Start an email newsletter subscription
Customer Service
Email: .(JavaScript must be enabled to view this email address)
Phone: 1-847-559-7581
Fax: 1-847-564-9453
Mail: Peerless Media, PO Box 677, Northbrook, IL 60065-0677 USA
Latest Whitepaper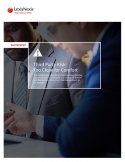 Third Party Risk: Too Close for Comfort
You've got a handle on many of the potential supply chain "disrupters" that can paralyze your business. But the real risk is embedded in areas you may have overlooked.
Download Today!
From the September-October 2017
View More From this Issue