RSS News Feeds
With RSS, you can get what you want when you wan

Instead of visiting scmr.com everyday and trying to find the new content, subscribing to the site's RSS feed allows the new content to be sent straight to you!
Finding an RSS Reader
There are plenty of options for RSS readers—some of the more popular ones are Google Reader, Bloglines and My Yahoo!.
Here's an extensive list of RSS readers, categorized by platform and accessibility.
Subscribing to a Supply Chain Management Review feed
To subscribe to a Supply Chain Management Review RSS feed, click on the orange RSS logo found on any article or index page and copy the URL into your RSS reader.
http://feeds.feedburner.com/scmr/rss/recentlyfiled
For a more detailed look at RSS, check out the Wikipedia entry.


Latest Whitepaper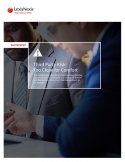 Third Party Risk: Too Close for Comfort
You've got a handle on many of the potential supply chain "disrupters" that can paralyze your business. But the real risk is embedded in areas you may have overlooked.
Download Today!
From the January-February 2018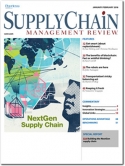 Get Smart (about replenishment)
The Benefits of Blockchain: Fact or Wishful Thinking?
View More From this Issue