Industry Professional Encourages Supply Chain Managers To Stay Current
An interview with a dynamic industry leader reveals some reasons why finding and retaining talent can be so difficult in today's marketplace. Embracing change plays an increasingly important role

By
Patrick Burnson, Executive Editor
·
June 5, 2017
Latest News
Third Party Risk: Too Close for Comfort
The State of the DC Voice Market
AutoStore opens U.S. headquarters
LogisticsExchange begins trading, bringing predictability to the transportation market
Port of Long Beach makes bold move to become greener and more competitive
More News
Latest Resource
Third Party Risk: Too Close for Comfort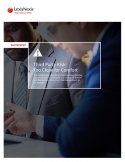 You've got a handle on many of the potential supply chain "disrupters" that can paralyze your business. But the real risk is embedded in areas you may have overlooked.
All Resources
By
Patrick Burnson, Executive Editor
·
June 5, 2017
We recently introduced our readers to Dave Kipe, currently the Senior Vice-President of Global Operations at Scholastic Inc. In an exclusive interview, he shares some tips on how to retain young and qualified supply chain professionals and move your business forward on more sustainable platforms.
Supply Chain Management Review: In a nutshell, what are the biggest challenges in supply chain right now?

Dave Kipe: The biggest challenge I see is the speed and application of technological change. From automation to mechanization, the supply chain profession is now at the forefront of the high-tech, big-data movement. Technology is a differentiator and a refusal to embrace it will leave your business in a precarious position. Technology alone is not enough. Businesses that hire multifaceted, agile employees who can quickly adapt to new technologies and circumstances are the ones that position themselves as leaders in their industries. Technology may be the driving force behind the shifting face of industry, but it's how your employees respond that will make—or break—the future of your supply chain.

SCMR: Can you elaborate on this?

Kip: Yes, that's easy. A second challenge that supply chain leaders are coping with, and a product of the technological impact; supply chains aren't just more inter-connected than ever, they have completely evolved. Beyond supplier to distributor, the connectivity has evolved holistically and the consumer has actually been integrated into the supply chain; from impacting forecasting algorithms to transportation models. The supply chain ecosystem cannot be sustained without change. I recommend evaluating your existing and future customer expectations and map it against your existing manufacturing and supply chain capabilities.
SCMR: Shouldn't that be obvious?
Kipe: You might be surprised at the disconnect between the two. I see companies today that fail primarily due to the fact that their supply chain strategies and operations have become stagnant and inflexible to the present expectations of their customers.
SCMR: What separates the mediocre supply chains from the best?
Kipe: Typically, organizations that possess high-caliber supply chains have unwavering support from the CEO and the senior executive team. A little by choice, and a lot from necessity; senior execs are expressing that supply-chain issues are increasingly demanding their attention. Visionary leaders not only see the value in their supply chain operations, but view it as a differentiator. Implementing modern supply-chain capabilities are playing a critical role in allowing companies to exploit emerging opportunities to boost growth and improve profitability.
SCMR: The biggest difference between a mediocre supply chain and a great one comes down to the human element…is that what you are saying?
Kipe: Correct. The ability to identify, cultivate, and nurture talented individuals and then retain them. Yes, technology is a differentiator and a refusal to embrace it will leave your business in a weak position. However, technology alone is inconsequential. Its material benefits are realized and optimized when applied to enabling your people. It was true before the industrial revolution and still true during the digital revolution; your employees are the lifeblood and heart of your company and inarguably, your company's greatest asset.
SCMR: So by way of advice, what do you tell young supply chain professionals and aspiring leaders?
Kipe: Continue to educate yourself – there was a time early in my career when I thought I knew everything, but in hindsight, I didn't know much at all. I was on the fast-track. Promotions came quickly and accolades were plentiful. I didn't feel it necessary to stay on top of the latest industry news or engage with other supply chain professionals. That was ignorant.
SCMR: Then you would agree that continuing education is key?
Kipe: Yes, absolutely. The world is changing rapidly, and our profession is right in the middle of it. The knowledge that made you successful yesterday probably won't make you successful tomorrow. If you want to be great at what you do, you have to really work. Enjoy the moments of success, but don't get complacent or overconfident. Just like life, your career can change in a heartbeat.
SCMR: Any other leadership tips?
Kipe: It's great to emulate a leadership style, but be yourself. Authenticity is incredibly tough to fake, so don't even try. Whether you're leading a team of warehouse employees in Elkhart, Indiana or a group of demand planners in New York City, demonstrate empathy and support; as your success is predicated upon theirs. Remember the Golden Rule. Treat everyone with respect, regardless of who they are or who they know. What they care about is how you treat them, your ability to lead with integrity and fairness, and that you made them feel valued.
June 12, 2017
About the Author
Patrick Burnson, Executive Editor Patrick Burnson is executive editor for
Logistics Management
and
Supply Chain Management Review
magazines and web sites. Patrick is a widely-published writer and editor who has spent most of his career covering international trade, global logistics, and supply chain management. He lives and works in San Francisco, providing readers with a Pacific Rim perspective on industry trends and forecasts. You can reach him directly at
[email protected]
Subscribe to Supply Chain Management Review Magazine!
Subscribe today. Don't Miss Out!
Get in-depth coverage from industry experts with proven techniques for cutting supply chain costs and case studies in supply chain best practices.
Start Your Subscription Today!
Latest Whitepaper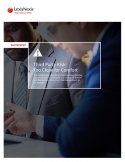 Third Party Risk: Too Close for Comfort
You've got a handle on many of the potential supply chain "disrupters" that can paralyze your business. But the real risk is embedded in areas you may have overlooked.
Download Today!
From the December 2017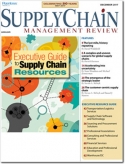 Transportation Trends: The last mile, history repeating
Economic Outlook: A Complex and Uneven Scenario for Global Supply Chains
View More From this Issue