Xi Jinping's Power and Your Global Supply Chain – Sounding the Alarm
As President Trump withdraws from international politics and international agreements like the TPP, and interest in ASEAN, President Xi is ready to step in to fill the void.

By
Rosemary Coates
·
November 20, 2017
Rosemary Coates
·
November 20, 2017
China watchers were quite stunned at the Chinese Plenary Council earlier this month, when Xi Jinping's philosophy was added to the Chinese Constitution, elevating him to the level of Mao Zedong and Deng Xiaoping. Xi did not name a successor either, a very unusual move for Chinese Presidents, and a likely set-up for Xi to remain in power for a long time.
But what effect does this have on doing business in China and global supply chains? Plenty.
Chinese Factory Shut-downs
If you are sourcing or manufacturing in China, you have probably noticed that for the past year, the Chinese government has been closing factories that are not in regulatory compliance. With little or no notification, a factory will be closed down for environmental repairs, or other compliance issues and all production stops while the repairs are made. If your supplier is one of these factories, you may be out of luck for a few months. There is not much you will be able to do about the situation. You won't be able to get your tools and molds out of the factory and overwhelmed competitors are unable to take on your work.
So how have these factories been selected for compliance shut down? It is a bit of a mystery, but because environmental improvement is on XI's agenda, it is likely that the closures are politically motivated. Private businesses and foreign factories have reason to be concerned. If the Communist Party choses your factory for a compliance shut-down you are probably on someone's unfavored list.
It is most likely going to get worse as Xi's consolidation of power and his anti-corruption agenda is manifested in new ways, especially effecting foreign manufacturers and joint-ventures in China. This means your suppliers and factories in China.
As Trump Withdraws, Xi Fills the Void
As President Trump withdraws from international politics and international agreements like the TPP, and interest in ASEAN, President Xi is ready to step in to fill the void. Xi is a very smart, powerful, and ambitious leader, who is ready, willing and able to expand his reach throughout the region.

Quietly, Xi is moving more toward strategic projects in building infrastructure around the world, and taking control over the South China Sea region. With billions of RMB to invest, countries find it hard to resist the temptation of Chinese investment and inevitable replacement of U.S. aid.
Historically, the country that controls the infrastructure and the resources, controls commerce. This may result in significant risks to American manufacturing across Asia. Chinese politics are poised to influence the entire region. The western world is becoming a smaller player as Asia rises in stature, wealth, and growth.
One Belt One Road
One Belt One Road (OBOR) is a development strategy developed by Xi, and now underway. OBOR focuses on connectivity and cooperation between China, the Middle East and Europe. It includes the land-based "Silk Road Economic Belt" and the oceangoing "Maritime Silk Road." OBOR is part of Xi's plan to take a larger role in global affairs with a China-centered trading network.
Once again, the control and connections of infrastructure will influence the rules of global commerce, where we manufacture, and where and how we trade. Xi's "Belt and Road" initiative was also included in the party constitution as part of "Xi Jinping Thought."

How will "socialism with Chinese characteristics" further manifest itself in our global supply chains? It is likely to be a continuation of the past five years: more crackdown on corruption and far more influence by the Chinese Communist Party. More control and influence by China is inevitable.
What To Do Now?
It is critical that global supply chain professionals be watchful and vigilant, and prepare alternative strategies for addressing risk. It's time to develop alternate supply networks and perhaps consider reshoring some of your sourcing and production. Be prepared for changes in China's policies regarding foreign sourcing and manufacturing. Look for trends and assess your supply chain risk regularly.
November 20, 2017
Latest Whitepaper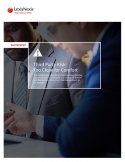 Third Party Risk: Too Close for Comfort
You've got a handle on many of the potential supply chain "disrupters" that can paralyze your business. But the real risk is embedded in areas you may have overlooked.
Download Today!
From the December 2017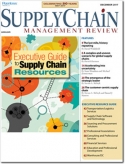 Transportation Trends: The last mile, history repeating
Economic Outlook: A Complex and Uneven Scenario for Global Supply Chains
View More From this Issue