The Digital Supply Chain: The Future has Arrived
How advances in the Internet of Things, cloud computing, and predictive analytics are making the Digital Supply Chain a reality

By
SCMR Staff
·
September 19, 2017
SCMR Staff
· September 19, 2017
Powered by massive amounts of real-time big data, sophisticated machine learning algorithms and lightning fast processing, digital supply chains have arrived.
These all-seeing, real-time, predictive, optimized and cognitive supply chains will transform the way organizations operate, in much the same way that autonomous vehicles will redefine how people travel. The difference is, digital supply chains are here today, and they are driving extraordinary results for the innovative companies who are exploiting them.
Download Now!
Subscribe to Supply Chain Management Review Magazine!
Subscribe today. Don't Miss Out!
Get in-depth coverage from industry experts with proven techniques for cutting supply chain costs and case studies in supply chain best practices.
Start Your Subscription Today!
Latest Whitepaper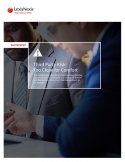 Third Party Risk: Too Close for Comfort
You've got a handle on many of the potential supply chain "disrupters" that can paralyze your business. But the real risk is embedded in areas you may have overlooked.
Download Today!
From the January-February 2018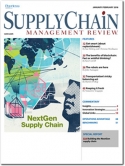 Get Smart (about replenishment)
The Benefits of Blockchain: Fact or Wishful Thinking?
View More From this Issue
Latest Webcast
IAM, IoT and the Connected Supply Chain
There are three primary models of Identity and Access Management (IAM) technology that CTOs, CSOs, and Supply Chain executives are using to enhance their trading partner communities. While each leverages IAM and the IoT as core components only an "Outside-in" approach truly connects people, systems and things reliably and securely across the supply chain.
Register Today!