The Changing Landscape of Barcode Labeling
Every organization has its own unique set of business processes that it's labeling must accommodate which adds even more to existing supply chain complexities

By
LM Staff
·
December 7, 2017
{scmr_abstract}
Download Now!
Sponsored by:
Warehouse in the News
Making the Case For: An Automated Dimensioning Solution
Making the Case for FedEx Critical Inventory Logistics
Lift Truck Technology Connects Pickers to Productivity
Top 20 3PL Warehouses 2017: Growth amid change
The Changing Landscape of Barcode Labeling
More Warehouse News
By
LM Staff
· December 7, 2017
Barcode labeling is central to a range of mission-critical operations including production, distribution, supply chain traceability, management, control and final delivery. Every organization has its own unique set of business processes that it's labeling must accommodate which adds even more to existing supply chain complexities. Because of this, businesses are choosing to move from a siloed barcode labeling approach to a more strategic, global and integrated labeling solution.
This paper developed by <a href="http://www.vdcresearch.com/ " Target="_blank">VDC Research</a>, the leading authority in barcode hardware and software industry analysis, addresses the evolution of barcode labeling software and outlines the evolving requirements shaping the future of labeling.
Download the report to learn more.
Download Now!
Subscribe to Supply Chain Management Review Magazine!
Subscribe today. Don't Miss Out!
Get in-depth coverage from industry experts with proven techniques for cutting supply chain costs and case studies in supply chain best practices.
Start Your Subscription Today!
Latest Whitepaper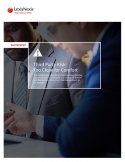 Third Party Risk: Too Close for Comfort
You've got a handle on many of the potential supply chain "disrupters" that can paralyze your business. But the real risk is embedded in areas you may have overlooked.
Download Today!
From the December 2017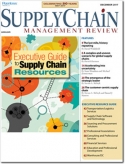 Transportation Trends: The last mile, history repeating
Economic Outlook: A Complex and Uneven Scenario for Global Supply Chains
View More From this Issue