Technology Spotlight: The Great Digitization of Industry
While it's easy to dismiss the "great digitization" of industry as hype, it is already happening faster than expected. In this new report, ARC Advisory presents data about how industrial companies are thinking about digital transformation.

By
Greg Gorbach
·
September 1, 2017
Latest News
Procurement is getting its digitized act together
Third Party Risk: Too Close for Comfort
Pacific Basin conflict and its impact on high tech manufacturing
The New York Shipping Exchange steps up its game to serve "digitized" logistics
What Maersk Really Means About Global Integration
More News
Latest Resource
Third Party Risk: Too Close for Comfort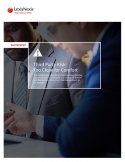 You've got a handle on many of the potential supply chain "disrupters" that can paralyze your business. But the real risk is embedded in areas you may have overlooked.
All Resources
By
Greg Gorbach
·
September 1, 2017
Greg Gorbach is a vice president and analyst at the research firm ARC Advisory Group. He can be reached at .(JavaScript must be enabled to view this email address). For more information, visit arcweb.com.
---
The next several years will bring about the "great digitization" of industry. This will touch nearly every aspect of business as existing systems, jobs and business processes are instrumented, redefined and optimized with artificial intelligence. This transformation will be widespread and far reaching. Information technology (IT), operational technology (OT), engineering technology (ET), supply chain, asset management, services and customer-facing systems will all be affected. Discrete manufacturing, process industries, utilities, energy, infrastructure and more are already beginning the transformation.
Those are pretty big claims. Is it real? Is it overstated? And, if it's real, how long will it take?
Based on research we at ARC conducted at the end of last year, it is indeed real. And, while it will surely take many years to be fully realized, the "great digitization" is already happening faster than many might expect. The second half of this report presents data from our research about how industrial companies are thinking about digital transformation. But first, before we present the research, you can also see the transformation underway in the trends ARC tracks today. Let's take a look.
Advanced analytics and machine learning. The most noticeable and probably most important trend today is the proliferation of advanced analytics and machine learning (artificial intelligence, cognitive computing, etc.). The technology has reached a tipping point and can now deliver value in setting after setting. In turn, this fuels demand for smart connected sensors, digital networks and other ways to collect and move data to the analytics systems—and vice versa. Is mass displacement of workers on the horizon? Perhaps. But it is clear that these technologies will result in substantial change.
Platform vs. platform. Cloud application platforms provide a modern approach for developing and deploying software applications. The approach is gradually displacing the older client/server model, in which large, complex, monolithic applications were created and run. In industrial companies, the client/server model came to dominate both the IT and the OT software spaces in recent decades. The pace of this changeover is accelerating, however, as more and more companies embrace the modern platform approach. This has also sparked a "platform vs. platform" competition in the marketplace, with large suppliers seeking to establish the dominant platform ecosystem and the broadest library of third-party applications and smaller suppliers trying to figure out just how they should compete in the emerging environment.
Open systems. We can see the drive toward open systems in two levels: the platforms/apps level and the automation level. At the platform/apps level, many of the competing cloud platforms are based on the open source Cloud Foundry platform. At the automation level, The Open Group is the primary mover behind an open process automation initiative, although Namur has a complementary effort in progress.
Supply chain digitization. As the digitization of the supply chain progresses, new approaches are disrupting established business models. Omni-channel retailing uses a variety of channels in a customer's shopping experience, including research before a purchase. These channels include retail stores, online stores, mobile stores, mobile app stores and telephone sales. The customer dictates how a transaction occurs. Digitized systems and processes facilitate the customer journey to transact and be served. Digitization also enables personalization of products and services, and customers increasingly seek out personalized products or prefer to shop where they can select from larger assortments of SKUs. Autonomous vehicles and enhanced product, pallet and container tracking and real-time status are also making inroads in warehouses and on the highways.
Edge and fog. Cloud-only approaches can no longer keep up with the volume, latency, mobility, reliability, security, privacy and network bandwidth challenges of the industrial plant. Fog computing distributes computing, communication, control and storage closer to where
the data originates, enabling faster processing times and lowering network costs. Fog pools the resources and data sources between devices that reside at the edge and other nodes in the network, where edge tends to be limited to a small number of layers. Any device with computing, storage and network connectivity—such as industrial controllers, switches, routers, embedded servers and video surveillance cameras - can be a fog node.
Smart products and services. By offering smart, connected products, manufacturers can position themselves to improve their customers' experiences with their products. Digitization enables manufacturers to improve the performance of their service operations through remote connectivity and enables predictive maintenance; continuous uptime; rapid service response; and the opportunity to offer incremental, revenue-producing products and services.
Outcomes. Another trend is the migration from selling products to selling the value of the product, or product-as-a-service. Examples include an aircraft engine builder billing airlines on the amount of thrust provided, instead of just an aircraft engine and a maintenance contract. A compressor company sells compressed air as a service, instead of compressors.
By selling outcomes or product-as-a-service, a manufacturer or OEM retains ownership of the asset itself, and provides all required maintenance, service and repair to meet agreed-upon service level agreement (SLA) levels.
Smart factories, plants and operations. In plant operations, digitization means we must recognize that digitization involves connectivity to much more than the production machines and systems. Wearables, augmented reality helmets or glasses, mobile devices, smart carriers, smart containers, smart components, smart products, autonomous machines, video, third-party services, social applications, additive manufacturing, voice control, remote sensing and more are now an active part of the real-time, data-rich environment in the plant. Autonomous inventory movers can navigate independently throughout the manufacturing plant, delivering components where needed and on time. Still, connectivity only improves performance when advanced analytics and execution software are also applied.
Additive manufacturing. Additive manufacturing continues to make unbelievable strides towards the manufacturing mainstream. It has progressed farther and faster than almost anyone foresaw. Driven by materials science and design software advances, this technology can already build optimum parts—in significant volume—that cannot be made any other way. The hype around 3D printing may have died down, but it may be the most potentially disruptive technology in manufacturing. Companies that neither prepared for (nor anticipated) its emergence on an industrial scale could soon find themselves at a significant disadvantage.
Asset performance management. Improving asset performance can improve efficiencies in two main areas: enhancing production performance and offering new business models and services based on smart, connected products. That being the case, it's no surprise to find many solutions focused on predictive maintenance, asset analytics and asset management. There are opportunities to better utilize assets, coordinate with operating and business needs, improve the availability of replacement parts and improve the efficiency of field service groups. Equipment manufacturers are rapidly adopting IoT to offer asset health monitoring and predictive maintenance subscriptions to create new sources of aftermarket revenue.
Smart environments. A smart city is connected, intelligent and optimized by a municipality to reduce costs, increase safety, attract investment, be sustainable and enhance livability. Smart cities depend upon the digital transformation of assets and the deployment of
sensor networks with ubiquitous multi-modal connectivity smart governance. Smart cities present tremendous opportunities for Industrial IoT (IIoT)—but challenges abound. Technology innovation often outpaces policy, including standards for data privacy. The bureaucratic red tape involved with government contracts also remains a major obstacle. Startups with novel solutions are shut out of the contract process and the transition to service-based models does not align with the often archaic government thinking and processes. Nevertheless, the trend toward smart cities is clear.
By the numbers
As we mentioned in the beginning, ARC conducted research in Q4 of 2016 intended to shed light upon the digital transformation of industry. We wanted to learn more about current perceptions and attitudes about digitization and the prospects for digital transformation. We also wanted to get a sense of the uptake in Industrial Internet of Things (IIoT) in the industrial space. What are the potential benefits? What are the hurdles to be overcome?
We asked respondents to interpret "digital transformation" in a broad sense: planning and implementing solutions for improving factory, distribution, transportation, inventory/demand and procurement operations; as well as smart connected products and related services. We attempted to get a picture that included the whole technology stack—including Cloud and analytics—not just device or asset connectivity. And we asked that, for this research, terms such as Industrial Internet of Things (IIoT), Industrie 4.0, Smart Manufacturing and digital transformation should be considered as equivalent and interchangeable.
We characterized respondents with a good IIoT/digital strategy and roadmap, and with a high degree of satisfaction with their company's progress toward digitization as "leaders." The others are "challengers." Respondents revealed some interesting differences between the two groups. For example, half as many leaders cite lack of management vision as a hurdle, compared to challengers. Similarly, about half as many see lack of budget as a hurdle, compared to challengers.
Near-universal belief that achieving digital transformation is critical to success. There is a broad recognition that it is not only possible to achieve digital transformation, but important to do so. Virtually all the leaders in our survey, and all of the companies with more than 25 plants, certainly think so (Figure 1). Most challengers agree as well by a wide margin. Interestingly, companies with between 11 and 25 plants weren't quite as sure, but it's unclear why. The main takeaway here is that when it comes to the question "is this real?" the evidence suggests that there is no longer any doubt.
Leading companies have a more robust digital transformation strategy. It may seem obvious that digital transformation leaders overall have more robust strategies than challengers. The results confirm it. All the leaders have at least a basic strategy for digitizing their companies, and none of the challengers have a robust strategy for doing so. Among the leading companies, more than half claimed to have a fairly robust strategy (Figure 2). Leaders were found in both process and discrete industry sectors, in roughly equal measure. Digitization is important across the board, and all sectors are responding.
Large companies and leaders are satisfied with their digital transformation progress. While large companies are generally satisfied with their progress in executing their strategy and roadmap for digitizing, small and mid-size companies are not. Both leaders and large
companies feel they are making decent progress toward digitization, while small and mid-size companies don't think so. This could be due to two factors that may be showing up to a greater degree in small and mid-size companies: lack of budget and limited management vision about the need and promise of digitization.
Top hurdles to overcome. Despite a great deal of industry activity, some real progress, and growing comfort with the Cloud, issues related to cyber-security, data security and privacy and confidentiality still lead the list of hurdles to be overcome. Approximately 55% of the respondents cited this as a hurdle (19% of Leaders and 36% of Challengers). Put another way, 45% of respondents did not cite this as a hurdle—which suggests that while this is an important concern, it is not necessarily a show stopper. With all the digitization activity currently under way, this shouldn't be surprising (Figure 3).
Another group of leading hurdles or obstacles relate to technology issues arising from the fact that today's plants aren't highly connected yet. It's a big part of the digitization work to be done. These include:
lack of strategy for dealing with legacy systems and equipment;
limited availability of machine health data; and
complexity of potential solution space (where to focus).
The other leading hurdles are not about technology, but relate to normal business issues:
lack of budget;
management vision and buy-in; and
ROI or business case for digital transformation.
It's worth taking the time to examine the rest of the hurdles in the chart, not because any one stands out as a show stopper, but because this list is a pretty good proxy for the kinds of issues that might arise in any digitization journey, and it is a good idea to think them through in advance.

Business transformation opportunities. The move to digitization has been sold, at least in part, based on the possibility of significantly improving or transforming the business. About half of the respondents see opportunities for new business models and revenue streams, as well as opportunities for improving business responsiveness and agility (Figure 4). ARC frequently sees this expressed as "moving closer to the customer."
It is sometimes realized through new service offerings based on connected products or other customer needs. For example, in the paints and coatings market, companies have begun offering online design services to help customers select and visualize color schemes in advance. An element of creativity and innovation is needed to bring about a business transformation. Even though they may not quite see the shape of the change, about 40% of respondents see opportunities to grow existing markets, increase market share, or create new markets.
Performance improvement opportunities. It is useful to examine the expected performance improvement opportunities from the perspective of the respondent. Here we look at the top performance improvement opportunities identified by those whose focus is business, supply chain, operations, and engineering and maintenance.
From a business perspective, plant operating performance tops the list, but operating performance is also important. The supply chain group sticks to its "knitting," identifying related opportunities as top opportunities in this order: demand forecasting, inventory optimization, warehouse operating performance, sustainability and compliance and transportation operating performance
Those whose focus is operations identify a mix of supply chain and operations opportunities: inventory optimization, plant operating performance, demand forecasting and warehouse operations performance. The engineering and maintenance group identified plant operating performance, inventory optimization and sustainability and compliance as opportunities. There are some differences, but it is encouraging to see that these groups are largely aligned in their assessments of opportunities—even though the supply chain group clearly sees the most opportunities in their own domain.
Product improvement opportunities. For discrete manufacturers that make machines, appliances and the like, a broad agreement that opportunities abound for improving the products through digitization. This applies not only to new products. Add-on connectivity solutions
for products already in the field are also seen as a big opportunity. There are also some big opportunities related to the data provided by these newly-connected products: the chance to improve product designs based on in-service operation performance data, the chance to increase sales of replacement parts and supplies, and the chance to reduce warranty costs by predicting the need for maintenance in advance of failures.
These companies also stand to improve overall product quality and reduce energy consumption, as well as improving product performance by engineering for software-defined functions in the products themselves.
It's time to act
Regardless of the specific terminology you might use (Industrial Internet of Things, Industrie 4.0, Smart Manufacturing, Digital Transformation, etc.), there is widespread and growing recognition among industrial companies that things are changing. Leading companies already have a robust strategy for digital transformation, along with a realizable roadmap. While many are making good progress in executing the strategy and roadmap, there are some important hurdles to be overcome, notably cyber-security, data security and privacy, and data confidentiality.
Companies also cite the lack of a clear ROI or business case for digitization as another significant hurdle. Challengers report that another set of interrelated hurdles impedes their progress: lack of budget, lack of management vision and buy-in and a more risk-averse culture. ARC sees this among some of our clients as well, but we recognize that it may be due to these companies being a little farther behind on the adoption curve. Nevertheless, many if not most of these companies are actively putting digitization strategies and roadmaps in place.
On the opposite side of the scale, companies do recognize that with the connectivity and advanced analytics of digitization, substantial performance improvements and transformational opportunities for their business may be within reach. ARC's assessment is that like any innovation, this is still an area that needs an imaginative leap before the path to a big transformation can be seen.
Based on ARC research and analysis, we recommend the following:
Industrial companies should look for areas of improvement within production operations; especially in optimizing maintenance and asset performance, and optimizing production.
Companies that manufacture discrete products such as appliances or vehicles or industrial machines should also look for opportunities to build smart, connected products, and opportunities to offer new services or outcome-based delivery models to move closer to customers.
Invest in learning about modern platforms, advanced analytics, machine learning, and other technologies of digitization. Start hands-on pilot programs if you haven't already done so.
Be sure to consider all aspects of the coming great digitization. Production operations is a good place to start, but design and engineering, supply chain, customer service, and business operations will all soon undergo a digital transformation.
If our research reveals anything, it's that industry leaders—your competitors—have a digital strategy in place and are moving forward. For companies that intend to compete in the future, now is the time to act.
September 5, 2017
Subscribe to Supply Chain Management Review Magazine!
Subscribe today. Don't Miss Out!
Get in-depth coverage from industry experts with proven techniques for cutting supply chain costs and case studies in supply chain best practices.
Start Your Subscription Today!
Latest Whitepaper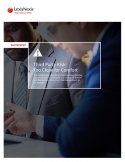 Third Party Risk: Too Close for Comfort
You've got a handle on many of the potential supply chain "disrupters" that can paralyze your business. But the real risk is embedded in areas you may have overlooked.
Download Today!
From the January-February 2018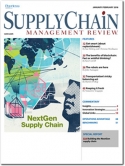 Get Smart (about replenishment)
The Benefits of Blockchain: Fact or Wishful Thinking?
View More From this Issue