Supply Chain Visibility is Dead
With the advent of the internet of things (IoT), digital supply chain solutions are now providing real-time IoT-based vs. latent EDI-based visibility.o

By
SCMR Staff
·
November 7, 2017
Download Now!
Sponsored by:
Latest News
Third Party Risk: Too Close for Comfort
The State of the DC Voice Market
Vanderlande invests in collaborative robot specialist Smart Robotics
SSI Schaefer expands North American headquarters
Truck tonnage bounces back in October, reports ATA
More News
By
SCMR Staff
· November 7, 2017
With the advent of the internet of things (IoT), digital supply chain solutions are now providing real-time IoT-based vs. latent EDI-based visibility. Despite these advances, however, few people realize that supply chain visibility has become the shadow of a much greater value driver.
While it's nice to know the real-time location of a shipment in-transit, it's far more valuable to accurately predict when it will reach its destination, or to understand current and predicted lead-time and throughput variability to effectively match dynamic supply to dynamic demand. These predictive and prescriptive capabilities are driving far more value than stand-alone supply chain visibility ever did.
Download Now!
Subscribe to Supply Chain Management Review Magazine!
Subscribe today. Don't Miss Out!
Get in-depth coverage from industry experts with proven techniques for cutting supply chain costs and case studies in supply chain best practices.
Start Your Subscription Today!
Latest Whitepaper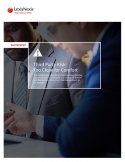 Third Party Risk: Too Close for Comfort
You've got a handle on many of the potential supply chain "disrupters" that can paralyze your business. But the real risk is embedded in areas you may have overlooked.
Download Today!
From the September-October 2017
View More From this Issue