Supply Chain Integration: Enabling supply chain growth
What do you get from end-to-end integration? A supply chain that drives top-line business growth and enables the business plans of the organization

By
Eric Pfeiffer, senior director, HAVI
·
July 16, 2017
Latest News
Third Party Risk: Too Close for Comfort
The State of the DC Voice Market
Oracle Modern Supply Chain Experience Promises to Address Key Industry Issues
Automated Storage: How to grow operations?...Make them smaller
DHL launches Global Trade Barometer
More News
Latest Resource
Third Party Risk: Too Close for Comfort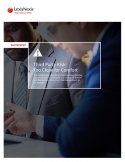 You've got a handle on many of the potential supply chain "disrupters" that can paralyze your business. But the real risk is embedded in areas you may have overlooked.
All Resources
By
Eric Pfeiffer, senior director, HAVI
·
July 16, 2017
The concept of supply chain integration can mean different things depending on the size and scope of a particular supply chain, but generally speaking, we define it as all stakeholders along the supply chain sharing the same objective (move the right product to the right place at the right time for the right price to delight the customer/end user), being aligned in their efforts to achieve this goal and collaborating with one another via systems and processes that are compatible and afford a clear view of demand from consumer to supplier. An integrated supply chain drives top-line business growth and profit margins and enables the business and marketing plans of the organization. Additional benefits of an integrated supply chain include increased efficiencies, sufficient supply, reduced waste and happier customers.
Sounds great, right? Integrate the supply chain and reap the rewards. So why haven't more companies achieved a truly integrated supply chain? And, why have too many companies invested in end-to-end planning capabilities with dismal results?
At HAVI, we believe that while enabling the flow of information along a supply chain comprised of disparate, and increasingly global, partners and systems is easier imagined than achieved, it is entirely possible and worth the effort as the supply chains of Apple and fast fashion house Zara attest. Both brands' supply chains are tightly integrated and leverage information in real time for maximum efficiency and responsiveness.
As an employee of a supply chain integrator with decades of experience bringing people, processes and technology together to maximize the performance of supply chains, and someone who has been involved in countless integration projects myself, I want to share three key steps organizations should take to achieve supply chain integration:
1. Adopt a collaborative mindset. A shift in thinking both internally within an organization and externally among suppliers and partners along the supply chain is necessary. The transition from thinking and acting independently in siloed, functional roles (the marketing department plans promotions, purchasing manages supplier relationships, etc.) to operating in interdependent, cooperative partnership (the marketing team shares promotion calendars with supply chain managers so they can forecast demand and alert suppliers) has to start at the top of organizations. Ensure everyone within the organization and all stakeholders along the supply chain understand the end goal.
The value of an integrated supply chain may be perceived differently by each partner (e.g., suppliers may value more predictable demand while retailers and foodservice operators value having the right inventory on hand to meet demand), but a shared interest in driving growth and enabling business plans for all partners along the chain is critical. Create a balanced scorecard that clearly defines success for each entity or node along the chain as well as collectively. Partners should measure their own success, but also have insight into how the supply chain is performing overall against shared objectives.
2. Create a collaboration infrastructure. End-to-end visibility and a single source of truth are tenants of an integrated supply chain. Share information regularly and update plans frequently when exceptions arise. These actions are what drive efficiencies, root out waste and help delight customers and end users. When partners have a clear view of demand at the retail or restaurant level and know how much supply is in the system and where it is, they can plan accordingly to avoid overages and shortages. The right infrastructure and a disciplined process for collecting and sharing information builds trust and transparency among stakeholders.
Determine which information will be gathered and transmitted across the supply chain (e.g., scheduled production, inventory, shipments, POS data), the level of granularity of detail and frequency of dissemination that works best for all partners. Next, select a technology platform to automate the collection and sharing process. The availability of turnkey technologies that require very little customization make it easy for businesses to efficiently gather, standardize – whether EDI or GS1 – and share information in real-time.
3. Leverage information. Once the infrastructure for gathering and standardizing data is established, organizations can feel confident that they are working from a single source of truth. And, they can progress from descriptive (what product is moving from point to point?) and diagnostic (why did we miss our forecast?) analytics toward prescriptive analytics (how can we drive desired outcomes?). This is the personification of Gartner's analytics maturity model illustrating the evolution of business intelligence. Through the use of modeling and algorithms, coupled with historical perspective and experience, organizations are able to leverage information to effect business outcomes. This information optimization is the holy grail of supply chain integration – aligned systems and processes and a shared view of demand among all stakeholders that enables growth.
In the foodservice industry, improved visibility and communication along the supply chain will enable stakeholders to respond more nimbly to fluctuations in demand driven by shifting consumer tastes and preferences. By integrating their systems and processes, stakeholders will become more efficient and drive out costs. More importantly, supply chain integration will enable each partner's individual business plan.
In an effort to drive greater supply chain integration in the foodservice industry, the International Foodservice Manufacturers Association (IFMA), in conjunction with HAVI, Kinetic12 and Datassential, have assembled a board of 25 participating companies, including national chain operators, manufacturers and distributors, to develop the first ever best practices for foodservice supply chain optimization. This initiative will produce a series of tools, data standards and collaborative communication practices that will ultimately bolster a more transparent and efficient supply chain.
Whether the industry is foodservice, retail or pharmaceuticals, an integrated supply chain is critical to helping organizations drive top-line growth and root out inefficiencies and waste that threaten the bottom line.
Eric Pfeiffer is senior director of supply chain integration at HAVI. He has more than 28 years of experience in integrating the world's largest foodservice supply chains. http://www.havi.com.
July 16, 2017
Subscribe to Supply Chain Management Review Magazine!
Subscribe today. Don't Miss Out!
Get in-depth coverage from industry experts with proven techniques for cutting supply chain costs and case studies in supply chain best practices.
Start Your Subscription Today!
Latest Whitepaper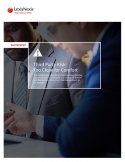 Third Party Risk: Too Close for Comfort
You've got a handle on many of the potential supply chain "disrupters" that can paralyze your business. But the real risk is embedded in areas you may have overlooked.
Download Today!
From the December 2017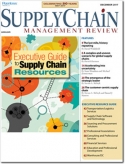 Transportation Trends: The last mile, history repeating
Economic Outlook: A Complex and Uneven Scenario for Global Supply Chains
View More From this Issue