Supplier trust matters. Trust me.
The results of the latest Supplier Trust Index show that suppliers are more likely to share innovation and price concessions with customers they trust.

By
Bob Trebilcock
·
May 15, 2017
Latest News
Procurement is getting its digitized act together
Third Party Risk: Too Close for Comfort
2018 MHI Innovation Award finalists announced
The Overlooked Competitive Advantage: Connected Teams
Reusable Packaging Association announces 2018 board and committee chairs
More News
Latest Resource
Third Party Risk: Too Close for Comfort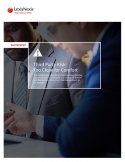 You've got a handle on many of the potential supply chain "disrupters" that can paralyze your business. But the real risk is embedded in areas you may have overlooked.
All Resources
By
Bob Trebilcock
·
May 15, 2017
What is the difference between winning in the marketplace and treading water? It could be a matter of how much your suppliers trust you. Winning the trust of the automotive supplier community was certainly the strategy behind the Strategic Supplier Engagement (SSE) initiative at GM that I profiled in the May issue of SCMR.
For years, GM had lagged in the results of the North American Automotive OEM – Supplier Working Relations Index Study, sometimes referred to as the supplier trust survey, which measures "supplier perceptions of working relations with their automaker customers," according to Planning Perspectives, Inc., or PPI, which launched the first study in 2001. Less than optimal supplier relationships meant that GM was sometimes behind the eight ball when it came to getting first crack at the latest innovations available to automakers and in terms of its profitability.
That came as no surprise to John Henke, Jr., the president of PPI. Back in 2014, he co-authored an article in SCMR that used the results of the annual survey and the major automakers financials to demonstrate that the OEMs with the lowest supplier trust scores also generated the lowest profits per vehicle in the industry.
Last year, GM began to harvest the fruits of the SSE, posting consecutive quarters of improved financial results, having the Bolt named Motor Trend's Car Of The Year and posting impressive gains on the 2016 supplier trust index.
2016 was also a year when GM sought price concessions from its suppliers, as did Nissan. So, did it learn lessons that other automakers could benefit from? Based on the results of the 2017 Supplier Working Relations Index Study, which were released today, the answer is yes. As the headline on today's press release noted, GM, a perennial laggard in the study, jumped to third place while Nissan, often a third-place finisher behind Toyota and Honda, fell to last place.
The difference between the two companies, according to Henke, is the relationship GM has cultivated with its suppliers compared to Nissan. "GM has improved across the board in all five of the key areas that comprise the Working Relations Index ranking, and Nissan has dropped in all five," he said in today's release. He also noted that while GM and Nissan have both had cost-cutting programs in place for the last two years, GM actively worked with its suppliers while Nissan to an adversarial approach that "has greatly disrupted relations with its suppliers and it is safe to say that it has cost them tens of millions of dollars in supplier contribution to profits." You can read the full release here.
Or, as Joe Sandor, a former CPO and now a professor of purchasing and supply management at Michigan State, puts it: "The huge value of purchases [by manufacturers like GM] means a far greater reliance on suppliers…Clearly, only those customers who earn preferential treatment from their suppliers will thrive."
On the eve of the 2017 ISM conference, those are words for everyone in supply management and procurement to heed. Trust me.
May 16, 2017
About the Author
Bob Trebilcock Bob Trebilcock, editorial director, has covered materials handling, technology, logistics and supply chain topics for nearly 30 years. In addition to Supply Chain Management Review, he is also Executive Editor of Modern Materials Handling. A graduate of Bowling Green State University, Trebilcock lives in Keene, NH. He can be reached at 603-357-0484.
Subscribe to Supply Chain Management Review Magazine!
Subscribe today. Don't Miss Out!
Get in-depth coverage from industry experts with proven techniques for cutting supply chain costs and case studies in supply chain best practices.
Start Your Subscription Today!
Latest Whitepaper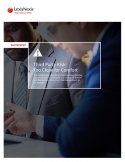 Third Party Risk: Too Close for Comfort
You've got a handle on many of the potential supply chain "disrupters" that can paralyze your business. But the real risk is embedded in areas you may have overlooked.
Download Today!
From the January-February 2018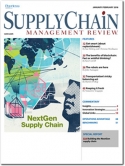 Get Smart (about replenishment)
The Benefits of Blockchain: Fact or Wishful Thinking?
View More From this Issue
Latest Webcast
IAM, IoT and the Connected Supply Chain
There are three primary models of Identity and Access Management (IAM) technology that CTOs, CSOs, and Supply Chain executives are using to enhance their trading partner communities. While each leverages IAM and the IoT as core components only an "Outside-in" approach truly connects people, systems and things reliably and securely across the supply chain.
Register Today!