Six Months Later, CEO's Still Cautious About Supply Chain Management
There's scant suggestion that the findings contained in PwC's 16th Annual Global CEO Survey released last January will be altered significantly before the year is out, said analysts.

By
Patrick Burnson, Executive Editor
·
June 5, 2013
Latest News
Procurement is getting its digitized act together
Third Party Risk: Too Close for Comfort
S&P Global's acquisition of Panjiva may give shippers new predictive analytics for risk mitigation
Small Businesses Face Import Overhead, Spend up to 500 Hours Annually Managing Freight Shipments
Capturing the Value of Predictive Modeling in Logistics
More News
Latest Resource
Third Party Risk: Too Close for Comfort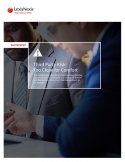 You've got a handle on many of the potential supply chain "disrupters" that can paralyze your business. But the real risk is embedded in areas you may have overlooked.
All Resources
By
Patrick Burnson, Executive Editor
·
June 5, 2013
Editor's note: When Brad Householder, principal, supply chain practice, at PwC was last interviewed by SCMR, he told us that supply chain management is working its way up the command ladder in corporate America. We last caught up with him at the Gartner Supply Chain Executive Conference, where he talked a bit more about treating supply chain as a "strategic asset" for competitive advantage. In this exclusive interview, he expands upon that presentation.
Supply Chain Management Review: What has changed since PwC's 16th Annual Global CEO Survey?
Brad Householder: While there are signs that the general confidence levels in the global economic environment appear to be improving since the study, there is little to suggest that the fundamental concerns expressed by the majority of CEOs in the survey have eased. The expectations for continued or increasing levels of business and economic disruption have not abated, and continue to be at the root of the uncertainty they expressed for their expectations of profitable growth. Accordingly, we believe the key observations of the study are still highly relevant for the course that CEOs have set to manage in an uncertain environment: Focusing on targeted opportunities, concentrating on customers, and improving operational effectiveness. Each of these have very clear implications for the supply chain. Increasing reliable and flexible delivery is a key driver of retaining profitable customer relationships and share, but doing so in ways that don't add cost or operational complexity is the increasingly difficult challenge that supply chain leaders must solve.
SCMR: Can you give us an example?
Householder: One CEO captured it well, saying "Downsizing is not a goal in itself. We're trying to streamline our operations and improve staff performance." One change we do see is a shift in the approach to global supply chains. Against a backdrop of global shifts in important factor costs like energy and labor and uncertainties in regulatory and tax environments, companies are also beginning to internalize the costs and benefits of speed and flexibility, and realizing the importance of having operations physically closer to their customers. Executive teams are now making more sophisticated decisions on where and how they will conduct operations, the levels of automation employed, changes to insourced/outsourced operations, etc. instead of feeling locked-in to the supply chain footprints they inherited. 


SCMR: Are they more likely now to embrace supply chains as a "strategic asset"?


Householder: Absolutely. We do seem to be entering the era of the "strategic supply chain." Not to say that there haven't been good examples over the past decade of companies who have built their business models around a differentiated supply chain capability, but they have been relatively few and far between. Companies by and large still tended to define supply chain too narrowly as a cost-centric collection of various operating functions. But that is changing.


SCMR: Why is that? Can you explain?
Householder: To some extent, the elevation to the "strategic supply chain" is the silver lining of the business and economic cycles of the last decade, arising from something we call the "piling on" effect on the supply chain. From a supply chain executive's perspective, the pressures have been tremendous and additive: improve customer service, reduce working capital, integrate globally, collaborate with customers and suppliers, increase flexibility and resilience, improve sustainability – and oh by the way do it all with fewer people and lower costs. This "piling on" has forced companies for really the first time to have to confront the tradeoffs and prioritization at the top levels - both organizationally and strategically. For many companies, the supply chain holds the keys to achieving the right mix of service, speed, flexibility, and cost to win in the market so it's only natural that the strategic conversations on market leadership must translate and align closely to supply chain performance priorities. So, the silver lining is that the "piling on" that has been so challenging for supply chain executives has actually been the impetus for supply chain now having a much more important "seat at the table" in the formulation and alignment of business strategy.
SCMR: Thanks, Brad. Finally, can tell our readers which industries/sectors will be the first adopters?
Householder: Borrowing concepts from Professor CharlesFine's book, Clockspeed, we see the emergence of the strategic supply chain moving fastest in the fastest-evolving, "fruit fly" industries like high tech and consumer goods. Companies in those industries are forced to address significant changes in customer needs, products, technologies, and regulations at a faster pace than other industries, although we are seeing a noticeable uptick in the strategic role of supply chain in slower clock-speed, asset-heavy industries such as chemicals and industrial products, driven largely by global shifts in factor costs and demand patterns.
June 6, 2013
About the Author
Patrick Burnson, Executive Editor Patrick Burnson is executive editor for
Logistics Management
and
Supply Chain Management Review
magazines and web sites. Patrick is a widely-published writer and editor who has spent most of his career covering international trade, global logistics, and supply chain management. He lives and works in San Francisco, providing readers with a Pacific Rim perspective on industry trends and forecasts. You can reach him directly at
[email protected]
Subscribe to Supply Chain Management Review Magazine!
Subscribe today. Don't Miss Out!
Get in-depth coverage from industry experts with proven techniques for cutting supply chain costs and case studies in supply chain best practices.
Start Your Subscription Today!
Latest Whitepaper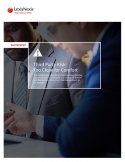 Third Party Risk: Too Close for Comfort
You've got a handle on many of the potential supply chain "disrupters" that can paralyze your business. But the real risk is embedded in areas you may have overlooked.
Download Today!
From the January-February 2018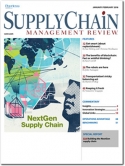 Get Smart (about replenishment)
The Benefits of Blockchain: Fact or Wishful Thinking?
View More From this Issue
Latest Webcast
IAM, IoT and the Connected Supply Chain
There are three primary models of Identity and Access Management (IAM) technology that CTOs, CSOs, and Supply Chain executives are using to enhance their trading partner communities. While each leverages IAM and the IoT as core components only an "Outside-in" approach truly connects people, systems and things reliably and securely across the supply chain.
Register Today!