Procurement Performance Measurement in 2018
Measuring Procurement Effectiveness across Unequal Spend Categories

By
Jeff Schlosser, Tiffany Baker and Mark Crumrine
·
March 13, 2018
Latest News
Procurement is getting its digitized act together
Third Party Risk: Too Close for Comfort
Knight-Swift to add 400 trucks, drivers with Abilene tuck-in acquisition
Are CPOs Painted into a Corner?
Panjiva says trade fundamentals are strong, despite concerns over tariffs
More News
Latest Resource
Third Party Risk: Too Close for Comfort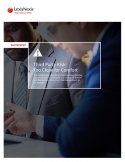 You've got a handle on many of the potential supply chain "disrupters" that can paralyze your business. But the real risk is embedded in areas you may have overlooked.
All Resources
By
Jeff Schlosser, Tiffany Baker and Mark Crumrine
·
March 13, 2018
Organizations today rely on Procurement to drive value beyond unit price savings. For Chief Procurement Officers (CPOs), it is challenging to measure the performance of managers who drive these sources of value. Fair and accurate performance measurement is critical for attracting, retaining and promoting top procurement talent. In a typical procurement environment, some categories require larger efforts on cost and risk avoidance, with minor savings achievements, while other categories yield significant savings by nature of the products purchased. For some categories, securing the latest technology to enable top-line growth may far outweigh the importance of purchase price. How can the CPO assess individual category manager performance, each driving unique value, on an even playing field?
Measuring Procurement Effectiveness
In mature procurement organizations, category managers develop value-based category strategies to target underlying metrics, beyond purchase price variance (PPV), based on their unique category and/or portfolio.
Individual performance effectiveness of category managers is then based on their ability to:

Effectively engage with cross-functional business stakeholders - as Procurement continues to expand the ways that it adds value to an organization, the ability of its professionals to engage with business unit stakeholders is critical. Many leading organizations now use 360 degree reviews that leverage insights from many parts of the organization to evaluate an individual's performance. As one leader put it, "Procurement is a cost center, so we are only relevant to the organization if we meet business needs."
Demonstrate category expertise – a category manager with a strong knowledge of his/her supply base and category will know where to focus for improved results. For example, the plastics category manager will keep an eye on crude oil prices and commodity markets to predict raw material cost impacts, whereas her colleague may be focused on bringing the latest semiconductor technology into the company.
Develop and deliver against value-based category strategies - category managers can be measured on their ability to deliver business impact in unique ways. A category strategy is dependent on translating these value drivers into category objectives. For some categories, improving the strength of supplier relationships can translate into access to cutting edge innovation before the market.
Building a value-based category strategy
Identify Value Drivers
Use of a Category Health Methodology, in which category managers can analyze spend and determine what types of underlying variables (or value drivers), can predict strong business results (see Figure One). For example, one company uses regression modeling to correlate underlying characteristics of spend categories (e.g., percent of dual sourced materials, percent of spend under contract, etc.) with traditional procurement metrics such as PPV, material defect rate, on-time delivery percentage, etc. to identify key value drivers.

Translate Value Drivers into Specific Business Objectives
Category managers identify value drivers and translate those drivers into specific business objectives. Managers can then use their category strategy to consolidate inputs from stakeholders and the category health methodology (if applicable).
The fictitious example below includes a common large spend category similar to that in many high-tech companies. The category currently has several challenges with supply continuity. Business stakeholders have expressed a need for improved cost control. Value drivers identified from the category health scorecard suggest that improving dual sourcing and increasing spend with preferred suppliers will improve results.

Based on these value drivers, the category manager outlines the following objectives:
Dual source plastic housings in order to improve supply assurance
Shift product Y to preferred supplier X
Negotiate contracts with supply base in order to map cost to commodity index

Determine a Set of Quantifiable Scorecard Metrics
The final step in the process is to map the objectives to metrics that can be used to assess, and compare, the category manager's performance against the goals laid out in their category strategy. Mature procurement organizations are able to map their performance value creation to cost, revenue, and cash metrics that drive shareholder value for the organization. In the example referenced above, the category manager tasked to improve supply assurance may set a metric to better on-time delivery by 5%.
Adding it All Up
Few organizations have mastered the process of measuring individual category manager performance beyond traditional measures such as cost savings and working capital. Procurement leaders will be well positioned to manage an organization's expectations and retain strong talent if they can assess the effectiveness of individual category managers using the tools outlined above. A strong procurement team can increase visibility and influence within the organization and earn a seat at the table for important organizational decisions.
In summary, CPOs should ask three critical questions about their performance management process:
Are our measurements flexible enough to take into account individual category idiosyncrasies?
Are performance goals clearly tied to category strategy outcomes?
Are category managers clear on how to translate business needs into category strategy objectives?
Figure One: Using the Category Health Methodology to predict business results

---
Authors:
Jeff Schlosser, Supply Chain Vertical Leader, Transaction Advisory Services, EY
Tiffany Baker Senior Manager, Transaction Advisory Services, EY
Mark Crumrine, Manager, Transaction Advisory Services, EY
March 16, 2018
Subscribe to Supply Chain Management Review Magazine!
Subscribe today. Don't Miss Out!
Get in-depth coverage from industry experts with proven techniques for cutting supply chain costs and case studies in supply chain best practices.
Start Your Subscription Today!
Latest Whitepaper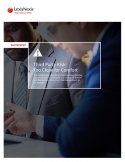 Third Party Risk: Too Close for Comfort
You've got a handle on many of the potential supply chain "disrupters" that can paralyze your business. But the real risk is embedded in areas you may have overlooked.
Download Today!
From the March-April 2018
Power to the buyer
Contracting for Success with Chinese State-Owned Enterprises
View More From this Issue
Latest Webcast
Artificial Intelligence: The Path to Breakthrough Supply Chain Planning
In this session A.T. Kearney partner Michael Hu explains how Artificial Intelligence (A.I.) and Robotic Process Automation (RPA) are emerging as new tools that can lead to breakthroughs in supply chain planning.
Register Today!