Planning at a Crossroads
Planning took center stage at the Best of the Best conference. But attendees acknowledged recognition of its benefits is far from certain.

By
Bob Trebilcock
·
June 23, 2017
Latest News
Third Party Risk: Too Close for Comfort
The State of the DC Voice Market
ISM semiannual report presents a positive outlook for manufacturing and non-manufacturing in 2018
Rail labor agreements are reached, says National Railway Labor Conference
Positive outlook for 2018 is in the cards for manufacturing and non-manufacturing sectors, says ISM
More News
Latest Resource
Third Party Risk: Too Close for Comfort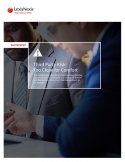 You've got a handle on many of the potential supply chain "disrupters" that can paralyze your business. But the real risk is embedded in areas you may have overlooked.
All Resources
By
Bob Trebilcock
·
June 23, 2017
I am remiss in my correspondence, as the saying goes. I returned from the 10th annual Best Of The Best S&OP conference in Chicago a week ago, energized and enthused by a stellar event, and then got bogged down with work.
What struck me about the conference is this: The challenges of today's business environment ought to be an opportunity for demand planning and S&OP to shine. Companies, after all, are struggling with the increased complexity of supply and demand, the requirement to be responsive and agile, the resource and talent gap and the emerging role of Big Data. These are all problems where planning should be able to provide relief. Yet, as Eric Wilson, a veteran demand planner, pointed out in his keynote address, many of the assumptions of S&OP have not been met.
While the process is decades old, and is morphing into Integrated Business Planning, two thirds of companies say they are not past a 2.5 on Gartner's 5 point maturity scale. He didn't quite call planning the Rodney Dangerfield of supply chain processes, trying to get respect, but he did call for an honest dialogue within the profession to bring about better results. "If S&OP can't keep up with business today," Wilson asked, "how will it keep pace with the business of tomorrow?"
That was a blunt assessment, given that most conferences I attend, no matter the profession, are more on the self-congratulatory than self-assessing side of the equation. Later, Wilson asked another equally important question: "We talk about S&OP, planning and forecasting among ourselves, but it's never written about in mainstream business publications like Forbes or the Wall Street Journal. How do we bring it to the attention to a C-level audience?"
That, too, is a great question because, done right, good planning should lead to more accurate inventory levels; fewer expensive, expedited shipments; and targeted new product launches. Each of those translates into higher sales, earnings, cash and, ultimately, shareholder value. Those are results that make a CEO and CFO sit up and take notice.
Based on the sessions I attended, I left with four key bullets.
Can we talk?: Joan Rivers made a career out of that phrase. It underscores the communication gap between supply chain managers and business managers. While supply chain likes to talk about things in terms of units and shipments, that's not the language used by the folks in the C-Suite. Or as Pete Alle, the VP of supply chain for Oberweis Dairy, advised, "We need to speak the language of the business and use metrics that are relevant to the people running the business." In other words, planners and forecasters need to connect planning to the business stratgegy.
S&OP is more than a supply chain function: Wilson was not alone in talking about the need to align the supply side of S&OP with the business side. Pamela Lindsey, director of global supply chain operations for Ciena, talked about the job of linking supply, demand and revenue. One of the most important steps towards that goal at Ciena was coming to a common agreement of what they all meant by demand. To sales, demand meant that an order had been placed. To the financial side of the business, demand became real when revenue was realized. To supply chain, demand was about order fulfillment. "Yes, we needed to know what sales thought it could sell and wanted, but we also needed to know the customer request date, or when the customers wants to receive the order," she said. "Getting general managers to talk the language of demand was a big step forward."
Is the CEO a believer?: I spoke to any number of attendees and presenters who had great results while working for a C-level executive who got it. They then found themselves looking for other opportunities when that executive was replaced by someone who wasn't committed to the process.
Now that we found them, how do we keep them?: Too often, supply chain recruits the best and the brightest, only to lose them as they move on to other sides of the business. That is especially true of demand planning, which is often viewed as a stepping stone position. At the same time, as Jason Breault, a business recruiter with LifeWork Search who specializes in the supply chain planning space, pointed out, right now, there is "a huge disparity between what skills companies want to hire versus what students are studying." That means finding and retaining demand planners will only get more difficult just when they're needed the most. One solution: Companies need to create a career path for talent within the planning function, one where getting ahead doesn't mean moving on.
There does appear to be a huge opportunity for planning to make a difference. To do so, as Wilson and other presenters pointed out, the discipline will need to demonstrate that it really is contributing to shareholder value and not just planning the movement of goods through the supply chain.
June 26, 2017
About the Author
Bob Trebilcock Bob Trebilcock, editorial director, has covered materials handling, technology, logistics and supply chain topics for nearly 30 years. In addition to Supply Chain Management Review, he is also Executive Editor of Modern Materials Handling. A graduate of Bowling Green State University, Trebilcock lives in Keene, NH. He can be reached at 603-357-0484.
Subscribe to Supply Chain Management Review Magazine!
Subscribe today. Don't Miss Out!
Get in-depth coverage from industry experts with proven techniques for cutting supply chain costs and case studies in supply chain best practices.
Start Your Subscription Today!
Latest Whitepaper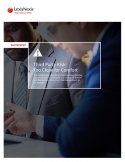 Third Party Risk: Too Close for Comfort
You've got a handle on many of the potential supply chain "disrupters" that can paralyze your business. But the real risk is embedded in areas you may have overlooked.
Download Today!
From the December 2017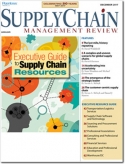 Transportation Trends: The last mile, history repeating
Economic Outlook: A Complex and Uneven Scenario for Global Supply Chains
View More From this Issue