Parcel Shipping Index Points to Continued Supply Chain Resiliency
Global Ecommerce chief for Pitney Bowes sees nothing but growth ahead

By
Patrick Burnson, Executive Editor
·
September 5, 2017
Latest News
Procurement is getting its digitized act together
Third Party Risk: Too Close for Comfort
Pacific Basin conflict and its impact on high tech manufacturing
The New York Shipping Exchange steps up its game to serve "digitized" logistics
What Maersk Really Means About Global Integration
More News
Latest Resource
Third Party Risk: Too Close for Comfort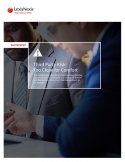 You've got a handle on many of the potential supply chain "disrupters" that can paralyze your business. But the real risk is embedded in areas you may have overlooked.
All Resources
By
Patrick Burnson, Executive Editor
·
September 5, 2017
Pitney Bowes recently announced a 48 percent increase in global parcel volume over the last two years, as reported by its second annual Parcel Shipping Index.
Parcel volume has grown from 44 billion parcels in 2014 to 65 billion in 2016, and the increase in growth shows no signs of slowing down, with the Index estimating parcel growth will continue to rise at a rate of 17-28 percent each year between 2017 and 2021.
The Index measures parcel volume and spend for business-to-business, business-to-consumer, consumer-to-business and consumer consigned shipments with weight up to 31.5 kg (70 pounds), across 13 major markets, including: Australia, Brazil, Canada, China, France, Germany, India, Italy, Japan, Norway, Sweden, United Kingdom and United States.
China, a new addition to this year's Index and by far the largest market examined, grew parcel volume by 52 percent in one year, increasing from 21 billion parcels in 2015 to 31 billion in 2016. But, even when excluding China's prolific volumes, the Index forecasts a strong and accelerating pace of growth in parcels throughout the world. On average, the other 12 major markets studied have grown 4.3% annually since 2012 and are projected to grow 4.5% - 5.4% annually through 2021.
The United States (at 13 billion) and Japan (at 9 billion) were also among the largest markets by parcel volume. In terms of investment, the United States ranked highest, spending $96 billion on parcel shipments, followed by China at $60 billion and Japan at $22 billion.
"The continued rise of ecommerce globally is keeping the parcel shipping market strong through 2021 as consumers are increasingly looking to online shopping for convenience, price and availability of products from around the world," said Lila Snyder, executive vice president and president, Global Ecommerce, Pitney Bowes. "As consumer expectations continue to rise, shipping technology and service providers will need to help retailers and marketplaces meet those demands."
In an interview with SCMR, Snyder added that the increase in parcel volume was no surprise given the growing ecommerce market, which continues to thrive with the advent of more flexible shipping options.
"However, the rate of the growth, 48 percent since 2014, was surprising," she said.
SCMR asked Snyder if the next study will address issues not contained in this one. Her response:
"As ecommerce continues to grow, online consumers become more sophisticated and technology evolves, our study will evolve with it. In the meantime, we'll be releasing another study at the end of September that also impacts shipping and logistics– Pitney Bowes' annual Global Online Shopping Study, which examines consumer preferences, behaviors and trends in ecommerce."
Results from the Parcel Shipping Index point to rapid growth and last mile delivery challenges – when a parcel is transported from a hub to the end-user – as driving innovation across markets. New trends and emerging technologies, such as parcel lockers, crowd-shipping, on-demand delivery services, evening and weekend delivery and drones, are impacting the customer shipping experience by shortening delivery times, lowering delivery costs and adding flexibility.
"Managing the growing demands and navigating the evolving landscape of parcel shipping can be complicated for organizations of all sizes, from large enterprises to small businesses," said Mark Shearer, executive vice president and president, Global SMB Solutions, Pitney Bowes. "Digital transformation of a company's shipping workflow—like the integration of SaaS-based multi-carrier platforms—can help to better enable carrier, timing and cost efficiencies for companies, as well as improve customer experiences through the addition of tracking capabilities, simplifying and streamlining processes for both senders and recipients."
For Jerry Hempstead, president of parcel express analyst firm Hempstead Consulting, the research contains some other nuggets:
"Clearly we see the great potential of China and India as the most populous areas," he says. "Consider the U.S. has 330 million folks, China has 1 billion 330 million people.
Hempstead also notes that one does see in that data (as its presented) that revenue growth lags shipment growth and that will have to change.
"Companies that transport don't offer "free shipping". Free shipping 'ain't,' he said. "So I expect continued focus, at least on the part of the publically traded companies like DHL, UPS and FedEx (TNT is now gone from the competitive landscape) on yield improvement - translate that into higher shipping charged and stricter shipping rules and fees."
A breakdown of key results across major markets is included below:
United States Continues to Lead the World in Parcel Spend Americas (Brazil, Canada, United States)
• Of the 13 countries analyzed, the United States remains the largest market in terms of spend, recording $95.8 billion in 2016. Parcel volume also increased by 8.2 percent year-over-year, up from 12 billion parcels in 2015 to 13 billion parcels in 2016.
• The annual parcel shipping market in Brazil grew by 13 percent in spend from 2015 to R$11.6 billion in 2016 and 9 percent in volume, up from 558 million parcels in 2015 to 609 million in 2016.
• In Canada, annual parcel spend increased by 2.6 percent, up from $7.1 billion CAD in 2015 to $7.3 billion CAD in 2016. Volume also grew by 4.4 percent from 2015 to 597 million parcels in 2016.
• Germany is the Largest European Parcel Market in both Volume and Spend
Europe (France, Germany, Italy, Norway, Sweden, United Kingdom)
• Germany is the largest European parcel market – in terms of both volume and spend. Parcel spend increased by 6 percent to €14 billion in 2016. Similarly, parcel volume increased by 6.7 percent to 3.3 billion in 2016. Of note, business to consumer shipments represented 58 percent of all parcels in Germany in 2016.
• In 2016, the parcel shipping market in France grew by 3 percent in spend to €10 billion, and 4 percent in volume to 1.6 billion.
• With a 2014-2016 compound annual growth rate (CAGR) of 12 percent, Italy is among the top three fastest growing markets by volume in the Index. From 2015-2016, parcel volume increased by 10 percent to 801 million parcels, and spend increased by 3 percent to reach €5 billion in 2016.
• The parcel shipping market in Norway increased by 4 percent in spend to 6.3 billion kr, and by 6 percent in volume to 38 million in 2016.
• In Sweden, parcel spend grew by 6 percent to 4.4 billion kr, and volume grew by 9 percent to 108 million in 2016.
• In the United Kingdom, parcel spend increased by 8 percent to £9.7 billion, and volume increased by 12 percent to 2.5 billion in 2016.
Australia Experiences Double-Digit Growth in Parcel Volume (Year over Year)
Asia Pacific (Australia, China, India, Japan)
• In Australia, the parcel market experienced double digit growth in parcelvolume, increasing in 2016 by 13 percent to 794 million, and parcel spend grew by 4 percent to reach AU$9 billion in 2016.
• From 2015 to 2016, the parcel shipping market in China grew by 52 percent in volume to reach 31 billion parcels shipped, and 45 percent in spend to reach ¥400.5 billion.
• Parcel volume in India grew by 22 percent to 412 million in 2016, and spend increased in 2016 by 5 percent to reach ₹115 billion.
• Japan showed a 3 percent growth in parcel volume and 2 percent growth in parcel spend from 2015 to 2016, reaching 9.4 billion and ¥2,401 billion respectively.
September 6, 2017
About the Author
Patrick Burnson, Executive Editor Patrick Burnson is executive editor for
Logistics Management
and
Supply Chain Management Review
magazines and web sites. Patrick is a widely-published writer and editor who has spent most of his career covering international trade, global logistics, and supply chain management. He lives and works in San Francisco, providing readers with a Pacific Rim perspective on industry trends and forecasts. You can reach him directly at
[email protected]
Subscribe to Supply Chain Management Review Magazine!
Subscribe today. Don't Miss Out!
Get in-depth coverage from industry experts with proven techniques for cutting supply chain costs and case studies in supply chain best practices.
Start Your Subscription Today!
Latest Whitepaper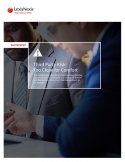 Third Party Risk: Too Close for Comfort
You've got a handle on many of the potential supply chain "disrupters" that can paralyze your business. But the real risk is embedded in areas you may have overlooked.
Download Today!
From the January-February 2018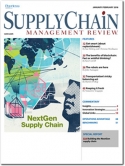 Get Smart (about replenishment)
The Benefits of Blockchain: Fact or Wishful Thinking?
View More From this Issue