The Benefits of Blockchain - Part 1: Fact or Wishful Thinking?
The basics: Blockchain is still a largely unproven innovation in the supply chain, but it's also one that companies can't afford to ignore. This first part of four in this issue of NextGen Supply Chain details what the technology is and how it works to make the supply chain more effective.

By
Ken Cottrill
·
December 12, 2017
Latest News
Third Party Risk: Too Close for Comfort
The State of the DC Voice Market
DHL launches Global Trade Barometer
Get the lay of the land with Modex 2018 show map
Breaking Through On Yard Visibility
More News
Latest Resource
Third Party Risk: Too Close for Comfort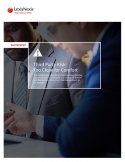 You've got a handle on many of the potential supply chain "disrupters" that can paralyze your business. But the real risk is embedded in areas you may have overlooked.
All Resources
By
Ken Cottrill
·
December 12, 2017
Editor's note: This is the first of four articles on block chain. Click here to read Part 2, Part 3 and Part 4 and here to review the results of research into blockchain from APQC.
Blockchain is the new buzzword in supply chain circles. Unfortunately, there are many examples of much-hyped innovations that promised to transform supply chains overnight, only to peter out or take much longer to gain traction than originally claimed.
Is blockchain technology any different? We are still early in the process of answering that question.
The level of interest and investment in this digital tracking technology suggests that it's not going away any time soon. The financial community is probably the leader in blockchain tests, spending more than $1 billion so far.
Results from one of the more high-profile tests were released in late November. That's when Goldman Sachs, JPMorgan, blockchain startup Axoni and others concluded a six-month test of blockchain to track equity swaps contracts after they were executed. That means all amendments, deal terminations, stock splits and dividends were tracked by blockchain for those six months.
The results were impressive. "We know the thing works now," said the CEO of Axoni. That's strong confirmation for both the mechanics of blockchain and trust in the technology's ability to deliver on its claims. That also shows how early we are in blockchain's development.
The financial community is not alone here in developing the technology to reduce back-office operations. Both the food and drug industries are testing blockchain's ability to track the flow of goods and money in their supply chains. Walmart and IBM are two of the better known names involved.
It's no wonder that blockchain is of interest to so many leading industries and companies. The potential benefits of this highly sophisticated digital tracking technology are both broad and impressive.
These include a consensus mechanism that assures users the supply chain data is timely, authentic and secure. Furthermore, blockchain transactions can occur from any node in the supply chain, making the technology widely accessible without compromising data security and veracity.
Beyond that, blockchain can be married with other, potentially groundbreaking innovations such Internet of Things (IoT) sensor networks. In other words, we have only started to scratch the surface of what's possible with this technology.
But before we get ahead of ourselves, it is important to understand the technology's unfamiliar mechanics.
Kicking the tires
At their core, all blockchains are distributed digital ledgers. Data is stored and replicated across multiple computer systems synchronized in near real time. There is no central administrator, unlike most other transaction or financial systems. The system is entirely self-governing.
When a transaction is recorded digitally in this distributed ledger, cryptographic technology makes it very difficult to change that entry. This feature renders the blockchain database almost tamper-proof. That's both a key characteristic and a distinguishing one that separates blockchain from other transaction systems with a central system oversight.
Encrypted entries are stored in blocks. Each block is time stamped and given a digital fingerprint linked to the digital fingerprint of the previous block (hence, blockchain).
Linking the blocks in this way means that a mischief-maker intent on meddling with the data would have to break the linkages, overcome the cryptographic defenses of the target transactions and reconstitute the inter-block links before leaving. A tall order—to say the least. And the task becomes progressively harder as the blockchain matures and its time-ordered string of blocks lengthens.
These formidable defenses, and the fact that data is immediately accessible to every authorized participant, make blockchains an extremely powerful and secure type of database.
Such capabilities are the underpinning of the trust factor of blockchains. That's especially important in supply chains that historically lack trust, which inhibits information sharing and undermines collaboration.
Blockchains come in different flavors, and more are emerging as the number of applications increases. At the most basic level there are two types: permissionless and permissioned. In other words, there are ways to mask who sees what details using pre-agreed protocols.
In permissionless blockchains, any participant can read and write data. However, companies are not generally thrilled with the idea of exposing commercially sensitive information to such an open environment.
As a result, private or permissioned blockchains have emerged as an alternative. Accessing a permissioned blockchain usually requires some form of authorization, and there can be various levels of accessibility. Authorizations are granted by an oversight function controlled by a participant or group of participants working in concert.
The number of participants can be as many or as few as the application requires. The blockchain could encompass all the parties involved in delivering a single shipment, a global supplier base or functional entities across an entire industry.
Ken Cottrill is research principal at Chain Business Insights. He can be reached at .(JavaScript must be enabled to view this email address).
The Benefits of Blockchain
Read the rest of the four part series on block chain.
Part 2
Part 3
Part 4
December 29, 2017
Subscribe to Supply Chain Management Review Magazine!
Subscribe today. Don't Miss Out!
Get in-depth coverage from industry experts with proven techniques for cutting supply chain costs and case studies in supply chain best practices.
Start Your Subscription Today!
Latest Whitepaper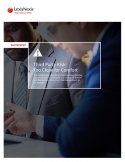 Third Party Risk: Too Close for Comfort
You've got a handle on many of the potential supply chain "disrupters" that can paralyze your business. But the real risk is embedded in areas you may have overlooked.
Download Today!
From the December 2017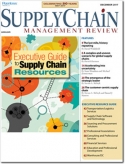 Transportation Trends: The last mile, history repeating
Economic Outlook: A Complex and Uneven Scenario for Global Supply Chains
View More From this Issue