NextGen Supply Chain: It's complicated in the warehouse
As warehousing and logistics processes become more complex, modern mobility solutions can play a role.

By
David Krebs
·
December 15, 2017
Latest News
Third Party Risk: Too Close for Comfort
The State of the DC Voice Market
DHL launches Global Trade Barometer
Get the lay of the land with Modex 2018 show map
Breaking Through On Yard Visibility
More News
Latest Resource
Third Party Risk: Too Close for Comfort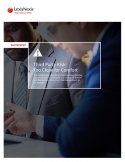 You've got a handle on many of the potential supply chain "disrupters" that can paralyze your business. But the real risk is embedded in areas you may have overlooked.
All Resources
By
David Krebs
·
December 15, 2017
Global footprint, reduced response times, cost and demand volatility, regulatory pressures and a constantly changing supplier landscape continue to impact logistics complexity. Along with the increased complexity, there is increasing pressure on financial metrics like distribution costs, asset utilization, working capital, cash flow and transportation spending as a percent of sales. As complexity increases, manufacturers and distributors are seeking new ways to optimize customer service requirements with rising labor costs. Today's warehouses are more complex than they were 10 years ago. Products and channels have proliferated, late-stage customization requirements have increased, the number of temperature environments has grown and warehouse employee turnover remains high. Customer service requirements have increased; as a result, a greater percentage of products are picked by either the "each," the "case," or the "layer" in the modern warehouse. Optimizing warehouse performance is becoming critical for organizations involved in the manufacturing, distribution or the sale of goods as they must find new ways to improve on-time shipment and receipts.
Mobility solutions for warehousing can either be a part of an overall IT strategy or a warehouse-focused engagement. Irrespective of the approach taken, deploying mobile solutions in a warehouse requires special care across numerous aspects due to its process-intensive nature, coupled with the fact that it is a core component of the manufacturing value delivery mechanism. Thus, it is imperative that the deployment blends in smoothly with day-to-day activities and causes minimal disruption. In a recently fielded survey by VDC Research among Warehouse Technology Decision Makers, data showed that 53% of IT decision makers supporting warehouse operations viewed their mobility deployments as immature—furthermore, VDC's data also showed that 56% of organizations plan on upgrading their existing fleet of mobile devices because these devices are nearing their end of life and/or the old age of their existing devices. In addition, the motivation to upgrade applications to a more visual and modern user interface was cited by one in four respondents as a critical factor influencing their upgrade decision.

This is notable, as many ruggedized mobile deployments used in warehouse deployments are text-oriented and keyboard-centric solutions. Modern mobile platforms such as Android are beginning to make more sense in warehouse deployment environments due to tenured hardware vendors working closely with Google's Android operating system and delivering ruggedized solutions to the market. While terminal emulation and web applications have a long and proven history in these deployment environments, solutions to seamlessly port these application to platforms such as Android are not only commercially viable, but are enabling organizations to automate workflows and keep their workers productive.
Ruggedized handheld computers have been the de facto hardware platform used for data collection and processing across a variety of workflows in virtually every industry. Organizations rely on these devices to conduct business critical applications and operations in real time. However, the dominant OS supporting this ecosystem of devices is quickly approaching its end of life, leaving current customers with no clear migration path forward. Put another way, no matter which OS platform an enterprise looks to deploy next to support its business-critical applications, each application will require recoding and rework, as it will not be compatible with modern mobile platforms. Moreover, these legacy devices fall well short of today's mobile standards across all performance, functionality and usability criteria, ultimately limiting their potential impact on business operations.
A critical component of today's digital transformation strategies is migrating legacy mobile applications running on aging equipment to take advantage of more sophisticated and functional modern mobile solutions and their intuitive interfaces. Today's warehousing professionals face big changes in the ways warehouses, distribution centers and the entire supply chain operate. More facilities and larger spaces demand modern mobile communications and application access virtually everywhere on or off the floor.
While planning for the end of life of the aforementioned legacy Microsoft platforms is likely underway, there are commercially viable solutions that can help ease the transition to modern mobile platforms. Industrial browsers have been architected to incorporate critical data-capture technologies that are critical to the infrastructure and workflows in warehouse environments. When considering that many of the aforementioned legacy Windows applications are terminal screens, using an industrial browser is a logical means of porting legacy applications to modern mobile platforms; not only do these solutions support for custom keyboards and the hardware interfaces that are a necessity in warehouse operations (e.g., barcode scanning, signature capture and RFID) they offer an opportunity to alleviate the pain of rewriting legacy applications, and will dramatically simplify the transition to new mobile platforms.

Bringing existing terminal emulation, telnet, and web applications to modern mobile platforms is inevitable. Industrial browser solutions can make modernizing host applications seamless, as they are able to automatically convert a host application's text interface and deliver the modern touchscreen experience that a growing segment of your workforces is beginning to expect. Furthermore, these solutions have been designed to be customized so that onscreen keypads are intuitive; they also provide future-proof functionality, by enabling administrators the ability to deliver new enhancements that can speed business-critical workflows.
VDC's data shows that the need for speed is unmistakable, and has warehouse professionals pursuing technologies that can help speed fulfillment and reverse logistics functions. The right technologies offer opportunities for efficiency gains across the spectrum of daily warehousing workflows including: inbound handling, storage and inventory control, pick and fill and outbound handling. Modern mobile solutions offer opportunities to gain agility and speed, and can help in evolving warehouse professionals move away from processes that are governed by manual labor and paper-based tracking to one in which technology plays a vital role in better utilization of available resources and growing space restrictions.
About the Author: David Krebs is an executive vice president with VDC Research and a frequent contributor to MMH.com. He has more than ten years experience covering the markets for enterprise and government mobility solutions, wireless data communication technologies and automatic data-capture research and consulting. He can be reached at .(JavaScript must be enabled to view this email address)
Free Research Opportunity: VDC Research invites you to receive FREE access to its Technology Influencer & Buyer Portal – a content delivery service with on-demand access to some of our research offerings.
VDC is providing the end-user/engineering community with complimentary, thought-provoking content that addresses various user-oriented issues on a monthly basis. To register for your free subscription, complete the registration form by visiting http://www.vdcresearch.com/Coverage/signup2.html.
December 15, 2017
Subscribe to Supply Chain Management Review Magazine!
Subscribe today. Don't Miss Out!
Get in-depth coverage from industry experts with proven techniques for cutting supply chain costs and case studies in supply chain best practices.
Start Your Subscription Today!
Latest Whitepaper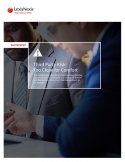 Third Party Risk: Too Close for Comfort
You've got a handle on many of the potential supply chain "disrupters" that can paralyze your business. But the real risk is embedded in areas you may have overlooked.
Download Today!
From the December 2017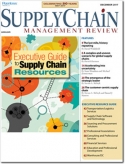 Transportation Trends: The last mile, history repeating
Economic Outlook: A Complex and Uneven Scenario for Global Supply Chains
View More From this Issue